Nominate Your Compassionate Kid for an Award!
Do you know an angel for animals? Are your children or any kids you know shining examples of compassion? Maybe they go out of their way to help animals in distress or tell all their friends about how great it is to be vegan. Whatever they do to help animals, we'd love to hear about it!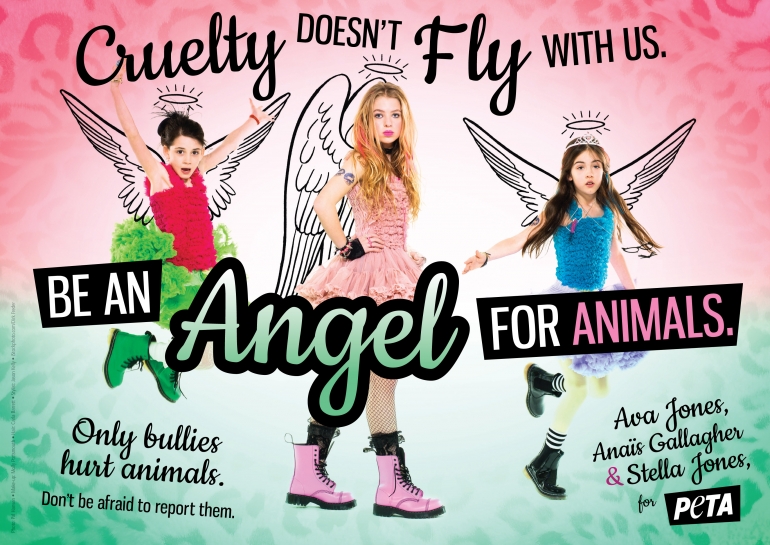 Young stars Anais Gallagher (13), Stella Jones (10) and Ava Jones (8) – the daughters of Oasis' Noel Gallagher and The Clash's Mick Jones — are part of a new generation of kids who know that cruelty doesn't fly. In this ad for PETA, they urge kids to report bullies who hurt animals – because kindness is the value that matters.
We know there are lots of caring youngsters out there, and here's your chance to give them the appreciation they deserve by nominating them for PETA's Compassionate Kid Award! It's a way to reward children who show respect for animals and to let them share their story in order to inspire others.
It's not a competition, and every nominee who shows compassion towards animals is a winner. Recipients of the award may be featured in their local newspaper – which will make them instant celebrities and help publicise animal-protection issues – and will also get a certificate and some PETA goodies for their efforts!
There's no deadline for your nominations, and you can enter as many kids as you'd like.
By submitting this form, you will be indicating your consent to receiving e-mail marketing messages from us unless you have indicated an objection to receiving such messages by unticking the box above. You're also acknowledging that you've read and you agree to our privacy policy.