Fur and angora – two of the most notoriously cruel products in fashion.
Yet French brand The Kooples still sells both – despite having received thousands of messages from shoppers asking it to stop and the fact that hundreds of other brands have put bans in place, from ASOS to AllSaints.
Rabbits scream in pain when the fur is ripped out of their skin for angora. New evidence shows that, even on so-called "humane" angora farms, these gentle animals suffer horribly. And foxes and raccoon dogs on fur farms spend their entire lives in filthy barren cages before being violently killed for their skins.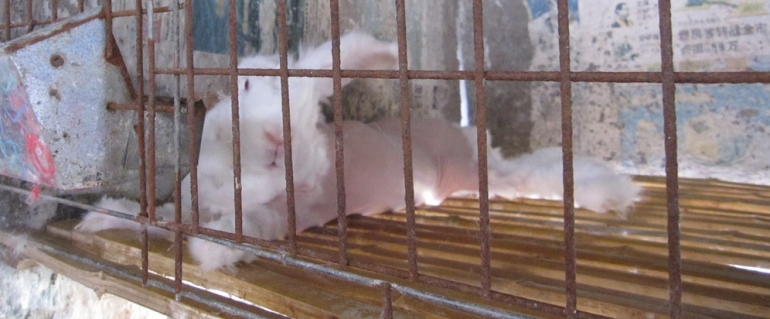 This Thursday, 29 October, we're ramping up our efforts to let The Kooples know that we won't give up until it gives up fur and angora. We're planning protests all over the world as well as coordinated online actions.
Please spare a few minutes for animals on Thursday (29 October) and join our global day of action! Here's how to take part:
Make a quick phone call to one of The Kooples' stores and let staff know how disappointed you are by the company's decision to keep profiting from cruelty to rabbits, foxes, raccoon dogs and other animals.
Please phone one of these numbers:
General customer service number – 0800 026 0588
The Kooples London stores – 020 7486 2775, 020 7734 8020, 020 7794 1319, 020 7722 1220, 020 7589 7696
The Kooples Leeds – 0113 242 1411
The Kooples Bath – 01225 445 442
The Kooples Manchester – 0161 834 4717
The Kooples Edinburgh – 0131 226 2288
Help to flood The Kooples' social media accounts with messages:
If you haven't already, send The Kooples a quick e-mail via our action alert. You can also leave a message on its website here.
Walk into your local The Kooples store (list here) and ask to have a word with the manager. Politely ask him or her why the company still hasn't banned angora and fur and explain that you won't shop there until it does.
If you have time to give out leaflets outside a The Kooples store in the next few weeks, get in touch with our campaign coordinator Kirsty at [email protected] – and we'll post some to you.
******
Join our Facebook event, and let us know what action you've taken – we'd love to see photos, get feedback on how your phone call went or hear about anything else that you've done to help rabbits, foxes, minks and other animals.
Our actions have already had a massive impact – they're changing the face of the fashion industry and making "angora" a dirty word. The Kooples can't go on ignoring the voices of its customers forever – especially when we act together to make the world a better place for animals.
Finally, here's a reminder of why we need to keep speaking out. We're doing it for them: