6 Reasons Horses Need Your Help in the Year of the Horse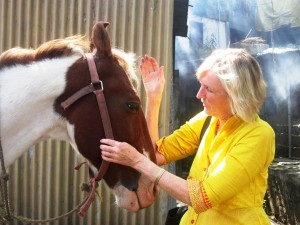 Happy Year of the Horse! (Today is the Chinese New Year, in case you were wondering.) The Chinese zodiac associates horses with intelligence, independence and free-spiritedness. But in 2014, many of these beautiful, sensitive animals are sadly neglected or abused in Britain and elsewhere. Here are six ways that horses are suffering right now – and how you can help them:
Racing:
Horseracing kills horses all the time. In 2013 alone, at least 130 animals died on the track. When a horse slips while turning a corner or doesn't make it over a dangerous fence, it's not an "accident" – these misfortunes are an inevitable result of a system which values speed and money over animals' lives. Help the horses who are abused by the racing industry by steering well clear of events such as the Grand National and Cheltenham and withholding your money from the bookmakers who profit from them.
Breeding:
Thoroughbreds in the racing industry often develop debilitating medical conditions because of aggressive selective breeding that prioritises the ability to run over basic health and well-being. What's more, because of over-breeding, thousands of horses in the UK are abandoned each year, causing, according to the RSPCA, an urgent horse homelessness crisis.
Working:
Around the world, horses are worked to exhaustion, whether they're made to drag a carriage around the frightening streets of New York or pull heavy loads in India. One practical way to help neglected working horses is by making a donation to Animal Rahat, a PETA-affiliated animal shelter in India that offers relief to these rescued animals.
"Entertainment":
Horses have no desire to be film stars, nor do they have a choice when they are enlisted to appear in the latest Hollywood blockbuster. During production, there is little guarantee that their welfare needs will be met, and sometimes they are injured. During the filming of The Hobbit: An Unexpected Journey, for example, five horses were allegedly maimed or killed. Stand up for horses by avoiding films which exploit them for entertainment.
Experiments:
Many people don't realise that horses are used for animal testing. In 2012, for example, 8,482 tests were carried out on equine animals in UK laboratories. As is the case for all animals who are subjected to experiments, this is a painful, frightening and sometimes deadly experience for horses. Use your voice to help them by opposing a law that allows shady tests to go on behind closed doors.
Killing:
Thousands of horses a year in the UK – many of them thoroughbreds who have been discarded by the racing industry – are slaughtered for meat, sent to knacker's yards or turned into dog food. Despite last year's horsemeat scandal, the butchery still goes on, with much of the meat being exported to foreign markets. Avoid supporting an industry that kills millions of animals a year, often in grisly conditions, by cutting meat out of your diet altogether.