Animal Rahat Honours Sir Paul McCartney and Lady Nancy Shevell With Puppies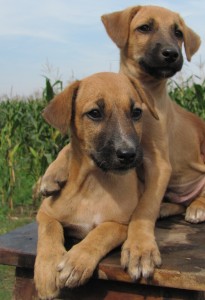 To recognise Sir Paul McCartney and Nancy Shevell's love of animals, Animal Rahat – an Indian organisation that helps alleviate the suffering of working animals – has gifted them a framed photograph of two adorable puppies named in honour of the superstar and his beautiful new bride.
A long-time advocate and supporter of PETA India, the Beatles legend has been associated with the organisation since its inception in 2000. "He and his late wife, Linda, were among the first supporters. Sir Paul has always been concerned about the suffering of street dogs, and we hope that others will be inspired to bring a stray or shelter dog into their homes," said PETA India.
Animal Rahat, in an accompanying letter to the newlyweds, explained how their team had recently rescued the two puppies. "They were running in fright after having witnessed the accident which killed their mother in Sangli", programme manager Sudheesh Nair said. The puppies are reportedly doing well now. You can help end the animal overpopulation crisis by always adopting and never shopping for animals.