Quorn Launches Vegan Line
UPDATE: Quorn's vegan range is now on sale in Waitrose. We understand that it will also be coming to ASDA very soon.
It's official! Get your hands on Quorn Vegan chicken style pieces in @waitrose now. #QuornVegan pic.twitter.com/tplZ3mb6Od

— Quorn Foods UK (@QuornFoods) October 18, 2015
Anyone who has walked down British supermarket aisles will be familiar with giant meat-free brand Quorn. The products haven't been vegan, but owing to a "shift in the number of consumers choosing to adopt a vegan lifestyle and a massive increase in demand", the company's offerings are about expand.
Blogger Fat Gay Vegan reports that two vegan products – Hot & Spicy Burgers and Meat Free Pieces – will be hitting supermarket shelves next month.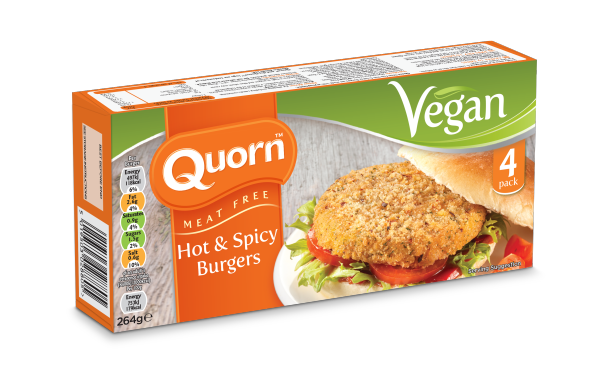 Quorn Marketing Director Peter Harrison said the following in a news release:
The Quorn Vegan Range has been over three years in development and during that time, we've seen a real shift in the number of consumers choosing to adopt a vegan lifestyle and a massive increase in demand, particularly apparent across our digital channels. We have been particularly impressed by four consumer-led petitions in support of a Quorn Vegan Range.

While ethics and the environment are at the heart of veganism, vegans have historically been driven by a passion for animals and our planet and have used their diet to demonstrate their beliefs. However, more and more people who are adopting veganism are now also doing so because of the associated healthy living benefits. Consumers are starting to learn that veganism is a great way to live a healthy lifestyle.

Consumers – both existing Quorn buyers and new customers – have been asking us for some time to provide a solution for vegans. So, as we know a lot of people eat Quorn as part of a vegetarian lifestyle before becoming vegan, we're thrilled to be able to offer them products which are tasty and deliver on the great texture expected of Quorn, whilst following a vegan recipe.
Look out for the products to hit shelves in Asda stores in October, with other supermarkets to follow.
The explosion in the number of people making compassionate food choices is undeniable. A plant-based diet is the obvious choice for people who are worried about cruelty to animals, climate change or their health. It's becoming more and more popular every day.
Try it for yourself! Order our free vegan starter kit, which is packed full of recipes, tips and advice, including nutritional information and ideas for quick and tasty vegan meals.