Rescued Bull Features in Celebrity Wedding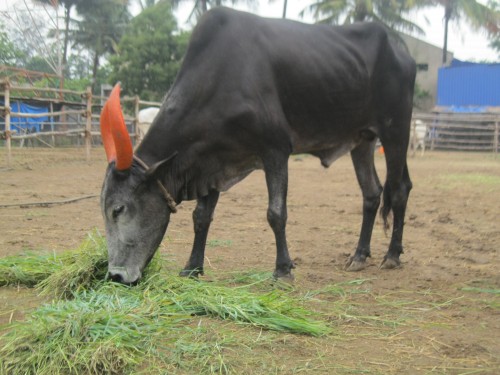 Meet Davison-Quirke – a bull from Maharashtra, India, who spent years of his life being worked to the bone, forced to pull a cart overloaded with sugarcane in the hot sun. He was rescued from this hardship by Animal Rahat, a rescue organisation in India which is partially funded by PETA. There's an interesting story behind his unusual name – it was given to him as a wedding gift from PETA to Irish beauty Rosanna Davison!
When we heard that PETA supporter, former Miss World, vegan nutritionist and all-round role model Rosanna was getting married to Wesley Quirke, we knew we had to give her a gift that would reflect her inspiring compassion. So what could be more fitting than renaming a rescued animal in the happy couple's honour? Davison-Quirke will now live out the rest of his days relaxing in peace at a sanctuary, alongside other animals who have been saved from back-breaking work, neglect and mistreatment in India.
Animal Rahat is run by animal caretakers, veterinarians and assistants and offers vital care and assistance to animals who desperately need it in Maharashtra. Its work also includes educating people in local communities about the importance of animal welfare and teaching them the fundamental rules of proper animal care and nutrition. These areas are often very poor, and the animal owners welcome a helping hand with veterinary costs and feeding. Many sick animals can simply be abandoned because their owners cannot afford to treat them.
Working animals commonly kept across India include cattle, ponies and donkeys. They are required to spend long hours in the baking sun, pulling heavy carts laden with sugarcane while receiving little food or water. Animal Rahat has also worked hard to install water tanks in several areas around Miraj and Sangli in order to replenish tired, dehydrated animals.
We think Rosanna and her new hubby should be pleased as punch to be part of such outstanding work. Davison-Quirke is certainly looking chuffed to bits as well. If you'd like to contribute to Animal Rahat's lifesaving mission and help animals such as this bullock, please visit the group's website and consider making an urgently needed donation today.