The Great Vegan Bake-Off 2013 Winners!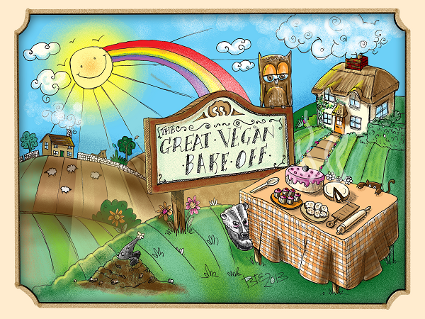 Sixteen entries made it as finalists in the Great Vegan Bake-Off, PETA UK's online vegan baking competition. The competition was tough, with cupcakes, muffins, cookies, brownies, pies and all sorts of other delights in the mix. But only one recipe could rise to the top.
The votes are in. And the winner is …
Hannah Banana's Vegan Caramel and Peanut Butter Chocolate Pie! Perfect for those of you missing your Snickers fix, Hannah's cake includes a fudgy chocolate ganache, a peanut butter mousse and a crunchy biscuit base.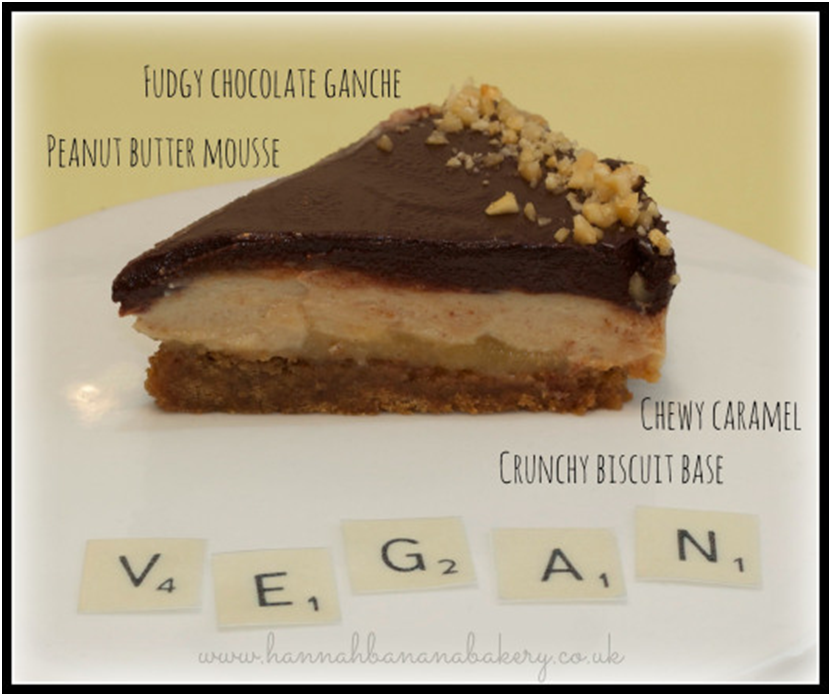 Coming in a close second was Shaheen's Vegan Beetroot Chocolate Cake, followed by Emma's Orange, Ginger and Cardamom Cake With Almonds and Rosewater, which came in third. All the entries looked delicious, and we extend our thanks to everyone who took time to enter!
No more puff. Here's Hannah's recipe so you can bake her award-winning cake for yourself.
Hannah Banana's Vegan Caramel and Peanut Butter Chocolate Pie
235 g digestive biscuits
4 Tbsp vegan margarine or coconut oil
2 Tbsp caster sugar
1 Tbsp + 60 ml soya milk or any other vegan milk
2 cans refrigerated full-fat coconut milk
220 g soft brown sugar
2 tsp vanilla essence
1 pinch salt
1 pkg silken tofu
125 g peanut butter
60 g icing sugar
1 Tbsp maple, agave or golden syrup
170 g chocolate chips
1 Tbsp chopped peanuts, for garnish (optional)
Preheat the oven to 180°C and line an 8-inch cake pan or pie dish with baking paper.
Crumble the digestive biscuits in a blender.
Melt the vegan margarine in a mug in the microwave (about 20 seconds).
Combine the melted margarine and sugar in a blender. Add 1 tablespoonful of the soya milk and blend until well combined.
Push the mixture into the lined pan and bake for 10 minutes.
Set aside to cool.
Carefully open the coconut milk without shaking the cans. Scoop out all the hard cream into a saucepan and add the brown sugar, 1 teaspoonful of the vanilla and the salt.
Cook on medium heat for 35 minutes, stirring frequently.
Remove from the heat and let cool.
Combine the tofu, peanut butter, icing sugar, maple syrup and remaining vanilla in a blender and blend until smooth. Pour into a piping bag and pipe around the edge the pie base (whilst still in its pan).
Pour the caramel into the middle of the pie and cover with the remaining mousse.
Refrigerate for 2 hours.
Boil a pot of water, then cover with a glass bowl. Place the chocolate chips in the bowl and heat until melted. Add the remaining soya milk and mix well.
Remove the pie from the refrigerator and top with the warm ganache. Add chopped peanuts, if desired, and let set for at least 1 hour.
EAT!!! (Store any leftovers in the fridge.)
Makes 1 pie