Thousands of Birds Spared From Life of Hell
An application to extend a broiler-chicken unit in Worcestershire that we objected to has been refused. This is great news for up to 168,000 chickens who would have been forced into a life of pain and suffering had the plans been approved.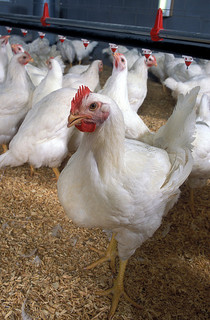 While we celebrate this great victory, we won't stop fighting until all chickens raised for their flesh – crammed together into huge, dark, filthy ammonia-laden sheds and forced to grow so large so quickly that they become crippled under their own weight – are free from this nightmarish existence.
The best way that you can help end this suffering is to make the compassionate choice to go vegan. Delicious alternatives to most animal-based foods are widely available – including mock chicken and turkey, fake bacon and dairy-free ice cream and cream cheese. The only thing missing is the cruelty.
Order your free vegetarian/vegan starter kit today!