Unveiled: The Best Vegan Breakfasts in the Country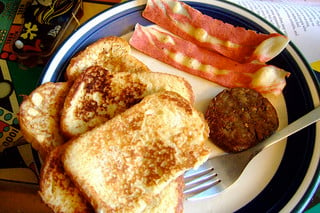 Everyone agrees on the importance of starting the day with a nutritious and satisfying breakfast. Fortunately, more and more Britons are moving away from the traditional artery-clogging fry-ups of cholesterol-packed eggs, fatty sausages and greasy rashers and demanding lighter and more nourishing fare – which often means delicious vegan options. To mark Farmhouse Breakfast Week (22 to 28 January), we've scoured the country to find the top 10 vegan breakfasts in the country. Winners were chosen based on a number of criteria, including reputation and the selection and quality of vegan menu items. With choices like piping-hot tofu scrambles, "meaty" faux sausages and vegan fruit pancakes, you'll never want to order a Full English again!
The consumption of meat, eggs and dairy products has been linked to obesity, heart disease, cancer and other health problems. Also, raising animals for food is a leading cause of water pollution, land degradation and greenhouse-gas emissions. And, of course, the meat industry causes animal suffering on a massive scale. Chickens, fish, cows and pigs feel pain and fear – just as we and the animals with whom we share our homes do – yet they are abused in ways that would be illegal if dogs or cats were the victims.
"We give all the winners five stars for respecting their patrons enough to serve them some of the finest vegan breakfast dishes available anywhere", says PETA's Yvonne Taylor. "More and more people are recognising that the best way to avoid health problems and help animals and the environment is to go vegan."
Check out our top 10, in no particular order:
Is there a restaurant or café in your area that you don't see on this list but would like to? Leave a comment below letting us know who they are and why you think they deserve to be on this list, or head on down to one of those listed above and enjoy a healthy, animal-friendly breakfast!