Our Vegan Christmas Gift Wish List
Stuck for Christmas gift ideas?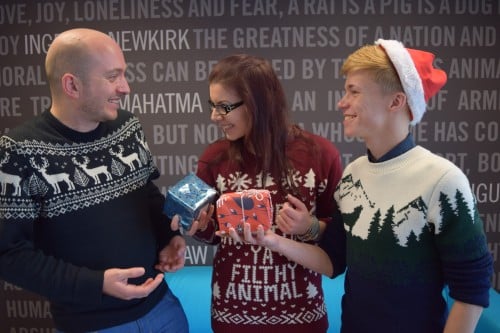 We've pulled together a list of some of our favourite vegan items that will deliver Christmas cheer for human and non-human animals alike!
Jeans From Monkee Genes
This vegan denim company even sells faux-leather "PETA-Approved Vegan" patches, so a pair of its stylish jeans would make the perfect gift for the PETA supporter in your life!
Beyond Skin Shoes
Ethical footwear company Beyond Skin creates luxury, ethical vegan designer ladies' shoes, the perfect gift for a compassionate fashionista.
A Wallet From Wills
Stuck for stocking fillers? PETA business friend Wills offers a classic wallet crafted with soft Italian microfiber.
A Vegan Handbag
PETA's own Meg Mathews teamed up with hot vegan accessories label Wilby to design the Primrose Hill line of gorgeous leather-free handbags. They make great gifts, and a percentage of each sale is donated to PETA!
Save a Bunny's Skin
With a virtual gift from PETA Presents, your purchase will be put to work immediately to support our life-saving work.
An Album From Your Favourite Compassionate Musician
Morrissey, Chrissie Hynde, RZA and Mogwai have all had albums released this year and yet still found the time to speak out for animals.
A T-Shirt From Black Score
Black Score has designed a range of eye-catching animal rights T-shirts, which are perfect for any stylish animal activist!
A Vegan Chocolate Slab by Hotel Chocolat
What's Christmas without chocolate? Hotel Chocolat's latest vegan chocolate creation, the massive Fruit and Nut Frenzy Giant Slab, which recently won a PETA Vegan Food Award, would be perfect for Christmas morning!
Keep It Vegan by Áine Carlin
Whether you're a veteran vegan or just getting started with compassionate cuisine, Áine Carlin's cookbook, which won one of PETA's Vegan Food Awards, is sure to inspire.
A Wool-Free Christmas Jumper
Show sheep and other wool-bearing animals that you care by giving a Christmas jumper made with acrylic or plant-based yarns.
PETA Logo Cat Bowl
Give the animals in your life a treat with a PETA-branded food bowl!
'PETA-Approved Vegan' Trainers
Esprit ramped up its animal- and eco-friendly credentials this year by launching a stylish new collection of leather-free trainers.
Shopping with compassion is easy at Christmas. Here are some more tips for cruelty-free gifts that will delight your family and friends and don't come with a hidden price tag for animals.