Donate Shoes to Refugees and Get 20 Per Cent off a New Vegan Pair
Communities around the UK and beyond are reacting to the EU refugee crisis. While governments procrastinate, the images and heartbreaking stories of refugees on the shores of the Mediterranean, outside Hungarian train stations and in the camps at Calais are prompting caring people to take action.
Groups have formed in London to deliver much-needed supplies to those in need in "Jungle Camp" in Calais, and the staff at PETA have been collecting items, too, but like many of you, we want to do more. We've partnered with compassionate PETA-Approved Vegan shoe companies Beyond Skin, Bourgeois Boheme, Good Guys Don't Wear Leather, NAK Fashion and Wills London to encourage people to donate old shoes and boots, items in urgent demand, in exchange for a 20 per cent discount on new vegan footwear. We will then ensure that the donated shoes are distributed by grassroots groups to those in need, aiding refugees while promoting cruelty-free footwear which helps animals who suffer and die by the hundreds of millions each year at the hands of the leather industry.
All living beings, human and non-human alike, should have the right to live with dignity, free from suffering and fear. By extending our circle of compassion, we can make the world a better place for everyone.
Please join us by sending your quality used shoes and boots, and in return, you'll receive a 20 per cent off voucher from the participating shoe company of your choice.
The Problem With Leather
Before being killed for shoes, many animals endure all the horrors of factory farming – including intensive confinement inside filthy cages or pens, castration without pain relief, chronic infections and disease caused by extreme crowding and a terrifying trip to the abattoir. More than 1 billion animals are killed worldwide for the leather trade every single year, from cows and calves to horses, lambs, goats and pigs – and even dogs and cats. When you wear leather, there's no easy way to know for sure whose skin you're in. Learn more about the cruel leather industry.
Modern cruelty-free microfiber looks and breathes like leather but lasts longer, repels water and doesn't cost cows, sheep or any other animals an arm or a leg – so there's no excuse for killing animals for their skins.
How It Works
Send your quality used shoes or boots to:
People for the Ethical Treatment of Animals Foundation
8 All Saints St
London N1 9RL
United Kingdom
Please be sure to include your name and e-mail address with the shoes and the name of which of the five companies you would like to receive a discount code from. You'll then receive an e-mail from Beyond Skin, Bourgeois Boheme, Good Guys, NAK Fashion or Wills London with your voucher so that you can get shopping. It's simple!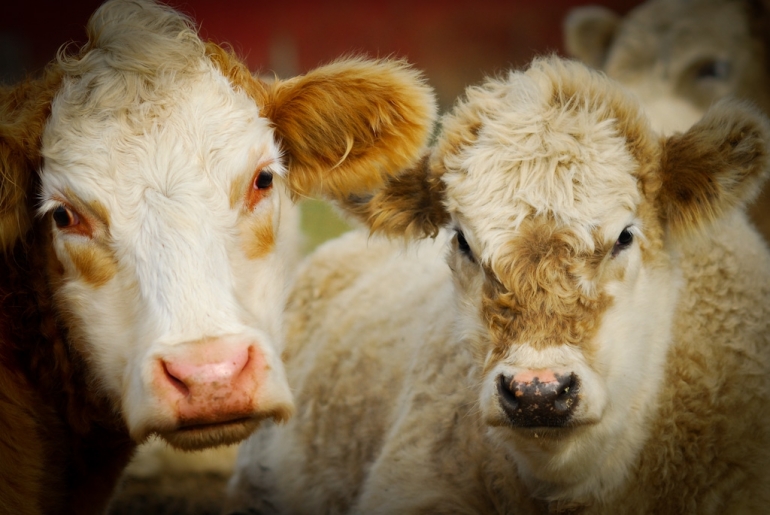 Jo-Anne McArthur / We Animals
One 20 per cent–off voucher for one of the five brands of your choice will be issued for each pair of leather shoes sent to PETA. A voucher cannot be combined with any other offers and can be used only for full-price items. Vouchers will be sent by e-mail within three weeks of PETA's receipt of each pair of shoes. PETA will share individuals' names and e-mail addresses with Beyond Skin, Bourgeois Boheme, Good Guys Don't Wear Leather, NAK Fashion or Wills London only for the purpose of enabling the voucher to be sent. Read Beyond Skin's privacy policy here. Read Bourgeois Boheme 's privacy policy here. Read Good Guys Don't Wear Leather's privacy policy here. Read NAK Fashion's privacy policy here. Read Wills London's privacy policy here. By participating in this offer and giving us your details, you're acknowledging that you've read and you agree to our privacy policy.
For more ways to show compassion to refugees trying to find safety in Europe, please see these suggestions from The Independent.