Stop Air France From Shipping Monkeys to Their Deaths!
Cruelty is in the air, as a result of the shipments of terrified monkeys to laboratories in the cargo holds of some Air France flights.
Every other major airline in the world refuses to transport primates for animal testing. Air France even cancelled an individual shipment of primates after a public outcry led by PETA US and its supporters but has yet to end its shameful complicity in the barbaric vivisection trade once and for all.
Watch: Air France Cruelty in 60 Seconds
Many of the monkeys Air France flies to laboratories have been snatched from the wild and torn away from their families or else
raised on squalid factory farms
. Crammed into tiny wooden crates and packed into the holds of passenger flights, they endure a dark and terrifying journey. After landing, the animals are transported to facilities such as Shin Nippon Biomedical Laboratories and Covance in the US, where they face horrors such as mutilation, poisoning, food deprivation, infection with painful diseases and psychological torment.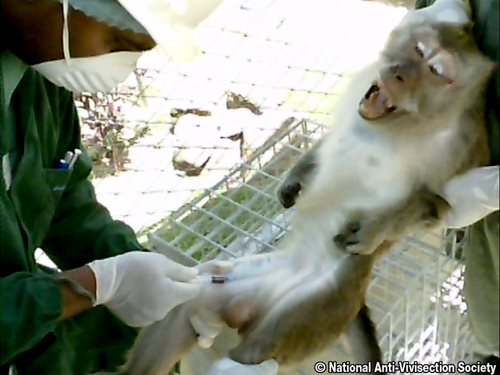 Use Your Voice! Ask Air France to Stop Trafficking Monkeys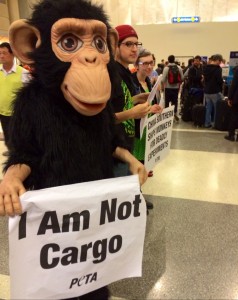 Tell Air France that you won't be flying with the company until it changes its policy and joins British Airways, Lufthansa, Virgin and many others in refusing to ship monkeys to laboratories. Contact them in one (or all!) of the following ways:
Send an e-mail to Air France-KLM officials. Here's a suggested message, but feel free to adapt it. Use this contact information: Alexandre de Juniac, CEO Air France-KLM (

[email protected]

), Frédéric Gagey, CEO Air France (

[email protected]

 ), Peter Hartman, Vice Chair (

[email protected]

), Florence Parly, Director General Air France Cargo (

[email protected]

).
Submit a complaint on Air France's website by filling out this form.
Phone Air France's UK office on 0207 660 0337. Select option 1, then option 5, then option 4 to speak to a customer service staff member and make a polite complaint.
Post on Air France's Facebook page.
Contact Air France via Twitter.
Tens of thousands of people from all over the world have been voicing their outrage at Air France's unethical policy. Campaigns by PETA and our international affiliates already helped persuade China Southern Airlines, Philippine Airlines and others to stop shipping monkeys to laboratories. With your help, we'll make sure that Air France does the same.