In the 2021 Queen's Speech, the government outlined ambitious plans to bring forward new legislation to "ensure the United Kingdom has, and promotes, the highest standards of animal welfare".
This was to be achieved with an Action Plan for Animal Welfare, which laid out government commitments to ban fur and foie gras imports, the importation of hunting trophies from endangered animals, and live-animal exports, amongst other aims and ambitions for animal welfare domestically and internationally.
However, recent reports in the media alarmingly suggest that the government is going to drop the vital animal welfare bills that contain some of these measures. We must not let this happen.
Broken Promises
While the world faces unprecedented challenges, promises to implement vital animal welfare legislation must be upheld and the government must fulfil its commitment to having and promoting the highest standards of animal welfare, as laid out in the 2021 Queen's Speech.
If the reports are true and these bills are torn up, the government would be betraying the animals it promised to protect as well as the public, the majority of whom see protecting animals as a core value and who may have voted based on manifesto commitments such as banning hunting trophies and live export.
Giving the green light to organisations and individuals to continue to profit from cruelty to animals would make a mockery of the UK's claim that we are a nation of animal lovers. The government must keep in mind a sentiment put forth by the Department for Environment, Food and Rural Affairs, "The way we treat animals reflects our values and the kind of people we are".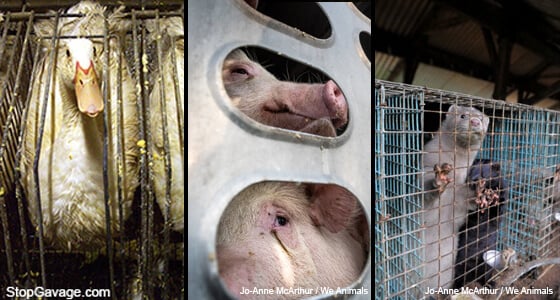 Animals Need Protection
By exporting live animals, we sentence them to distressing, dangerous journeys and horrendous conditions that would be illegal in the UK. Vile products such as foie gras and fur are derived from abuse so disturbing that it's illegal to produce them in the UK. Yet our borders are still open to them – a contradiction that gives companies the green light to profit from this cruelty. And lack of legislation around hunting trophies encourages hunters to continue gunning down animals for sick souvenirs. We must prevent these atrocities – and many others – by implementing the promised animal welfare bills without delay.
The government must put its words into action. Animals cannot wait. Speak out and let MPs know these bans are needed now.
Take Action Now
As soon as you take one action below, another will automatically appear in its place. Just enter your information once, then keep clicking the "Send Message" button until you've completed them all.
Help Spread the Word
Please help us keep the pressure on by sharing this page with your friends, family members, and social media followers and asking them to take action.
Share on Facebook Share on Twitter Share via WhatsApp
Sharing our content may mean you also share your personal data with the chosen social media platform. Find out more here.