The current research system is broken. 
Extensive research documents the failure in translating results from animals into treatments for humans in numerous disease areas, including cancer, cardiovascular disease, diabetes, HIV/AIDS, neurodegenerative disease, sepsis, and stroke.
The majority of "highly promising" basic science discoveries are based on animal studies, but fewer than 10% of these enter clinical use within 20 years.
The failure to reproduce preclinical research equates to more than £20 billion per year spent on misleading experimentation and unacceptable delays in delivering effective treatments.
We need a better way – and PETA scientists have come up with it: The Research Modernisation Deal.
What's The Research Modernisation Deal About?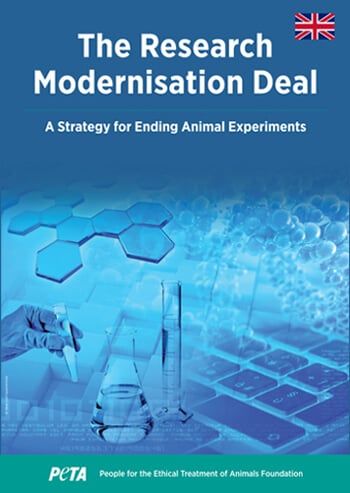 PETA's Research Modernisation Deal outlines a strategy for replacing the use of animals in experiments with human-relevant methods.
It includes the following steps:
Immediately eliminate animal use in areas in which animals have already been shown to be poor and unreliable predictors for humans and their use has impeded progress.
Conduct critical scientific reviews to identify the areas in which the use of animals has failed to advance human health and should therefore be ended.
Implement transparent, robust prospective and retrospective evaluations for all projects using animals and allow for a public commenting period.
Work with organisations and agencies globally to harmonise and promote international acceptance of non-animal testing methods for regulatory testing requirements.
Increase funds for non-animal studies and decrease funds for animal studies.
Educate and train researchers and regulators on the benefits of and how to use non-animal testing approaches.
PETA opposes all experiments on animals and campaigns for an immediate end to all animal use. Government, regulatory, and scientific authorities must acknowledge the failure of animal studies and immediately end all animal use in disease research areas in which it is known that it does not produce results that help humans. To do otherwise is unethical, impedes good science, wastes resources, and harms animals.
Support the Research Modernisation Deal for the UK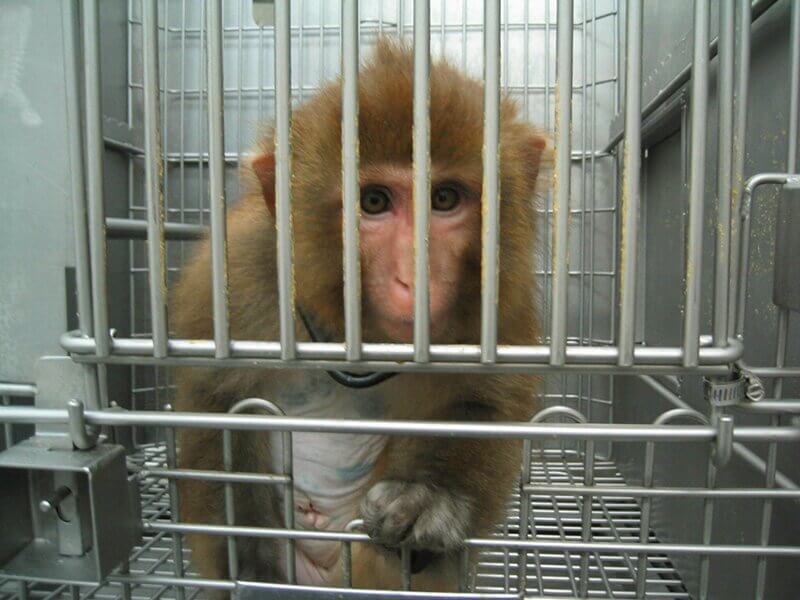 Help end cruel and wasteful experiments on animals.
Now is the time for the UK to reaffirm its role as the world leader in biomedical research and regulatory testing, shift away from the failed animal experimentation paradigm, and embrace the change that will bring desperately needed treatments, cures, and vaccines.
Please sign our petition urging the government to establish a clear policy mandating an end to animal experimentation and to provide a clear strategy and timeline for achieving this goal.
Latest Campaign News
PETA Calls On Parties to Support Bans on Animal Testing in Their Manifestos
While political parties draft their manifestos, PETA is pushing for them to commit to planning to phase out animal tests. We've also sent a copy of the Research Modernisation Deal to party leaders Rishi Sunak and Keir Starmer ahead of the next general election.
PETA Submits 111,000-Strong Petition to the Government
On World Day for Animals in Laboratories (24 April), PETA submitted a petition against tests on animals to the government. We covered a papier-mâché "beagle" – which represents all the animals who are tormented and killed in UK laboratories – in 111,000 signatures and called on the government to implement our Research Modernisation Deal immediately.
UK Conference Features PETA's Research Modernisation Deal
PETA scientists presented a poster on the Research Modernisation Deal at a UK conference on animal testing attended by academics, policymakers, and others in the industry. The poster illustrated a clear strategy for ending experiments on animals and adopting superior, human-relevant methods.
PETA Meets With Minister Responsible for Animals in Science
After sharing our Research Modernisation Deal with the Home Office's new minister responsible for animals in science, PETA scientists met with him. They discussed our work to end the use of the forced swim test and how the UK must become a world leader in animal-free science for the sake of animals, public health, scientific progress, and the economy.
Members of Parliament Speak Out for Animals
PETA's top experts attended a debate in Parliament on the breeding of animals for experiments and the necessary transition to superior non-animal methods for research and testing. Experts shared our Research Modernisation Deal with MPs to highlight that a strategy for transitioning to non-animal methods already exists and is ready to be implemented.
PETA Shares Research Modernisation Deal With Imperial College London
Imperial College London publicly committed to replacing, reducing, and refining its use of animals in experimentation. Following the news, PETA scientists rushed a copy of the Research Modernisation Deal to the institution and requested a meeting to discuss the best approach to accelerating its transition to animal-free research methods.
It's Time for The Research Modernisation Deal!