The current research system is broken. 
Fewer than 10% of highly promising basic science discoveries enter routine clinical use within 20 years.
The failure rate of new drugs developed using animals in specific disease research areas exceeds 95%. Here are a few examples:

Alzheimer's disease: 99.6%
Cancer: 96.6%
HIV/AIDS vaccine: 100%
Strokes: 100% (based on 1,000 new animal-tested agents tested in 100 clinical trials)
Consider this: strokes have affected more than 1.2 million people in the UK at a cost to society in excess of £26 billion. But although more than 1,000 experimental treatments aimed at protecting brain cells during acute strokes have been developed using rodents, none of them have been effective in humans.
Animal-based approaches to the safety assessment of chemicals are also fraught with problems –some test methods date back 50 to 60 years. A pivotal report from the US National Academy of Sciences notes that the current approach to assessing the safety of chemicals – which typically involves using animals – is time-consuming and costly, resulting in an overburdened system.
We need a better way – and PETA scientists have come up with it: The Research Modernisation Deal.
What's The Research Modernisation Deal About?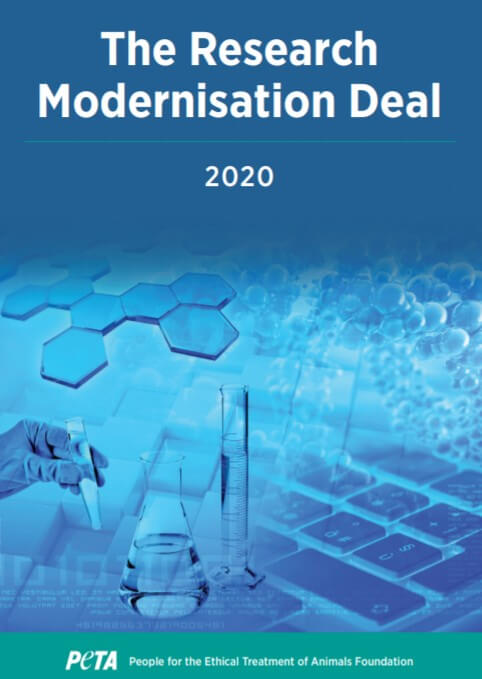 PETA's Research Modernisation Deal outlines a roadmap for replacing the use of animals in experiments with human-relevant methods.
It includes the following steps:
Eliminating the use of animals immediately in areas in which they have already been shown to be poor surrogates for humans
Critically reviewing additional areas of research to determine where animal use can be ended
Implementing a robust ethical evaluation system as part of policies governing the use of animals, thereby increasing the transparency, accountability, and effectiveness of the regulatory process
Promoting the international harmonisation and acceptance of non-animal testing methods among national and international agencies and research bodies
Redirecting funds from animal experiments to the development of non-animal methods
PETA opposes all animal experiments and campaigns for an immediate end to all animal use. Regulatory and scientific authorities must acknowledge the failure of animal studies and, as a first step, immediately end all animal use in disease research areas in which it is known to fail to produce results that help humans. To do otherwise is unethical, impedes good science, wastes resources, and harms animals.
Latest Campaign News
PETA Submits Evidence to House of Lords Science and Technology Committee Inquiry
PETA submitted evidence to the House of Lords Science and Technology Committee inquiry into the UK's research and innovation system. It is the government's ambition to become a "science superpower" – and we have outlined how it can achieve this goal with PETA's Research Modernisation Deal, which provides a strategy for humanising biomedical research and testing in the UK. The first step is that the government must commit to ending experiments on animals.
PETA Scientists Contact MPs for Parliamentary Adjournment Debate on Animal Testing
PETA scientists contacted MPs across the political spectrum urging them to speak up for animals and the future of science in the parliamentary adjournment debate on animal testing held on 16 December 2021. We sent them copies of our Research Modernisation Deal and asked them to push the government to make a commitment in Parliament to developing a strategy for ending experiments on animals and prioritise funding for sophisticated non-animal methods.
Research Modernisation Deal Sent to Home Secretary Priti Patel and Minister for Science, Research and Innovation George Freeman
Our science team has sent letters with copies of the Research Modernisation Deal to Home Secretary Priti Patel, who oversees the law governing the use of animals in scientific procedures, and Minister for Science, Research and Innovation George Freeman requesting a meeting with them. We have asked them to focus immediately on ending experiments on animals and to redirect funding to superior non-animal methods. We also urged them not to use the 3Rs – a principle that preaches absurdly named "humane" animal experimentation techniques through replacement, reduction, and refinement – as an excuse for stalling progress.
PETA's Science Team Reaches Out to Prince Charles and AstraZeneca
When Prince Charles visited AstraZeneca's new research centre in Cambridge and since he is interested in modern technology, we rushed out a copy of the Research Modernisation Deal to His Royal Highness to explain the need to focus only on innovative technology, such as growing human organs in laboratories, cell cultures, computer modelling, and high-throughput screening.
We are praising Prince Charles @ClarenceHouse for supporting state-of-the-art medicine that's faster, safer, and doesn't involve cruel, crude tests on animals!

COVID-19 has shown there are superior ways of conducting research than animal testing. https://t.co/CCN3Lv6oyF

— PETA UK (@PETAUK) November 24, 2021
PETA's Work Appears on the Science and Technology Committee's Website
PETA scientists submitted evidence to a Science and Technology Committee inquiry on reproducibility and research integrity. We are calling on the committee to recognise the mountains of evidence showing that research methods using animals and testing on animals account for a large proportion of the reproducibility crisis. We also pointed out how the Research Modernisation Deal can help overcome these problems. Our evidence made its debut and is live on the UK Parliament website.
Support The Research Modernisation Deal for Europe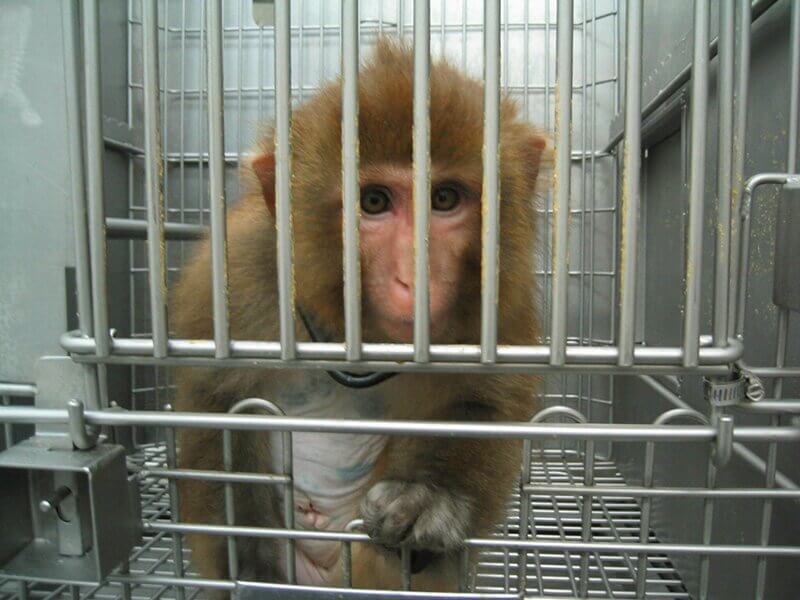 Help End Cruel and Wasteful Experiments on Animals.
With most studies not related to COVID-19 paused, now is the moment for the UK to reaffirm its role as the world leader in biomedical research and regulatory testing, shift away from the failed animal experimentation paradigm, and embrace the change that will bring desperately needed treatments, cures, and vaccines.
Please sign our petition urging the Home Office; Department for Business, Energy & Industrial Strategy; and Department of Health and Social Care to establish a clear policy mandating an end to animal experimentation and to provide a clear strategy and timeline for achieving this goal.
It's Time for The Research Modernisation Deal!