Update (23 February 2023): PETA Germany Files Legal Complaint
PETA Germany has released new video footage and photos, taken in the summer of 2022, which once again show the abuse on Santorini. Equine expert Dr Maximilian Pick reviewed the footage and confirmed the desperately poor welfare conditions of the donkeys and mules, including untreated wounds, ill-fitting riding gear, inadequate care, and overloading:
"The photos and video footage of the donkeys and donkey crossbreeds document that the animals on Santorini are exposed to conditions that are very much a matter of [poor] animal welfare: not only do animals exhibit numerous, partly untreated skin wounds, the scar tissue found on the skin on the head, in the girth position, and on the legs is proof of injuries that went untreated. The saddles and bridles are unsuitable for riding and transporting tourists. Having animals stand in the blazing sun without providing water or food is cruel. The animals are usually overloaded when transporting tourists (sometimes two riders on one pack animal) up the steep stairs."
– Dr Maximilian Pick
In response, PETA Germany, together with the Greek organisation Ippothesis – Panhellenic Equine Welfare Society, has now filed a legal complaint with Greek authorities regarding this abuse. The criminal charges are being filed against the owners of the animals, the donkey handlers, and the local authorities. Although the authorities are aware that animal welfare regulations are being violated, they are either unable or unwilling to put an end to this. Charges are therefore being filed against a number of people, including the current mayor of Santorini, Antonis Sigalas, various employees of the municipality, and both current and former chiefs of police, on a national and a local level.
Original Post (2019): Watch Now
Clearly, the situation for these animals hasn't improved since such abuse was first documented by PETA Germany back in 2018.
Around 100 exhausted donkeys and mules are still forced to carry tourists up and down more than 500 steep, slippery steps to Firá's old town all day long.
Open Sores and Bloody Injuries

Ill-fitting saddles and makeshift saddle girths made from plastic hoses chafe the animals' sensitive skin. Most of them have skin issues such as raw spots or open, bloody wounds on their abdomens and at the base of their tails.
Some suffer from eye injuries, and many are forced to wear muzzles with sharp wire ends that can easily injure them or humans.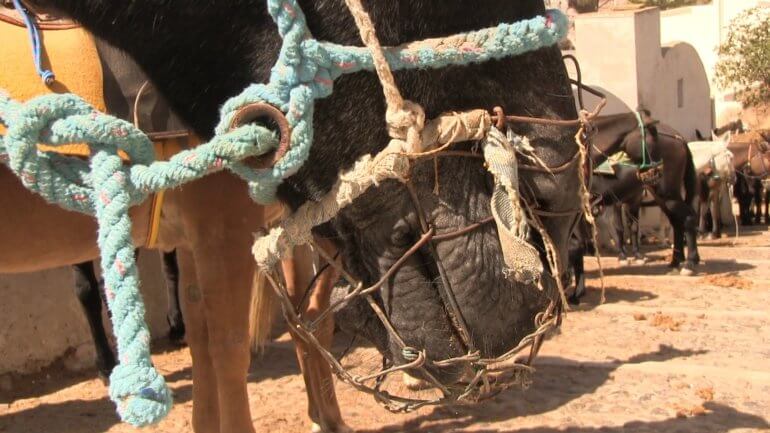 Hours in the Blistering-Hot Sun
At the pick-up and drop-off points, there's enough shade for only a few animals to take shelter from the heat. The rest have to stand in the scorching sun in temperatures that can exceed 40 degrees in summer. They're tied to a wall or rail so tightly that they can't even move enough to shoo away bothersome flies.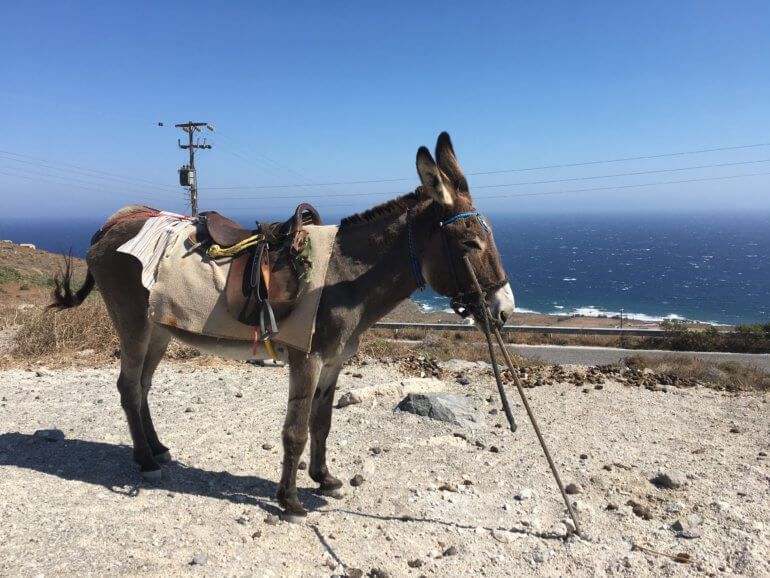 Denied Water and Food
They aren't given access to water or food during their long working hours.
To prevent the public from catching on, a single water bucket is placed at both the top and bottom of the steps…
… however, the animals are usually tethered in such a way that they can't even reach it.
Danger for Humans
Many cruise-ship tourists visit Firá, the island's capital, for a day trip, arriving at the port at the foot of a steep slope. This is where handlers try to persuade them to ride a donkey or a mule up the steps.
Many tourists choose to use the animal-friendly cable car instead or simply to walk up. However, the animal rides pose a danger even to those who climb up on foot: eyewitnesses documented several situations in which walkers were forced to one side or almost pushed over or trampled by donkeys and mules.
One man even had to jump up onto a wall with an unsecure drop behind it to give way to the animals.
In 2015, a woman was trampled to death by a donkey.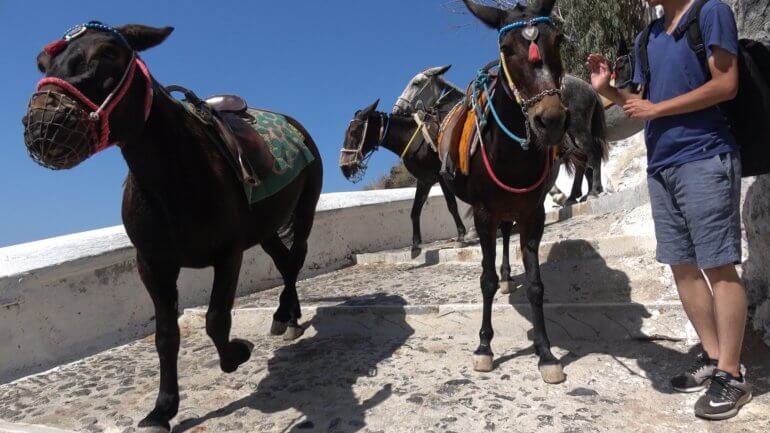 New Laws Go Unenforced
After PETA and our international affiliates initiated the campaign to ban donkey and mule rides on Santorini in September 2018, the Greek Ministry of Rural Development and Food passed a law stating that tourists weighing more than 100 kilograms were no longer allowed to ride the animals. However, this new investigation shows that this law is neither observed nor enforced, as tourists of all weights are still being permitted to take rides. The island's government has apparently also failed to act against other types of animal abuse, too.
What You Can Do to Help Donkeys and Mules
Please call for an immediate ban on all donkey and mule rides on Santorini.
Take Action
Never ride animals of any kind – including donkeys, mules, elephants, and camels – and avoid all other "attractions" that involve animal exploitation, including shows and photo ops with wild animals.
If you're asked to participate in an animal-exploiting activity during a holiday, please tell the organisers that you're refusing to take part because of animal welfare concerns. Ask them to stop offering such activities.