On the Menu – Vegan Options at Chain Restaurants
Unless you haven't taken a stroll down a UK high street in quite some time, you can't have failed to notice the plethora of animal-free food popping up at every turn.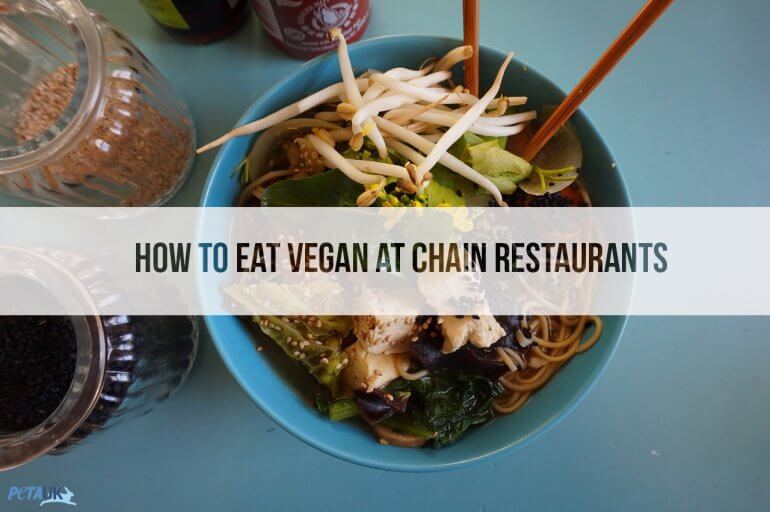 Increased demand for vegan options has opened up a whole new world of delicious, animal-friendly dishes appearing on menus at restaurants, pubs and fast-food chains alike that do not involve grinding animals' bodies up into nuggets or burgers.
We've put together our ultimate list of high-street vegan eats in places that may surprise you  – all tried and tested by us, of course!
Pub Chains
"A vegan at a carvery?" you ask. You bet! Toby Carvery's vegetarian menu includes a nut roast wellington which is suitable for vegans. Ask to have the butter held, and you'll be good to go! Those around you who have opted for slabs of festering flesh will no doubt wish they had followed your lead.
You can find a Wetherspoon's on almost every high street. Its brand new vegan menu includes pasta dishes, curry and tempting sides.
Ask for the vegan menu at this relaxed café-and-bar chain, which has 48 branches across England and Wales in cities such as Birmingham, Bristol and Cardiff. There's an extensive selection, featuring ciabatta sandwiches, tapas, cooked breakfast and even two choices of dessert – including an extremely tempting-looking dark chocolate and ginger torte!
Pizza/Italian
This Italian restaurant chain has delighted vegans by launching a new pizza topped with wonderful, melty vegan cheese. The new menu uses Mozzarisella, a plant-based cheese made using Italian rice milk. And top it all off, there's also a vegan-friendly coconut and mango swirl gelato for dessert. Mamma Mia!
We got quite excited when PizzaExpress announced its new vegan Pianta Pizza. In fact, all its pizza bases are dairy-free, so feel free to choose. If you take in your favourite vegan cheese and ask nicely, you can even have it added to your pizza.
This Italian café offers a separate vegan menu, including spaghetti, bruschetta, olives and fancy Italian breads. All you have to do is ask for it. The restaurant also offers soya milk for coffees.
Portuguese
One of the UK's favourite restaurants, from salads to wraps, eating vegan at Nando's is easy with a few substitutions. Try the portobello pita with a side of veggie strips, just hold cheese and mayonnaise.

Burgers
This chain of burger restaurants, found in a bunch of different locations, including Aberdeen, Glasgow and Sheffield, does a good job of labelling the vegan items on its menu. The chickpea-and-quinoa burger, veg skewers and super salad are all free from animal products, along with the essential side dishes: chips, onion rings and corn on the cob.
Oriental
There are several vegan-friendly dishes on Wagamama's main menu including yasai gyoza (steamed vegetable dumplings), noodle-tastic yasai itame, and other options which can be veganised simply by switching up the noodles and leaving out the fish sauce.
Our top vegan choices from the Yo Sushi conveyor belt include vegetable yaki soba, firecracker rice and vegetable gyoza dumplings. There's way more to sushi than just dead fish, you know!
Latin/Mediterranean
If tapas and fajitas are your thing, Las Iguanas has got you covered. It has a dedicated vegetarian and vegan menu with all dishes clearly labelled, such as the yummy mushroom fajitas. Pass the patatas!
Offering a wide selection of traditional hot and cold Greek meze, The Real Greek clearly labels which items on its main menu are suitable for vegans. Slow-cooked beans in an herby sauce and grilled aubergine are both highlights of this menu.
Leon:
This expanding chain, found at stations and airports all over London, offers wholesome options, such as a gobi curry lunchbox, fresh salads, hummus and flatbread, and almond "milk"shake in three different flavours! Its website clearly marks vegan options.
You don't have to stick your neck out very far to find a Giraffe restaurant. Here, you can graze on tapenade and a selection of other meze as well as a vegan breakfast!
Fast Food
From its mushroom and avocado sushi salad and hearty soups to its more-ish smoothies and coconut yoghurt pots (we're obsessed), Pret is a winner for vegans.
For caffeine addicts, Starbucks offers breakfast and lunch options to complement your soya latte, including a gluten-free hummus-and-veggie salad wrap and creamy soya porridge.
The Veggie Delite sandwich is a safe bet for vegans – and piled high with as many vegetables as you can fit on a sub, it's a healthy option, too. (Just avoid the flatbread, as it contains dairy products.)
An on-the-go grab for all commuting "veg heads", it offers two animal-free pasties, a veggie and a wholemeal, and all the pasties are glazed with a recipe suitable for vegans – so it's no surprise that it walked away with a PETA Vegan Food Award in 2013.
Other
IKEA:
The Swedish furniture giant now offers a delicious vegan (and gluten free) version of their famous meatballs. Enjoy a plate of GRÖNSAKSBULLAR served with rice, vegetables and Swedish lingonberry jam – the perfect rewards after a busy day of furniture shopping!
In 2015, this hotel chain launched its unlimited breakfast, which includes clearly marked vegan options. Not limited to just a fruit salad, compassionate travellers can help themselves to a proper vegan breakfast, with Linda McCartney sausages and plenty of sides.
---
With more and more consumers becoming aware of the health benefits of eating vegan as well as the horrific treatment and suffering of the animals bred for our plates, the demand for vegan options is only going to increase! And the more that are available, the more people will buy them. Every time you request or order a vegan meal, you are casting a powerful vote with your wallet.
Let us know if you've spotted any other great vegan food picks at well-known restaurants by leaving a comment. And if you'd like more advice about vegan living, order a free vegan starter kit today: