Photos: Protesters Call On American Vintage to Drop Cruelly Obtained Angora
Photos: Protesters Call On American Vintage to Drop Cruelly Obtained Angora
PETA Urges Brand to Stop Using Fur Torn From Fully Conscious Rabbits
London – From London to Paris, Berlin, and Milan, supporters of PETA and its affiliates held protests today outside American Vintage stores to demand that the brand take a stand against the violent mistreatment of rabbits by committing to no longer selling angora.
 The activists held signs with an image of a rabbit being violently plucked, accompanied by the messages "American Vintage: Drop Angora" and "This Is the Face of Angora".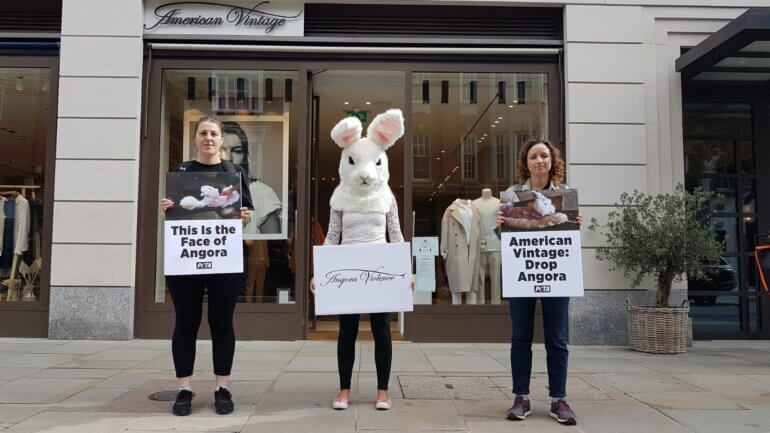 Photos from the action are available here and here.
"Despite being fully aware of the exploitation of gentle rabbits for their fur, American Vintage continues to source angora, profiting from these animals' misery," says PETA Vicepresident of International Programmes Mimi Bekhechi. "It's time the brand listened to the hundreds of thousands of consumers calling on it to drop this cruelly obtained material."
To date, more than 320,000 supporters of PETA and its international affiliates have contacted the company to demand that it join the over 400 brands – including The Kooples, Diane von Furstenberg, Lacoste, and Calvin Klein – that have banned angora after seeing PETA exposés.
PETA – whose motto reads, in part, that "animals are not ours to wear" – points out that on supposedly "ethical" Chinese farms visited by PETA US, which apparently make animal welfare guarantees to companies such as American Vintage, rabbits spend their lives in filthy, barren cages and receive insufficient veterinary care. They're removed only for violent live-plucking, during which they scream in terror and agony as they're tied up and held firmly down as their hair is plucked out by the fistful – a process that sometimes tears their delicate skin. After a short life of misery, they're violently killed at the slaughterhouse.
PETA's petition calling on the company to stop selling angora can be signed here. For more information, please visit PETA.org.uk.
Contact:
Sascha Camilli +44 (0) 20 7923 6244; [email protected]
#