CROWS JUST WANNA HAVE FUN
Adapted from: True Animal Tales, by Rolf Harris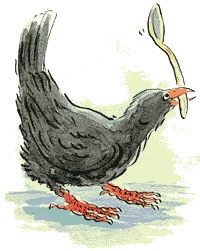 When he was just a baby, Jacob the carrion crow fell out of his nest and would have died if he had not been found by a kind family called the Weissmann's.
They hand reared him and Jacob grew up to be healthy and happy – so happy, in fact, that he decided not to leave. He became best friends with Nurmi, their dog, and loved to play with her and tease her by pecking at her ears. In turn, Nurmi taught Jacob to roll over and have his tummy rubbed and even how to bark like a dog! Jacob really knew how to have fun but his sense of humour wasn't shared by everyone. Sometimes he would dive-bomb the postman, snatch the letters from his hand and fly off with them. He would also steal shiny teaspoons from neighbour's houses, ring the doorbell constantly and even roll around in bags of flour that he had stolen and ripped open.
Life is never dull with Jacob around!

DISCUSSION POINTS
• What do you think was the cleverest thing that Jacob could do?
• How does your companion animal have fun?
• When do you and your companion animal have fun together?

RESEARCH ACTIVITY
Observe how birds behave at your bird table or feeder.
• Do different birds have different skills? Keep a class book with all your observations.
• Observe birds on the playground after playtime.
• Do birds learn that this is a good time to find food?

MY AMAZING ANIMAL FACT FILE
There are five starter facts in our list.
Research information from books, television, newspapers or the Internet and add another fifteen amazing facts to your file.
1. A baby hare can run five minutes after being born.
2. When elephants cross deep water they use their trunks as snorkels.
3. An albatross can fly for up to two years without setting down on land.
4. A woodpecker hammers at up to 1500 mph.
5. The silk worm has eleven brains.
6.
7.
8.
9.
10.
11.
12.
13.
14.
15.
16.
17.
18.
19.
20.