Where to Find Brilliant Vegan Food in Bournemouth
Being vegan in Bournemouth is easy, and new restaurants and cafés are always popping up. To help find the tastiest vegan eats, we caught up with our friends at Dorset Vegan to determine the top vegan hotspots in this happening seaside town.
Now under new ownership, the Salad Centre in Boscombe has long been a meeting place for the Bournemouth Vegetarians and Vegans group. The menu is still being finalised, but when we popped in, it had a spiced root and vegetable casserole and a nut roast on offer, plus a variety of salads. Yum!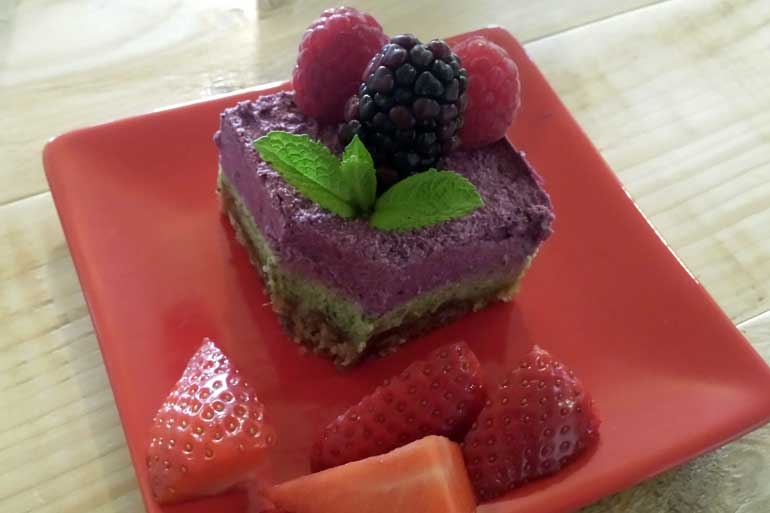 Mad Cucumber was Bournemouth's first vegan café. This lounge in the town centre, great for chilling out, is still a popular spot and the perfect place for catching up with friends. It's great for coffee and cake or simple well-cooked home-style food.
Looking out over Bournemouth's beach is Aruba, a beautiful open-plan restaurant and bar. The staff excitedly told us that the veggie curry is vegan, as is the black-bean burger. (Just hold the sour cream.) And vegan wine is available.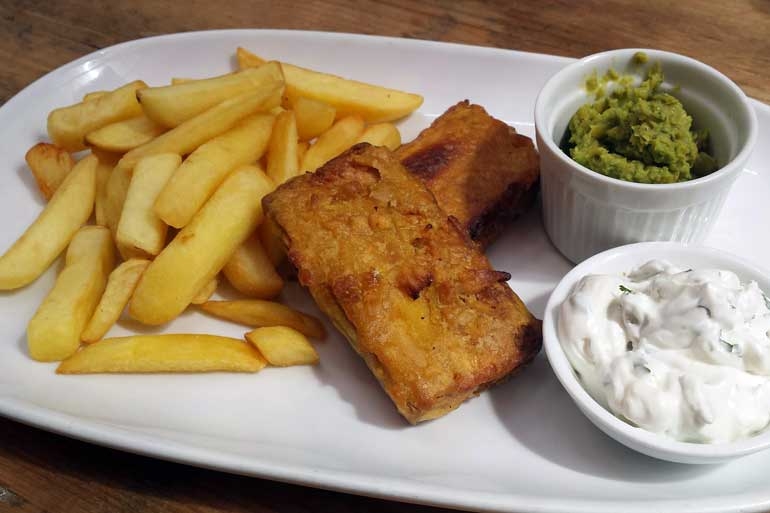 Over in Westbourne, Zoukinis has a regularly changing menu with many vegan choices inspired by a "passion for flavour". No seaside visit would be complete without Toff n Chips – tofu that's packed with a samphire and watercress pesto, served with homemade mushy peas, tartare sauce and a healthy portion of chips. The restaurant also offers a scrumptious breakfast.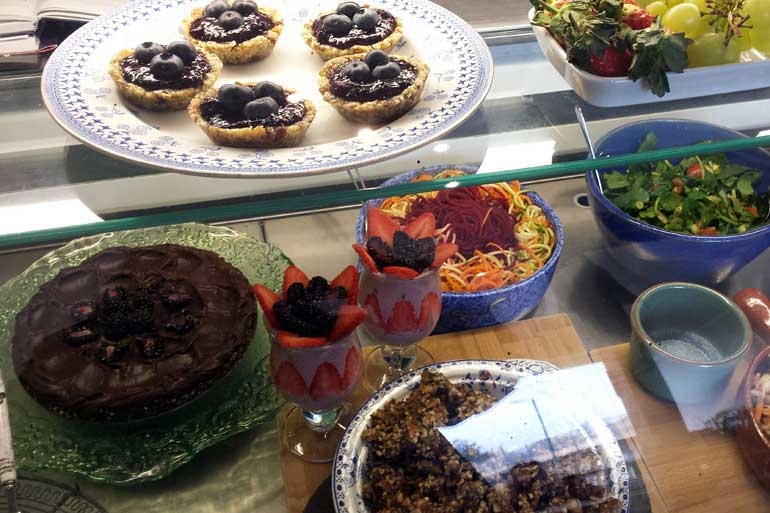 The newest restaurant on our list, Sweet Greens opened its doors in Charminster in February. This raw café and juice bar offers some delicious raw vegan cheeses. It's bijou, with seating for just eight, but it also offers takeaway. Do try the chilli!
Like all restaurants in the Loungers chain, Conto Lounge in Winton offers a separate vegan menu. (Ask at the bar to see it.) Options include burgers, sandwiches and a rather yummy chocolate-and-ginger torte for dessert.
This Mexican restaurant in the heart of the Bournemouth town centre has several vegan options listed on the menu, including fajitas, burritos and enchiladas. It's a regular haunt for many local vegans.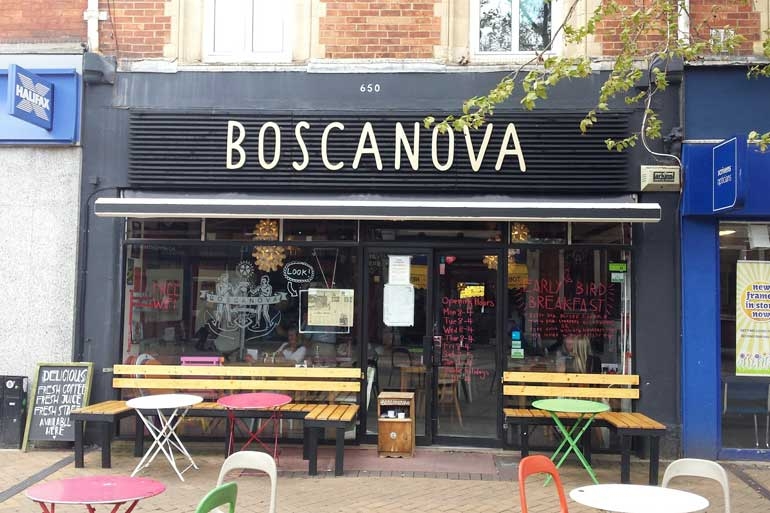 The big sister of South Coast Roast, Cafe Boscanova in Boscombe is a quirky café with a chilled-out vibe. Several vegan options are listed on the menu, including a delicious full breakfast. And when it comes to coffee, there's nothing this café doesn't know!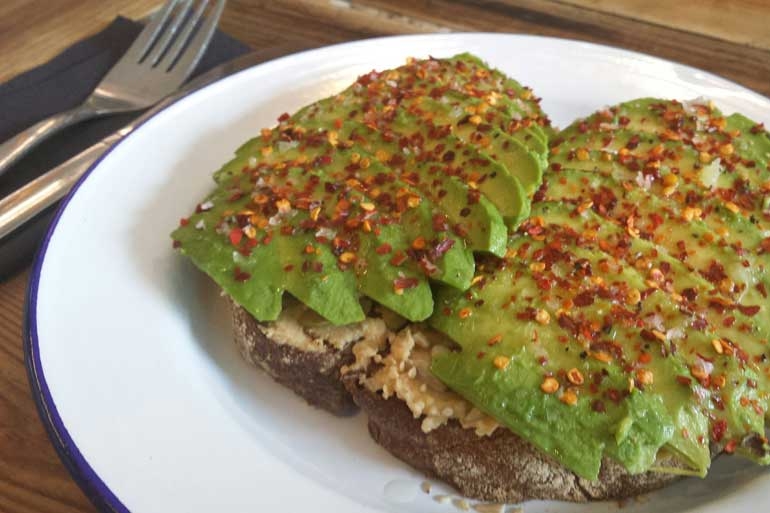 The little sister of Cafe Boscanova sits in the Bournemouth town centre on Richmond Hill. The menu is fairly limited, but the staff are more than happy to knock you up a delicious avocado on sourdough toasted open sandwich if you ask. The café also stocks raw energy balls, and you may find that some of the daily sandwiches on offer as well as the soup are also vegan – just check with the staff. Like the staff at Cafe Boscanova, they are also mad about coffee and will happily make you one with soya or almond milk.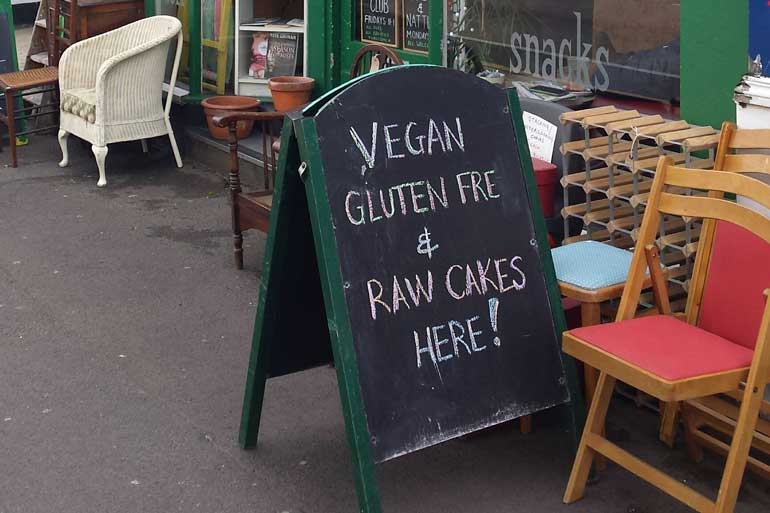 As the name suggests, this is as much a second-hand bookshop as it is a café. It also sells a wide range of antiques. Limited to coffee and cake (but who needs more?), it offers a varied selection of raw and cooked vegan cakes and can brew up a mean soya latte.
Here's a great secret find on the outskirts of Bournemouth. The owner of this popular pub is very keen to make everyone feel welcome and will make a delicious three-course vegan dinner for you with a bit of notice.
Clearly, Bournemouth has a lot going for it. And on 28 June 2015, the Bournemouth Vegan Fair will be held at the Pavilion Theatre on Westover Road from 11 am to 4 pm. The event will host around 70 stalls, and visitors will be able to sample tasters, collect recipes and talk to suppliers and experts. There will also be a showing of Cowspiracy and a talk from world record–holding marathon runner Fiona Oakes. Learn more at BournemouthVeganFair.co.uk, and check out DorsetVegan.co.uk for even more vegan places in Bournemouth.
Did your favourite vegan hotspot in the area make the list? Let us know if we missed it by leaving a comment below.