PETA Calls Out Defence Secretary's 'Bear-Faced Lies' With Massive Westminster Bridge Banner
Sharing our content may mean you also share your personal data with the chosen social media platform. Find out more here.
Maybe you remember this phrase from your childhood: "Liar, liar, pants on fire, nose as long as a telephone wire."
Well, Defence Secretary, Ben Wallace nose he's misleading the public about faux fur so we dropped a giant 10 meter banner over Westminster Bridge with a pointed message for him as clear as the Pinocchio nose on his face: stop telling bear faced lies. A faux fur exists – use it!

Faux Can Be the Future
Although the faux fur matches the exact length of the real bearskin used on the Queen's Guard's caps, performs similarly in "water shedding" tests, and is 100% waterproof, the Ministry of Defence (MoD) disingenuously claims that no suitable non-animal alternative is available. The MoD is also misleading the public about the killing of the bears whose skin is used for the caps.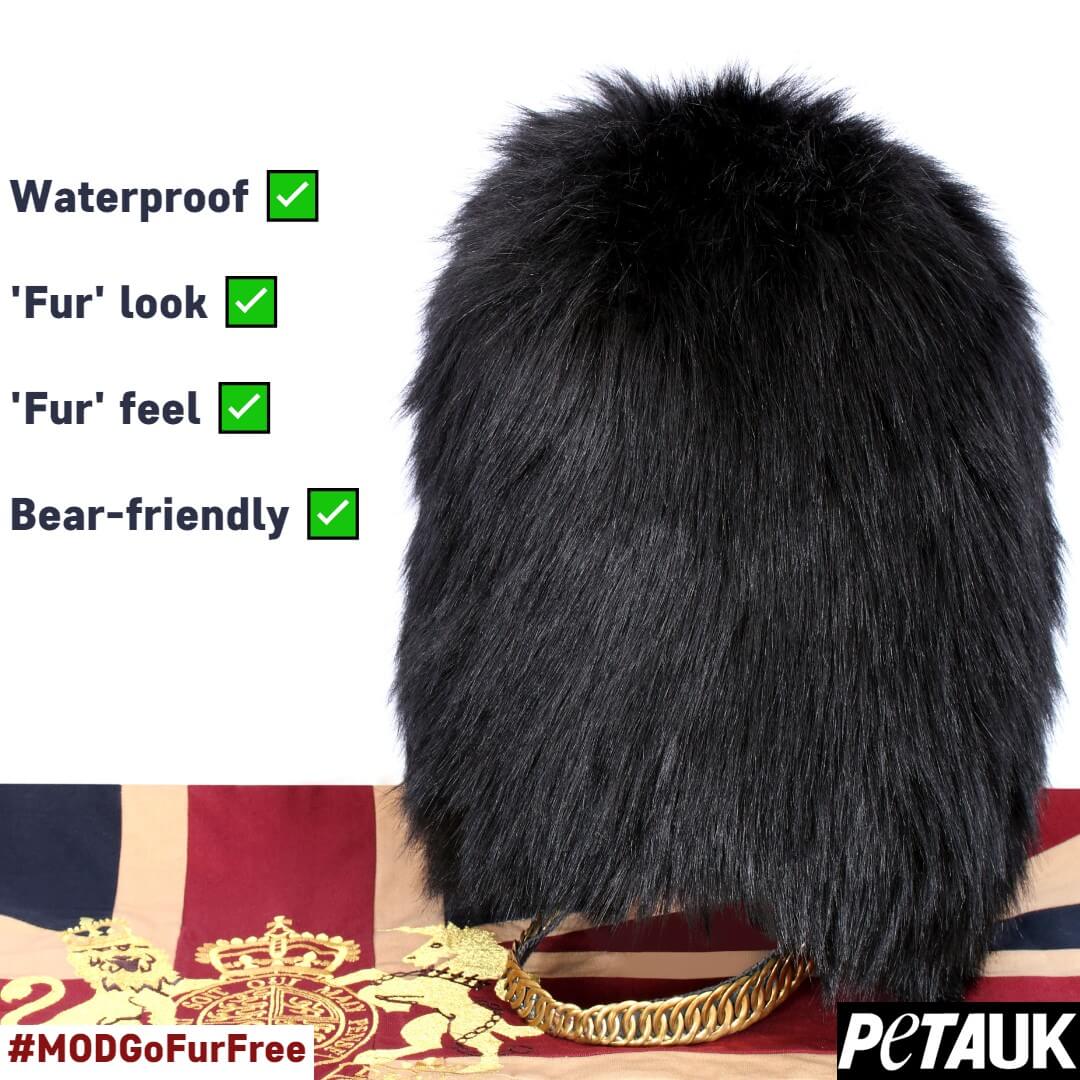 Liar Liar … Are Wallace's Pants on Fire?
A humane, high-performing replacement for the bearskins used for the Queen's Guard's caps now exists, but Ben Wallace and the MoD are refusing to use it.
Contrary to the false statement first peddled by the ministry that "the Ministry of Defence recently conducted tests on a fake fur fabric", not a single MoD official has even seen the faux bear fur produced by luxury faux furrier ECOPEL.
PETA – a charity – had to hire a fabric technologist and pay for an MoD-copyrighted test to be conducted on the faux fur at an accredited laboratory used by the ministry, which confirmed that ECOPEL's lined faux fur is 100% waterproof.
Claims that the faux fur shows "unacceptable rates of water shedding" or performs "poorly on visual assessment" are also inaccurate. Images from the test clearly show that the faux fur sheds water in much the same way as real bear fur. The faux fur and bear fur are also virtually identical to the naked eye.
One Bear = One Cap
The MoD has no clue about the origin of the bear fur it uses and is deliberately misleading the public by saying that it is "the by-product of a necessary 'cull'".
It's undeniable that money from buyers of bear-fur products is funding the slaughter of bears in Canada. When the MoD uses UK taxpayers' money (your money!) to buy caps made from bear fur, it incentivises cowardly hunters to kill bears for their skins.
In Canada, hunters who obtain "tags" are free to bait and kill an allotted number of bears, including with bows and arrows, and then sell on their "trophies", including bear pelts, to fur auction houses.
Some bears are shot several times before they die, and some escape only to bleed to death. When mother bears are killed, their cubs are left to starve.
It takes the skin of at least one bear to make a single cap.
You Have the Power to Help Bears
The MoD will continue to behave dishonourably until it is made to stop using bearskins.
Please join us in calling on the government to quick-march faux fur caps into service. Bears need 100,000 of us to take action right now:
Categories
Sign Up for E-Mail Updates
All mandatory fields are marked with an asterisk. *