COP26 or COPOUT26? PETA Marches for a Vegan World
From Glasgow to London, PETA joined COP26 marches to help get the message across: you can't be a meat-eating environmentalist. Everyone must go vegan for animals and the planet.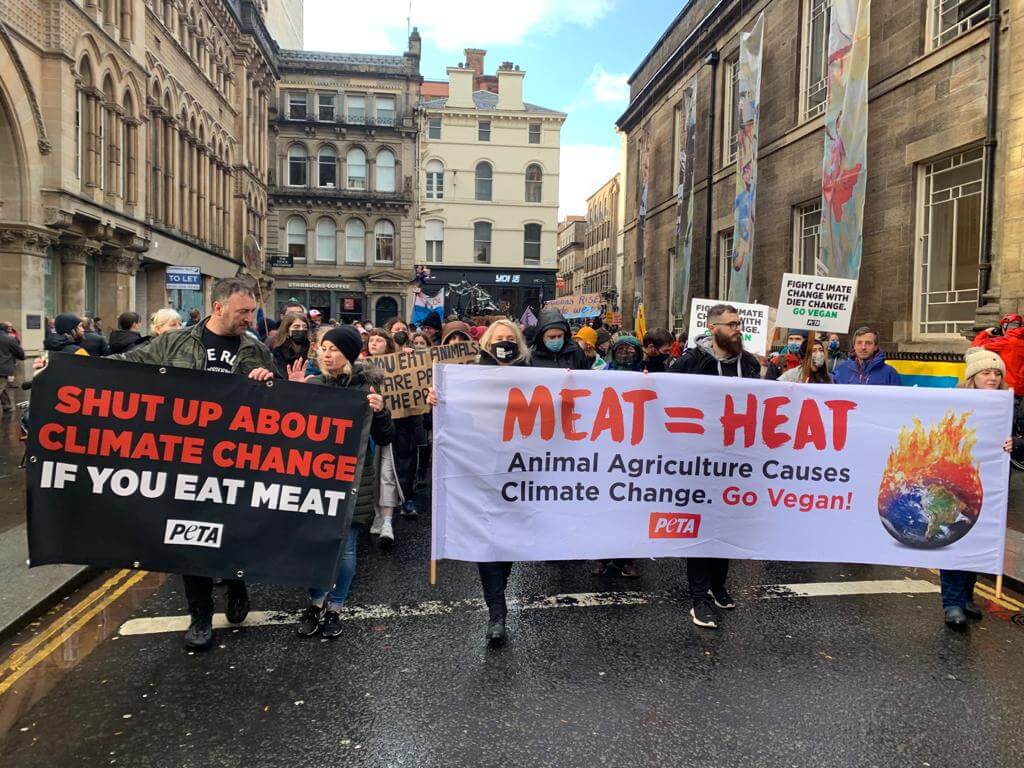 We stood strong in Glasgow, where COP26 was taking place, alongside our supporters and other animal rights organisations, such as Viva! and One Kind, to draw attention to the environmental importance of going vegan.
We didn't stop there. We also joined the COP26 London march to make sure our message was heard loud and clear.
What's COP26, You Say?
COP26 – or COPOUT26 – is the 2021 United Nations Climate Change Conference, which brings parties together supposedly to accelerate action towards restoring the planet and tackling climate change. World leaders are expected to agree on ways to stick to the global "carbon budget" and prevent a rise in global temperature of 1.5°C above pre-industrial levels.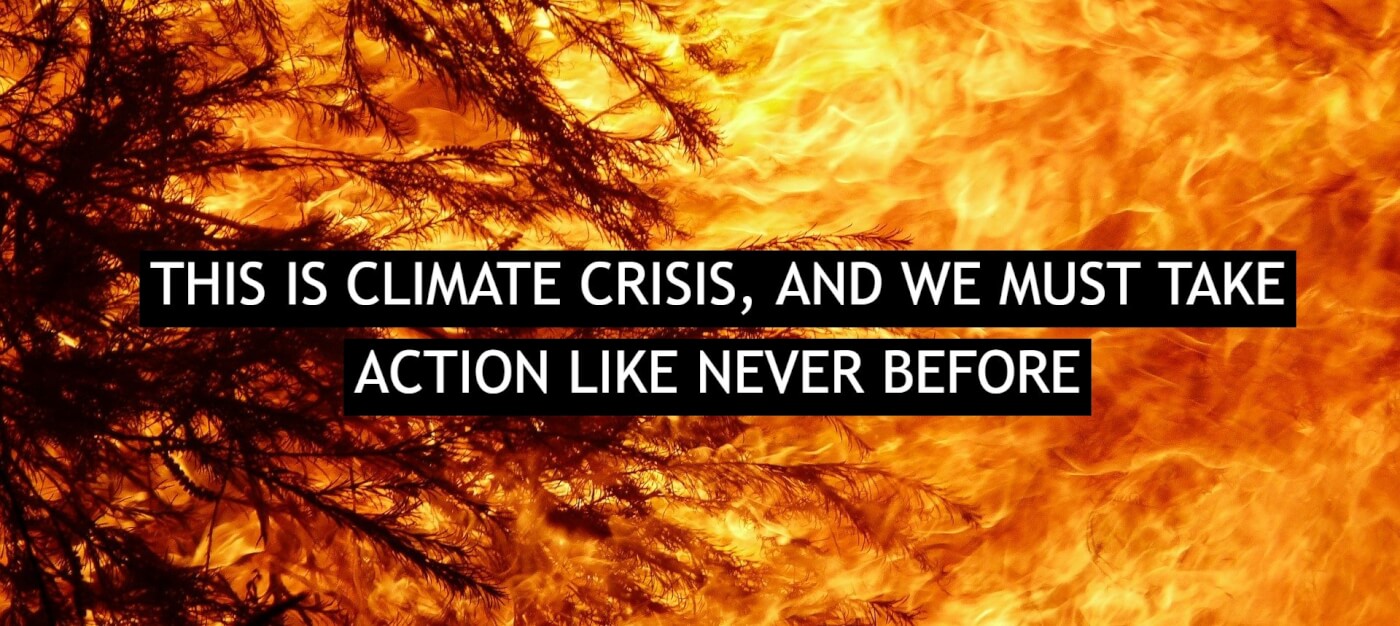 But despite persistent campaigning from PETA and other organisations, the UK government is still failing to take action to mitigate the catastrophic impact animal agriculture is having on our planet.
Fight Climate Change With Diet Change
The fishing, meat, egg, and dairy industries aren't just relentlessly cruel to animals – they're also a nightmare for the environment. The United Nations states that urgent and unprecedented changes – including a shift to vegan eating – are needed to limit the catastrophic damage that will be caused by climate change.
https://twitter.com/PETAUK/status/1456979169280204801
Researchers at the University of Oxford found that cutting out meat and dairy could reduce an individual's food-related carbon footprint by up to 73%. The study concluded that going vegan is the "single biggest way" to cut greenhouse-gas emissions and conserve water and land, pointing out that the impact is "far bigger than cutting down on your flights or buying an electric car".
How PETA Is Taking Action for Climate Justice
In addition to creating a lot of noise at the COP26 marches in Glasgow and London, we also made sure that anyone – including world leaders, celebrities, and officials – walking around Glasgow during this important time of climate emergency understood exactly how to help the situation.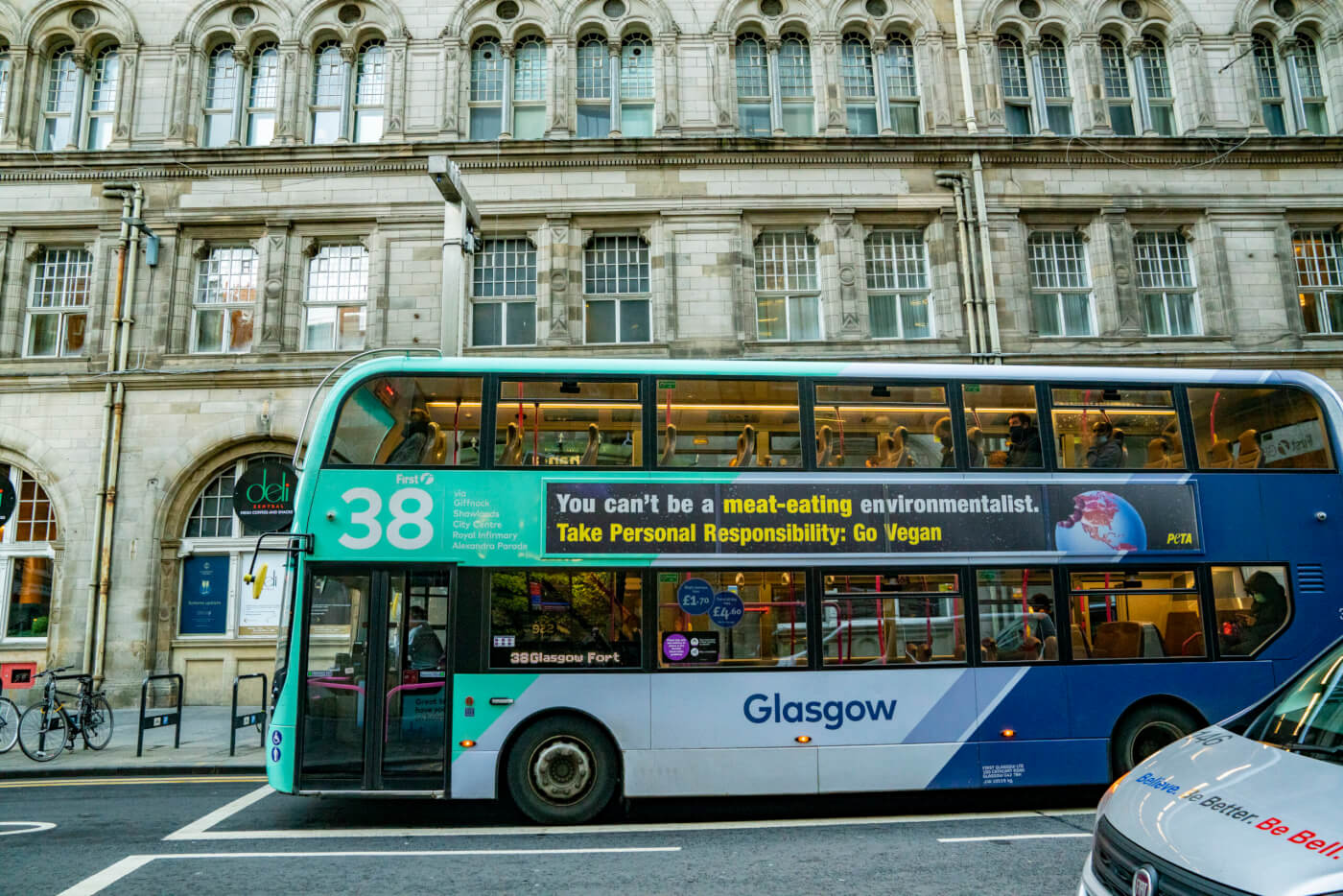 In addition to plastering the sides of Glasgow's buses with a pointed reminder "You can't be a meat-eating environmentalist. Take Personal Responsibility: Go Vegan", we also hung a huge banner from the footbridge over the M8 motorway that quite simply stated: "Eating animals got us into this mess. Go vegan."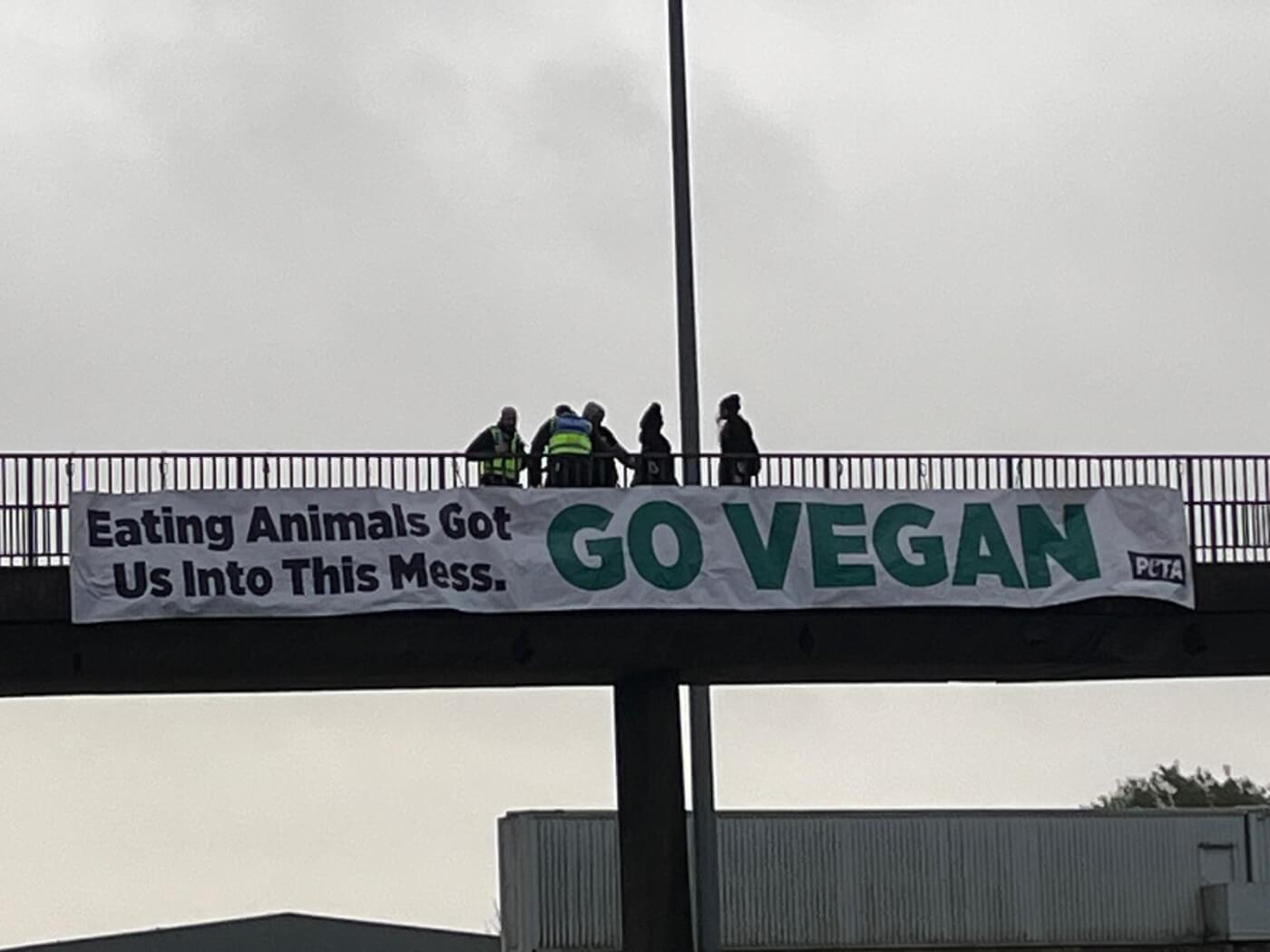 PETA collaborated with Viva!, OneKind, Vegan Outreach Scotland, Farmers For Stock-Free Farming, and Animal Equality on the day by joining in a social media storm with our supporters. You couldn't log onto Twitter without #VegansForClimateJustice, #MeatEqualsHeat, and #CopOut26 popping up on your feed.
Hey #Glasgow and @COP26 – can you hear us?
Our planet is in crisis. The easiest step to take to save it is to #govegan.@animal_equality @vivacampaigns @CIWF @FarmStockFree#VegansForClimateJustice#Meatequalsheat#CopOut26 pic.twitter.com/adQOHvcHEX

— PETA UK (@PETAUK) November 6, 2021
Try Vegan Now
Scientists agree that vegan foods have a smaller carbon footprint than their animal-derived equivalents, so the single biggest thing we can do as individuals to help combat climate change is to go vegan.
Try it now by ordering our free vegan starter kit! In this handy booklet, you'll find crowd-pleasing recipes, meal plans for a balanced diet, and top tips on living a vegan lifestyle.
Go vegan for animals and the planet: