Finally! Government Introduces Bill to Ban Use of Wild Animals in Circuses in England
Environment secretary Michael Gove has introduced a long-awaited bill to ban the use of wild animals in travelling circuses across England, after the government dragged its feet on this important issue for years.
When the bill passes, circus operators across England will no longer be able to exploit wild animals in the name of human entertainment, an outcome that PETA has long campaigned for.
Gove explained why he has introduced the bill:
Travelling circuses are no place for wild animals in the 21st century and I am pleased that this legislation will put an end to this practice for good.
PETA's Campaign to Ban Wild-Animal Circuses
Our campaign against wild-animal circuses has included e-mail actions, in which PETA members contacted their MPs on key dates and around debates in 2011, 2014, 2016, and 2017. Some celebrities even stormed Parliament in eye-catching protests that were hard to ignore.
Our petition urging Gove and ministers before him to introduce a ban generated tens of thousands of signatures – a testament to the shift in perspective on animal rights and the growing calls for the government to take action against animal exploitation.
The campaign has also involved powerful PETA ads over the years, including ones starring well-known acts such as Little Mix and Ashleigh and Pudsey. Targeted ads were also released, including a 2012 image of then Prime Minister David Cameron in clown make-up, encouraging him to stop clowning around and enact the ban he had promised, and a 2017 ad that ran in The House magazine, reminding ministers that lions belong in the wild, not in chains.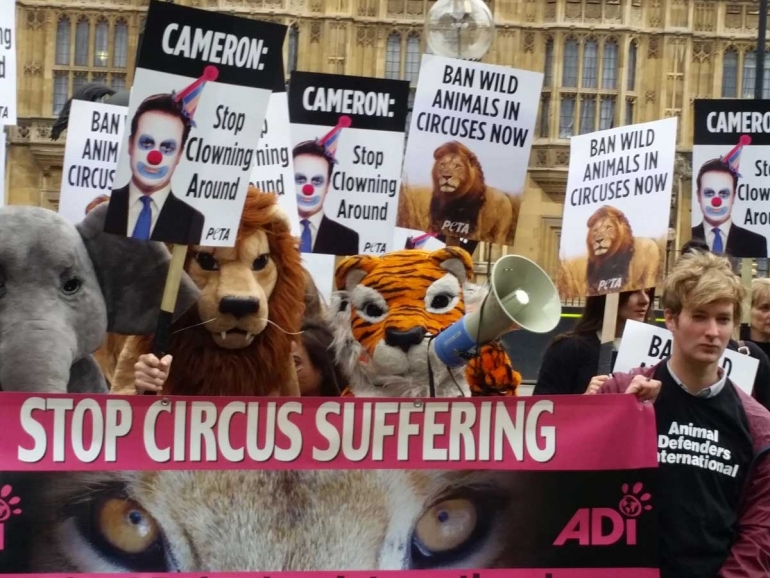 The campaign has been long, and UK animal-protection groups put forward unified initiatives, such as a 2012 open letter encouraging the government to reverse its decision to pursue a licensing scheme rather than a ban. Groups including the RSPCA, Animal Justice Project, the Born Free Foundation, Animal Defenders International, Viva!, Animal Aid, and the Captive Animals' Protection Society also joined PETA in sending a letter in 2016, at the return of Parliament, to remind Prime Minister Theresa May to roll up her sleeves and get to work on introducing a ban.
Wild Animals Don't Belong in Circuses
Forcing wild animals such as zebras, raccoons, macaws, and camels to perform confusing tricks is a barbaric practice that has no place in a compassionate society.
Wild animals used in travelling circuses are carted from one venue to another in cramped cages and barren trailers and are taught to perform tricks through fear of punishment.
©Jo-Anne McArthur / One Voice
People around the world are recognising that wild-animal circuses are cruel, and many countries have made these inhumane spectacles illegal. By July 2017, nine European Union member states had outlawed the use of wild animals in circuses, and both Ireland and Scotland implemented bans last year. There is currently a consultation on the matter in Wales .
What You Can Do
Never, ever attend a wild-animal circus or any other exhibit that exploits animals for entertainment. Instead, opt for animal-free family activities.