G7 Summit's Meaty Meals Prompt PETA 'Go Vegan' Billboard
Ahead of the G7 Summit in St Ives – an event for world leaders to discuss, among other things, how to respond to the global challenge of climate change – PETA is looking to place this "You can't be a meat-eating environmentalist" billboard ad in the Carbis Bay area:
Our ad is a wake-up call to anyone who can look at a meaty Cornish pasty without considering the environmental impact of such food – or the animals who suffered for it.
After G7 Summit President Boris Johnson failed to respond to our request to serve only planet-friendly vegan meals at the event, we want to remind global leaders and Cornwall locals to take personal responsibility and go vegan for the planet.
Why Vegan?
The UN states that animal agriculture is responsible for nearly a fifth of human-induced greenhouse-gas emissions and that raising animals for food is "one of the top two or three most significant contributors to the most serious environmental problems, at every scale from local to global".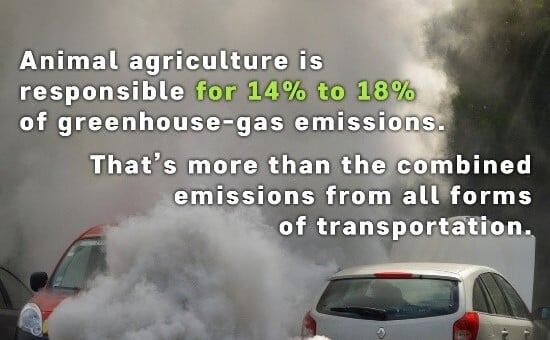 A widespread switch to vegan eating could cut global greenhouse-gas emissions by 70% by 2050, in addition to preventing animals from suffering on filthy farms and dying in abattoirs after their throats are slit.
Reduce Your Impact on the Environment: Go Vegan
Change starts on our plates. We can all help protect the Earth, humans, and other animals by going vegan.
Reduce your impact on the environment now by taking our 30-day vegan pledge: