Will Italy Ban Fur Farming in 2022?
Time is running out for 7,000 minks still imprisoned on Italian fur farms. The country has suspended fur farming until the end of 2021 following reports of COVID-19 outbreaks on the farms – but will the Italian government do the right thing and introduce a permanent ban in 2022? Here's what's been going on and how you can help make a ban happen.
Six fur farms still remain in Italy. Just take a look at the suffering the animals imprisoned there endure:
Investigations into Italian mink farms have found that animals spend their short, miserable lives inside wire cages with no access to grass or water to swim in. Many are left with severe injuries, and the stress of captivity drives some of them to self-mutilation or cannibalisation of their cagemates.
The minks are killed when they're only about 6 to 8 months old – crammed into a box and gassed to death.
©Jo-Anne McArthur / #MakeFurHistory
What Is Italy Doing About It?
A meeting of the European Union's (EU) Agriculture and Fisheries Council was held in June 2021, and the European Commission was called on to end the breeding of animals for the production of fur in the EU.
Italy's minister of agricultural, food, and forestry policies, Stefano Patuanelli, showed support for the ban, declaring that "the breeding of animals for fur is no longer justifiable and Italy will give its maximum support to reach the European ban on this form of breeding".
We must urge the Italian government to stay true to its word by ending all fur farming in Italy now – minks can't wait any longer.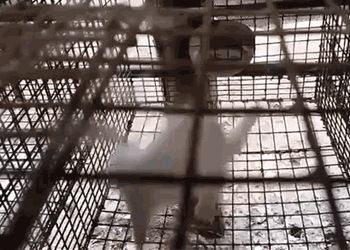 Fur Is Dead
More than 90% of Italians oppose fur farming, and Italian designers such as Gucci, Prada, Armani, Versace, Valentino, Elisabetta Franchi, and many others refuse to use fur.
Following reports that minks tested positive for COVID-19 on fur farms in the Netherlands and that workers are believed to have contracted a strain of the virus from the animals, the Dutch parliament voted by an overwhelming majority to bring forward the implementation of a fur-farming ban in the Netherlands.
Such bans are already in place in Austria, the Czech Republic, Israel, the UK, and several other countries.
David Camilli
Minks Urgently Need Your Help
We'll continue to keep the pressure on the Italian government until fur farms are banned. Join over 40,000 PETA supporters by sending a message to senior Italian government officials: