John Bishop and Lily Cole Crowned as the UK's Sexiest Vegetarians!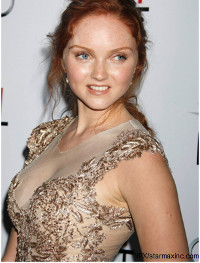 Kindness is one of the sexiest traits that you can have – so as you'd expect, when deciding who to award the title of the UK's Sexiest Vegetarian Celebrities, we were spoilt for choice, especially since a plant-based diet is known to keep you fit and looking great! But after much deliberation, 2013's beautiful winners are comedian John Bishop and top model Lily Cole.
Bishop, who starred in one of PETA's most popular pro-vegetarian campaigns, "Chicks Love a Vegetarian", has been meat-free for nearly three decades, which may account for his unflappable energy, both on stage and when completing the strenuous 290-mile Sport Relief challenge. This year, he got his Twitter followers thinking when he posted a photo of part of a mangled, cooked chicken corpse with the comment "People ask why I am vegetarian … give me a carrot any day".
Cole went vegan more recently after she dreamed about how great she would feel if she ditched meat, eggs and dairy products, and she decided to make her dream a reality. This summer, she used her prominent position in the fashion industry to speak out against manufacturers that use shark liver oil, or "squalene", in moisturisers, conditioners and lipsticks without labelling where the squalene comes from. "When people are made aware of this and understand the issue, they can then make informed choices", she says, "and markets always follow consumers".
Previous winners of our Sexiest Vegetarian Celebrity title include Leona Lewis, Anthony Kiedis, Eliza Doolittle, Jay McGuiness and Russell Brand.
After the indulgence of Christmas, now is a great time to get in shape by following in John's and Lily's footsteps – order our free vegan starter kit today, and make 2014 the year that you ditch animal products!