PETA Entities Are in Ukraine, Moving Mountains to get to Animals in Need
Update (26 July 2022): Since just days after Russia invaded Ukraine, PETA Germany has been working with a network of committed volunteers and organisations to rescue more than 1,650 dogs and cats – and counting! These rescues are in addition to the more than 616 tonnes of food and provisions delivered to help dogs, cats, donkeys, and horses still trapped in war zones, deliveries that will continue as long they're needed.
Take a look at just a few of the wonderful individuals who have recently been rescued from Ukraine – their happy faces say it all!
Update (8 July 2022): When the Russian assault intensified in the city of Dnipro, Ukraine, PETA Germany and other animal advocates on the ground knew they needed to act quickly. After organising successful rescue operations to evacuate animals from the cities of Lysychansk and Severodonetsk, they'd become experts at getting animals out of harm's way – and now, they had to do it again.
The team searched Dnipro, finding 200 dogs and cats in need of rescue – but they couldn't locate fuel for the vehicles needed to drive the animals out of the city, and the driver they had engaged was called away. Refusing to give up, PETA Germany and its ally Animal Rescue Kharkiv combined their resources and mobilised a chain of committed activists who could supply vehicles and fuel to move the animals – link by link – across the country to an animal shelter on the Hungarian border. Shortly after the caravan left Dnipro, the bridge it had just crossed to escape was bombed, blocking access to the city. The animals were saved just in time!
Volunteers working at the shelter cried as they hugged the new arrivals and prepped them for the next leg of their journey – transport to a safe haven in Hungary. At this peaceful, open-air refuge, they're receiving medical care, food, and plenty of affection while completing their required quarantine. All the animals will soon be ready to meet their adoptive families in neighbouring countries and leave the trauma of war far behind.
Update (1 July 2022): PETA Germany and its partners in Ukraine face different challenges every day – but with each obstacle comes a new triumph.
For Lucky, Life Was a Highway – Now, It's a Home
A staff member at a Ukrainian partner shelter near the Hungarian border found an injured dog lying in the road. She whisked him to a veterinarian, but the prognosis wasn't good: three of his legs were broken. It took several operations and no small amount of TLC from shelter staff, but the gentle dog pulled through, and he was aptly named Lucky.
Alexandra Horvath
He will soon be on his way to Germany, where teams are working to find loving homes for more dogs like him.
Temporary Shelter Provides Permanent Relief
With help from local animal organisations, the PETA Germany team has finished construction of a temporary shelter outside Budapest, Hungary, that can house more than 300 animals as they complete their required quarantine before they can be transferred to shelters in Germany. The "pop-up shelter" is in a large, peaceful area where animals can heal and recuperate.
The first 20 dog evacuees are "breaking in" this haven, where they're receiving medical care and vaccinations, as well as being spayed or neutered. Staff members caring for the dogs say that it has been inspiring to watch them overcome the trauma they've experienced as they befriend one another and learn to trust humans again.
Update (13 June 2022): Dog rescued from Ukraine finds new home in Belgium.
Daisy's Journey
Sweet Daisy is only a year old. Alone on the streets of Ukraine, her outcome did not look good. That was until PETA Germany found her. Rescuers scooped her up and transported her to safety in Poland, along with dozens of other cats and dogs.

After weeks of care, during which she received her vaccinations and clearance to travel, she embarked on another journey – this time to her permanent home in Belgium.

A New Big Family
Daisy's new guardian describes her as a ball of energy. She loves people and is affectionate to everyone she meets. She is also smart and quick to learn. Now part of a big family, Daisy lives with a brother and two sister dogs in her new home – and they all play and sleep together.

Her favourite pastimes are racing around the garden with her new pack (she's fast!), tempting her new neighbour to give her treats through the fence, napping in her favourite armchair, paddling in the pond (and getting dried afterwards), sleeping on her guardian's bed with her brother, chewing on a squeaky pineapple with her puppy sister, and carrying around a yellow fluffy duck!

It's hard to know or even imagine what she has been through, but this adorable and resilient little girl is now living the life she always deserved.
Always Adopt, Never Shop
As Daisy enjoys this new chapter of her life with her furever family, many lovely adoptable dogs like her are still waiting for a permanent home. Remember, every time someone buys a puppy or a kitten, they fuel the animal-homelessness crisis and an animal in a shelter loses their chance at finding a home.
Rescued animals, like Daisy, make terrific companions, and mixed-breed animals are also likely to be healthier and live longer than their "pedigree" counterparts. So if you are ready and willing to welcome an animal companion to your family and to take care of them for the rest of their life, adopt, don't shop.
Update (18 May 2022): PETA Germany is building shelters in Hungary to host animals rescued from Ukraine.
Temporary Homes for 300 Rescued Cats and Dogs
Since the war broke out, PETA Germany has rescued over 1,300 cats and dogs from Ukraine. Now, to save even more animals, the group and its partner Notpfote Animal Rescue are building shelters in Hungary. These shelters, located near the border with Ukraine, will provide temporary accommodation for up to 300 animals at a time.
Tired and stressed after arduous journeys from all across Ukraine, these defenceless victims of war will soon have safe harbour in Hungary, where they will be able to rest, recuperate, and receive lots of TLC from the staff while they await the next leg of their journey. Due to border regulations, cats and dogs rescued from Ukraine must often spend time in quarantine before they can travel to Germany or other EU countries. At these new shelters, Ukrainian animals will receive all the medical care, tests, and vaccinations they need in order to be adopted into permanent homes.
Update (10 May 2022): PETA Germany has so far rescued over 1,300 Ukrainian cats and dogs, reunited refugees with their companions animals, and fed 100 donkeys and horses and over 100,000 cats and dogs across Ukraine.
PETA Germany Rescued a Woman and More Cats and Dogs From War-Torn Kharkiv
Kharkiv is under constant attack and is now one of Ukraine's worst-affected areas: large parts of the city have been destroyed. Luckily, PETA Germany, together with its friends from local animal protection organisation Animal Rescue Kharkiv, was able to escort a woman and her cats and dogs safely from her besieged hometown.
Some of the animals were injured but received the veterinary care they needed.
Meet Mira, one of the dogs rescued from Kharkiv. She's now safe in Budapest:
Over 1,300 Ukrainian Animals Have Now Been Rescued
Among the rescued animals are these cats, who are now in quarantine in Germany and will soon be ready to be adopted:
These dogs from Kyiv were scared and exhausted after their journey to the border, but now, they are safe in Hungary with their human family:
Two Refugees Reunited With Their Animal Companions
PETA Germany and Animal Rescue Kharkiv reunited two Ukrainian women with their cats and dog:
After spending 10 days in an air-raid shelter, Juli and her two kids fled the Kharkiv region to France. She had to make the heart-wrenching decision to leave her cats behind.
Now, after weeks of painful separation, the family is back together. Look at their emotional reunion – Juli couldn't be happier to see her beloved cats again. After everything this family has been through, we're thrilled that they are finally back together.
And this is Tani, a dog from Dnipro. The moment she was reunited with her grateful guardian after almost two months apart will melt your heart:
This emotional reunion will melt your heart🇺🇦💙
This is Tani, a dog from Dnipro, #Ukraine.
Thanks to @PETADeutschland and Animal Rescue Kharkiv she was reunited with her grateful guardian after almost two months apart. #animalsofukraine https://t.co/2HXZRtpL3g pic.twitter.com/IhPIjTy19U

— PETA UK (@PETAUK) May 10, 2022
Tani and her guardian are now in the Czech Republic, far away from the war.
Hungry Dogs, Cats, Donkeys, and Horses Are Receiving Much-Needed Food
PETA Germany continues to send food for cats, dogs, horses, and donkeys into Ukraine. To date, the group has delivered over 400 tonnes of provisions across the country.
Update (26 April 2022): A woman, her twins, dogs, and cats are now safe after being rescued from Bucha, Ukraine.
Evgenia, her 3-year-old twins, and their cat and dog companions had been staying in Bucha, a city outside Kyiv, during the massacre that continues to shock the world. It was impossible for them to escape, and Evgenia didn't want to leave the animals behind.
After Russian soldiers left the city and the streets were cleared of mines and the dead bodies of civilians, PETA Germany finally managed to reach Evgenia and take her and her family, including the cats and dogs, out of Bucha.
It was a long and frightening journey to safety. But after almost 30 hours on the road, Evgenia, the twins, and the other animals are all now safely in Germany.
As well as rescuing humans and other animals, PETA Germany has fed over 100,000 cats, dogs, and horses in Ukraine since the beginning of the war.
Update (14 April 2022): We have good news for Ukrainian horses!
After receiving information about horses who urgently needed food, PETA Germany sprang into action. It's still very cold in Ukraine, and parts of the country are still covered in snow, meaning there is no fresh grass for horses to eat.
The complicated mission to get a shipment of horse food into the war-torn country took several days, but knowing these animals would starve to death without it, the team was determined to reach them.
Now, over 100 horses have full bellies! PETA Germany will continue to bring them more food until the weather becomes warmer and they can eat grass.
The team continues to provide food for cats and dogs, too. More than 280 tonnes of provisions have now been delivered all across the country, feeding over 80,000 animals.
Update (9 April 2022):
As the rescue missions continue, meet some of the brave Ukrainians who have risked their lives to save animals.
Taking the Last Chance to Save Cats From Kyiv
When fearless activist Dara heard that a bridge in Kyiv was going to be destroyed, she quickly took action, removing 50 cats from a local animal shelter and escaping with them to Lviv. Hours later, the bridge was bombed. She used the last chance she had to evacuate the cats.
Our friends from the Ukrainian animal rights organisation UAnimals cared for these animals until PETA Germany arrived. It took the rescue team four long trips to deliver them to safety. They crossed more than 420 miles – which is longer than the distance between London and Edinburgh, Scotland. Now all 50 cats are free from danger.
This elderly cat is called Snezhok (which means "snowball"). He was exhausted after the long and frightening journey, but he has quickly recovered and is now resting soundly.
And this is Dymka (meaning "haze"). When the PETA Germany team rescued her, she was initially struggling to breathe, so the rescuer kept Dymka on her lap and gave her all the TLC she needed during the trip. She received immediate veterinary care upon arrival and is feeling much better.
Escaping From Shelling in a Vegetable Box
We admire the bravery of activists from Korosten, who risked their lives to deliver cats to safety.
This city in northern Ukraine has been under heavy attack for weeks. Between shelling and bombings, four volunteers managed to take 20 cats from a local animal shelter out of the city. They put the cats in vegetable boxes and homemade wooden crates secured with ropes and wires and took them out of the war zone.
The PETA Germany team met them at the border, and now the cats are safe in Prague, where they'll soon find permanent homes.
Young Couple Rescues Dogs From War-Torn Kyiv
A young couple rescued some of these dogs from Kyiv. It was a dangerous journey, but luckily all these animals and their brave rescuers are safe. PETA Germany took them together with other Ukrainian dogs to Hungary, far from the war zone:
They're now happy at an animal shelter run by our friends in Budapest.
Ukrainian Heroes Help PETA Germany Feed Hungry Cats and Dogs
Delivering and distributing food all across Ukraine remains the top priority. PETA Germany has delivered 40 more tonnes of food for homeless animals, animals in shelters, and people who have no food for their animal companions.
It wouldn't have been possible without the help of brave Ukrainians who are determined to feed the animals at any cost. Just look at these men. They're feeding 800 dogs and cats in their region in the middle of the war. True heroes.
Update (1 April 2022):
Food, food, and more food!
A train full of food delivered more provisions for cats and dogs in Ukraine:
UPDATE 🇺🇦:
🙌 thanks to @petadeutschland for delivering this train FULL of food to #Ukraine 💙💛
Hungry animals will have full tummies today!
#animalsofukraine pic.twitter.com/FFK2o6on2Y

— PETA UK (@PETAUK) March 30, 2022
Just look at the moment they finally got their paws on this very special delivery:
Since the beginning of the conflict, PETA Germany has fed about 84,000 cats and dogs. Watch this space for updates – more food is on its way!
Almost 1,000 Animals Are Now Safe
Belgium, the Czech Republic, Germany, Lithuania, and Poland are just some of the destinations where animals rescued from the horrors of the war in Ukraine will soon find permanent homes:
In one month, PETA entities have brought almost 1,000 cats and dogs out of Ukraine to safety and helped many people fleeing the country with their animal companions.
Animals don't start wars, but like human victims, they suffer immensely during these conflicts. The team will continue their life-saving mission to rescue as many victims of this war as possible.
Update (28 March 2022):
Do you remember Bissy?

She was one of the first dogs PETA Germany rescued from Lviv, Ukraine. The team found her in a local animal shelter and, of course, took her and many other dogs and cats with them. Look how happy Bissy appears now hanging out with her new friends:
Ada Foundation
This sweet girl touched the hearts of a lovely family from Switzerland and will soon be moving to her new permanent home.
Update: 27 March 2022
These cats were lucky PETA Germany's team was ready to pick them up when they received an emergency call. These poor souls spent more than two days in their tiny cages after being abandoned near the Ukraine-Poland border.
PETA Germany rushed to rescue all 12 of them:
UPDATE 🇺🇦:
This is one of 12 cats abandoned near the Ukraine-Poland border.@PETADeutschland wasted no time rushing to the rescue and all 12 are now safe after spending 2 days trapped in cages.#ukraine #animalsofukraine pic.twitter.com/iplp2NKuAr

— PETA UK (@PETAUK) March 23, 2022
The cats spent the night with the rescuers before they were moved to an animal shelter. Soon they'll all be ready to be adopted.
Update (25 March 2022):
The rescue mission continues! PETA Germany has rescued 44 more cats and dogs:
This week, the rescue team helped Elina (first on the left); her cat, Felix; and 11 other cats flee Ukraine. Now they're safe in Germany.
And this is Felix and Elina's husband, who had to stay in Ukraine. This photo was taken on the first day of the war:
Private archive
This hero to animals is now helping PETA Germany deliver food to hungry cats and dogs all across the country. We hope he'll be reunited with his family soon.
Update (24 March 2022):
Every time the team goes on a mission to Ukraine, they load their vans with food so that local rescuers can feed the animals they are caring for.
The team has sent food to besieged places like Kharkiv and Kyiv, where dogs and cats desperately need it. Some of them are still living in shelters that have been partially destroyed by the bombings, and staff are relying on these supplies to keep the animals alive.

Update (23 March 2022):
Meet some of the animals rescued from Kharkiv:
This is Stella. She is one of the dogs who survived the bombings in her hometown and a dangerous 700-mile journey across Ukraine. She's now safe in Poland. She has problems with one of her legs, but the veterinarians are taking good care of her. After all the horrors she's endured, we hope she will soon recover and be able to start a new life with a loving family.
Update (22 March 2022):
Humans and other animals continue to receive urgently needed help at the border between Ukraine and Romania.
PETA Germany's partners are there for both refugees and impoverished locals, providing them with food and their animal companions with food and veterinary care.
Update (21 March 2022):
Another 20 tonnes of food has been delivered to feed hungry cats and dogs in Odesa. Their grateful faces say it all: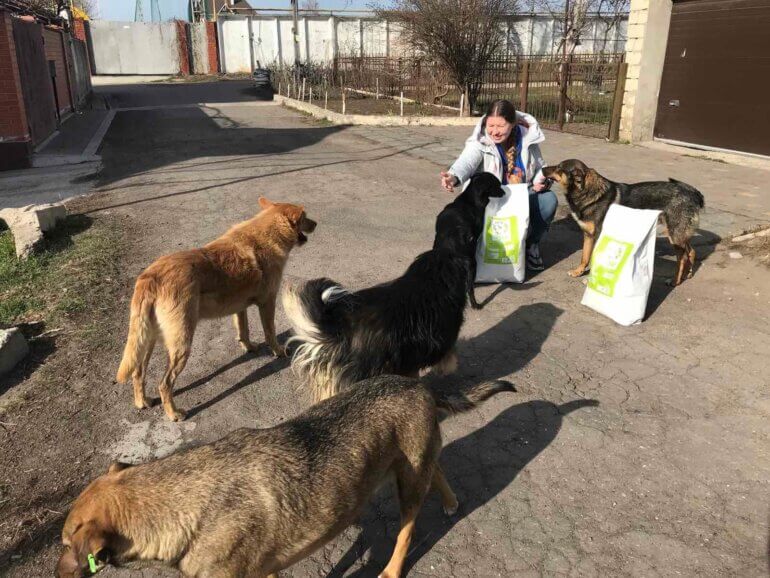 The rescue team brought another 120 cats and dogs out of Ukraine to safety over the weekend. Some of them had been left locked inside flats and houses after their families had to flee the war. Now they are safe and fed, have been checked by veterinarians, and are receiving lots of love after their long and exhausting journey:
Many of the animals rescued from Ukraine in the past three weeks are now in Germany and Austria, far away from the war. Lots of them have already found new permanent homes, and the rest will be ready to be adopted very soon.
To date, PETA entities have taken over 740 animals out of war-torn Ukraine and delivered 120 tonnes of desperately needed food within the country.
Update (20 March 2022):
Marius and Pamplemousse have been reunited with their families!
When the war broke out, this family fleeing to the Czech Republic had no choice but to leave its cat companions with an animal rescuer in Lviv. The PETA Germany team managed not only to bring the animals to safety but also to reunite them with their grateful guardians! These sweet boys captured the team's hearts and spent the long and stressful journey to Poland sitting on their laps. It was hard to say goodbye, but knowing that they are now back with their beloved family in the Czech Republic is the happy ending we've all been hoping and working for.
Update (19 March 2022):
These dogs were evacuated from a shelter that was bombarded near Kyiv.
Brave activists brought them to Lviv, and the PETA Germany rescue team brought them across the border into Poland. Many of the dogs have serious health issues and are now receiving urgent veterinary care.
They will soon be heading to a shelter in Germany, from which they can be adopted into permanent safe, loving homes.
Update (18 March 2022):
Urgent supplies for cats and dogs have arrived in Ukraine! Two lorries carrying another 40 tonnes of food have arrived safely in Lviv. From there, it's being distributed to other parts of the country to feed as many starving animals as possible.
In total, PETA Germany has successfully delivered 100 tonnes of food for animals in Ukraine. Many people cried as they received this desperately needed food for their beloved cat and dog companions. PETA Germany will continue to bring supplies for animals in need in Ukraine. Stay tuned!
Update (17 March 2022):
100 More Animals Are Safe
More good news from the Polish border: almost 100 more animals are now safe, including close to 80 dogs from a shelter in Kharkiv and 11 cats and 10 dogs from Kyiv. Some of them are injured and are now being treated by veterinarians.
36-Hour Trip
The latest rescue trip from Poland to Ukraine and back took over 36 hours:
The rescue team travelled from Poland to Lviv, Ukraine, where it had organised to pick up the animals brought from all across the country.
It took several hours to get all the exhausted and traumatised animals into the vans. By the time the rescue team met them, some of these poor souls had already crossed hundreds of miles, and they were confused and exhausted.
Every day presents a new set of challenges, and this time, crossing the border delayed the team's return by several hours.
The rescue team is working around the clock to be there for animals in need. Thanks to PETA entities, over 600 cats and dogs from Ukraine are safe and will soon be ready to be adopted.
Help at the Romanian Border
PETA Germany's partners are also still at the Romanian border helping refugees with animals with everything from passports to vaccinations, collars, and food.
Updates on Border Regulations
We are constantly updating our resources on border restrictions for people fleeing Ukraine with animal companions.
Don't miss the latest update on UK entry requirements, and please share it far and wide to help refugees:
UPDATE (16 March 2022):
People from all across Ukraine desperately need more food for their cats and dogs as it becomes  harder and harder to get a hold of, and PETA Germany is rushing to help. Three lorries with 60 tonnes of dog and cat food are already on their way.
One lorry is going straight to Odesa. Remember our sweet video showing puppies having lunch? Soon, they and their friends will get more.
Two more lorries have now left Berlin and are on their way to Lviv. From there, PETA Germany and local activists will distribute 40 tonnes of food to people with animals across the country.
Meanwhile, the team continues to bring animals to safety. In happy news, these cats, who arrived to Poland last week, have already been adopted. They will be going to their new homes in Austria very soon:
Update (15 March 2022):
The city of Kharkiv has seen some of the worst fighting in Ukraine. It has been heavily bombed for days now, so it has been a priority for the rescue team to get as many of the cats and dogs from the local shelter to safety as possible. Last night, PETA Germany managed to transport over 30 of them to Poland!
After an almost 700-mile journey, the animals are finally getting some rest and TLC. Meet some of the dogs:
And here's the mighty rescue team rushing to bring animals across the Polish border:
Remember yesterday's food delivery to Odesa? These puppies couldn't be more grateful:
Stop your scrolling…
These wagging tails will make your day 😍
Thanks to delivery by PETA Germany these dogs (and many more!) have finally got full tummies. @PETADeutschland is the first group to bring food for the starving animals of #Odesa. 🐶 #ukraine #animalsofukraine pic.twitter.com/eKcx8rOS8L

— PETA UK (@PETAUK) March 15, 2022

Here are a few of the many other dogs from Odesa who have benefitted from the huge food delivery:
Stay tuned: more food is already on the way!
Update (14 March 2022):
Food Has Reached Hungry Animals in Odesa
Hungry cats and dogs in Odesa are finally getting a proper meal today! It's been a tough couple of weeks there after food for animals ran out and people were sharing what little food they had left for themselves with their animal companions, so they were full of gratitude and relief when PETA Germany pulled up with 20 tonnes of food. It is the first group to bring food for the starving animals of Odesa. The lorry full of provisions travelled all the way from Berlin to this city in the very south of Ukraine:
This tough and dangerous journey took a week: five days of driving and two days of waiting, making phone calls, and sorting out the paperwork to cross multiple borders. Finally, despite all the obstacles, the stomachs of cats and dogs in Odesa will be full.
PETA Germany has now delivered a total of 60 tonnes of cat and dog food to Ukraine. And much more is on the way.
PETA Germany Saved Cats and Dogs From Kharkiv, Donetsk, and Other Places in Ukraine
The PETA Germany team is continuing to rescue as many animals as possible. This weekend, they brought another 100 cats and dogs safely across the border into Poland. Some of the animals journeyed over 600 miles, which is farther (and, of course, much more dangerous) than travelling from London to Madrid.
This cat is from Kharkiv, Ukraine's second-largest city, which has been heavily bombarded:
And this 12-year-old dog, whom the team named Josef, came all the way from Donetsk. Vets are now treating his injured leg:
Refugees With Animals Receive Help at the Romanian Border
PETA Germany's partner organisation Eduxanima is at the Romanian border helping refugees with animals. They have set up a portable clinic, where they are microchipping and vaccinating the animals, issuing them passports, and providing them and their families with food – all free of charge.
Over 500 Animals Rescued From Ukraine
The team has now rescued over 500 animals. Many of them are currently being cared for at a wonderful shelter run by our friends from Pro Animale and getting all the TLC (and medical attention) they desperately need.
Mishka used to live on the streets of Lviv, now she is safe in Poland.
The team rescued this mum and her puppies last week. Look how peaceful they are now they are out of danger!
All the animals are getting lots of care and attention and will be ready for adoption in the coming weeks.
Update (11 March 2022):
We're delighted to share some happy news to wrap up the week: over 100 more cats and dogs have been rescued from Ukraine.
PETA Germany had another long yet rewarding day – joined by other rescue groups, the team brought dozens of animals back across the border last night and have already found new loving homes for all of them in Austria.
In just over a week, the team has saved more than 420 cats and dogs! Meet some of them:
And here are our heroes in action:
Update (10 March 2022):
Success! Over 100 more cats and dogs from Ukraine are now safe in Poland.
It was the fourth successful mission in just over a week, and means that more than 300 animals have now been rescued from Ukraine.
It's not getting easier, but we are working around the clock to be there for the humans and other animals of Ukraine who desperately need us. After another 24-hour journey, the rescue team is tired but determined. They have been working with a network of incredible Ukrainian people performing miracles to bring animals to safety. Here are some of the people and animals we helped last night:
We met up with our friends from White Paw – and the more than 100 cats and dogs they had brought on a dangerous days-long journey from a shelter in Kyiv – to deliver them safely across the border in Poland. It's a huge relief that they are out of the conflict zone and getting the care and food they need.
We also transported Nika, her cat companion Misty, and 22 other cats who are all now safe and receiving lots of love and attention at the shelter in Poland. Misty, who was feeling ill last night, is being seen by a vet today.
And this is Ludmilla, who is keeping a sweet deaf and blind dog warm under her jacket. She found the dog, who she calls "little hedgehog", tied to a lamppost and brought him along with the other animals from her shelter when she fled Kyiv.
Just as we were about to leave, this sweet, abandoned fellow was delivered to us by caring locals. He, too, is now at the shelter with his new dog and human friends. Once he's been microchipped, sterilised, and vaccinated, he – like all the other sweet souls – will be ready to be adopted into a permanent home far away from the war.
The UK Must Urgently Open Its Borders to Ukrainians With Animal Companions!
People do not want to leave their animal companions behind. They have suffered enough: they've already lost their homes, and they cannot lose their beloved family members, too.
This is Lena. She fled Kyiv with her cat companion Dracula after a missile hit her neighbour's house. It took them 20 hours to travel from Kyiv to Lviv. She is one of hundreds of thousands of people who want to leave the country together with their beloved animals.
The UK must urgently join the many other countries in Europe and beyond that are providing humans and other animals, like Lena and Dracula, with refuge. The government must ease the border restrictions.
Update (9 March 2022):
Fourth Rescue Mission: Saving Over 80 Animals From Kyiv
Today, at 7 am, we hit the road again, heading back to Lviv, Ukraine. There's no time to lose when animals need us. It's a tough journey, as the road is covered with ice and it's been snowing all night. We are driving carefully from Poland and hope to arrive soon, as more animals are waiting for us.
This time, we are going to pick up almost 90 cats and dogs. They all come from a shelter for homeless animals in Kyiv, on the other side of the country. Brave activists from animal protection organisation White Paw travelled over 300 miles (!) to bring the animals to safety.
Devastatingly, two of the volunteers were killed during this journey. Our thoughts are with the families of these heroes. We will always remember their courage.
Over 200 Animals Rescued Already
To date, we've rescued over 200 cats and dogs from Ukraine.
One of them is Mishka. She and her friend Rouzha lived on the streets of Lviv.
They made friends with a kind local woman who fed and cared for them for many years. She was in tears when she met us: at once sad to part with her friends and enormously happy and relieved to know that Mishka and Rouzha would be safe and spend the rest of their lives in peace in a loving home.
And it's not only dogs. Just look how grateful this cat is to his human rescuer!
All these cats and dogs are getting the care they need and will soon be vaccinated, spayed or neutered, and ready to move to their permanent homes.
Update (8 March 2022):
PETA Entities Finish Their Third Rescue Mission in Ukraine
The team returned at 6 am today, after setting off yesterday morning, and managed to bring a further 70 cats and dogs into Poland. Most of the animals are in good health, but those who need veterinary help are receiving round-the-clock care.
We also brought another 25 cats safely over! They've come from very dangerous situations all across Ukraine now. This sweet girl was understandably very nervous so one of our colleagues took her on his lap to comfort her during the ride, giving her plenty of TLC. pic.twitter.com/dbCGyTmtyE

— PETA UK (@PETAUK) March 8, 2022
Among them are this very sick dog, who is refusing to eat or drink, and a cat with a broken leg. Both of them are now being looked after by veterinarians.
The animals have come from all over Ukraine. Some were found tied to railings at stations or in abandoned carriers. Brave local rescuers brought them to Lviv so that we could take pick them up and transport them across the border. Some of them have travelled over 300 miles to reach safety.
After a short sleep, the team will plan its next rescue mission to bring more cats and dogs into Poland from Ukraine.
Food Delivery to Odesa
A third lorry carrying another 20 tonnes of food for cats and dogs set off this morning for Odesa. There are reportedly still some dwindling provisions for humans there, but animals have been hungry for four days now, so it's urgent that this transport arrives soon. It's a very risky and long journey, but we will keep you updated on the news from Odesa.
Support at the Border
PETA Germany's team and activists from Animal Rebellion Berlin and Rosenheim are at the Medyka border between Poland and Ukraine, giving away food and water to families arriving with animal companions.
They are also offering essential information and humanitarian aid to the people there.
We are continuing to provide up-to-date information about border regulations as we receive it for people escaping Ukraine with their animal companions here. Please share this link far and wide to help keep families together.
https://twitter.com/PETAUK/status/1501172066271346690
Update (7 March 2022):
PETA entities, together with Polish charity ADA Foundation, set off on another rescue mission in two vans and one animal ambulance this morning – aiming to bring 80 more animals from Ukraine to safety in Poland. Thanks to a network of brave volunteers, cats and dogs from all over Ukraine are being taken to a shelter in Lviv, in the west of the country, from which we aim to collect them and, all being well, bring them to shelters in Poland. From there, they can be reunited with their families or adopted into new loving homes.
All the animals rescued last week are safe and being taken care of: their stomachs are full, and they are receiving all necessary veterinary care and being spayed or neutered as well as vaccinated and given comfort and attention. Thirty-six of them are now en route to Germany, where they will be put up for adoption far away from the conflict zone.
https://twitter.com/PETAUK/status/1500146984304455683
On Friday, three volunteers bringing food to an animal shelter in Bucha, just outside Kyiv, were shot and killed, reportedly by Russian troops. The three fearless individuals successfully delivered the provisions to the shelter – which had gone without food for three days – before being tragically killed.
"She was one of the best human beings I knew … She loved animals," said the husband of 26-year-old Anastasiia Yalanskaya, one of the volunteers who lost their lives. We salute these three heroes, and PETA entities channel their bravery and perseverance as they carry on this important work.
'One of the best humans I knew': Ukrainian woman killed by Russian troops after delivering food to dog shelter https://t.co/vzLqRdZuYe

— Newshub (@NewshubNZ) March 7, 2022
PETA Germany has also been helping people in Ukraine who have run out of food for their animal companions. In addition to the 40 tonnes of food taken to Ukraine last week, PETA Germany has organised the delivery of 20 more tonnes of food for cats and dogs, which is now on its way to Odesa. It's a long and dangerous journey to this war-torn part of the country. Please keep your fingers tightly crossed that these much-needed supplies will get to Odesa safely, and stay tuned for more updates on this life-saving work.
Update (5 March 2022):
While PETA Germany prepares for its next rescue mission and animals who made it safely over the border are being looked after and treated at a veterinary clinic, we are calling on people fleeing Ukraine not to leave their animal companions behind. There is help available at the border. Please share this life-saving information (in Ukrainian) with your friends in Ukraine:
Update (4 March 2022):
PETA Germany successfully completed two parallel rescue missions in Ukraine on the night of Thursday, 3 March.
The first, in collaboration with Viva! Poland, was in the Lviv area, where they picked up around 100 terrified and hungry cats and dogs, many of whom were very sick. They were able to get them safely across the border to Poland, where they are now being treated by vets.
The second group, which included fellow activists from White Paw, managed to collect another 26 cats and a dog from a shelter in Lviv and bring them back to Poland. During this mission, they also successfully delivered 20 tonnes of desperately needed food and other supplies, which are now being distributed across the country to those in need via a network of brave volunteers.
https://twitter.com/PETAUK/status/1499823288725377025
The teams haven't stopped and will not stop! After their heroic rescue missions, they're back at it today and have just managed to deliver an additional 20 tonnes of supplies!
PETA Germany and White Paws
Original Blog:
Since Russia invaded Ukraine and continues to attack, hundreds of thousands of people have fled the country. According to the United Nations, about 1 million people are on the move. On Friday, 25 February, a team from PETA Germany rushed to the Polish border loaded with food and other emergency supplies to help, and it has been providing meals, beds, and assistance with paperwork for refugees and their animals 24/7 since then. This morning (3 March), they crossed the border into Ukraine with 20 tonnes of food and other supplies for shelters that have run out of everything. The situation is critical for everyone involved and they are pulling out all the stops to get to them.
Despite getting all the necessary documents and permissions to make the risky journey, things during a war are unpredictable and the team has been held up for hours, while the contents of the lorry have been X-rayed and opened, but they are desperately hoping to be on the road again soon.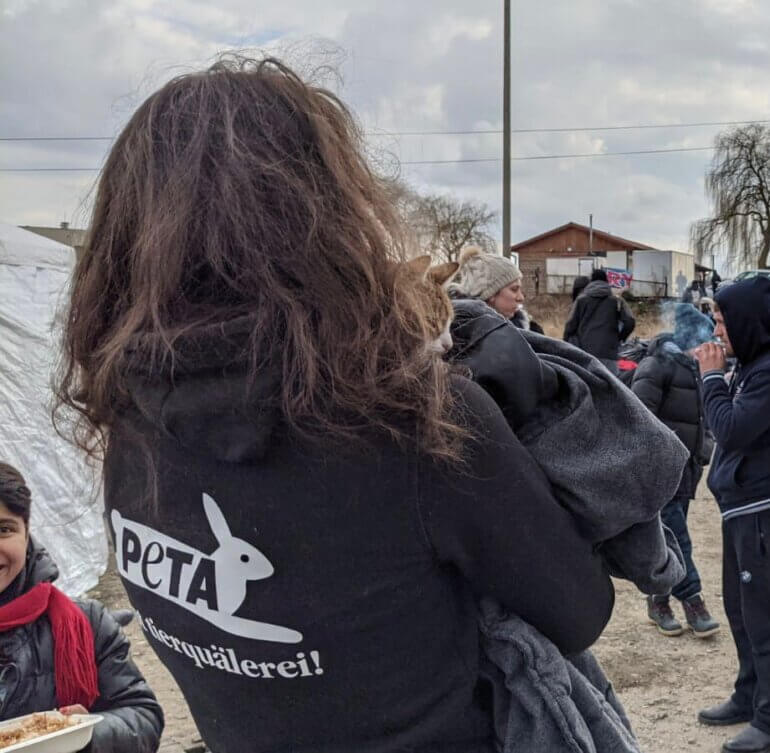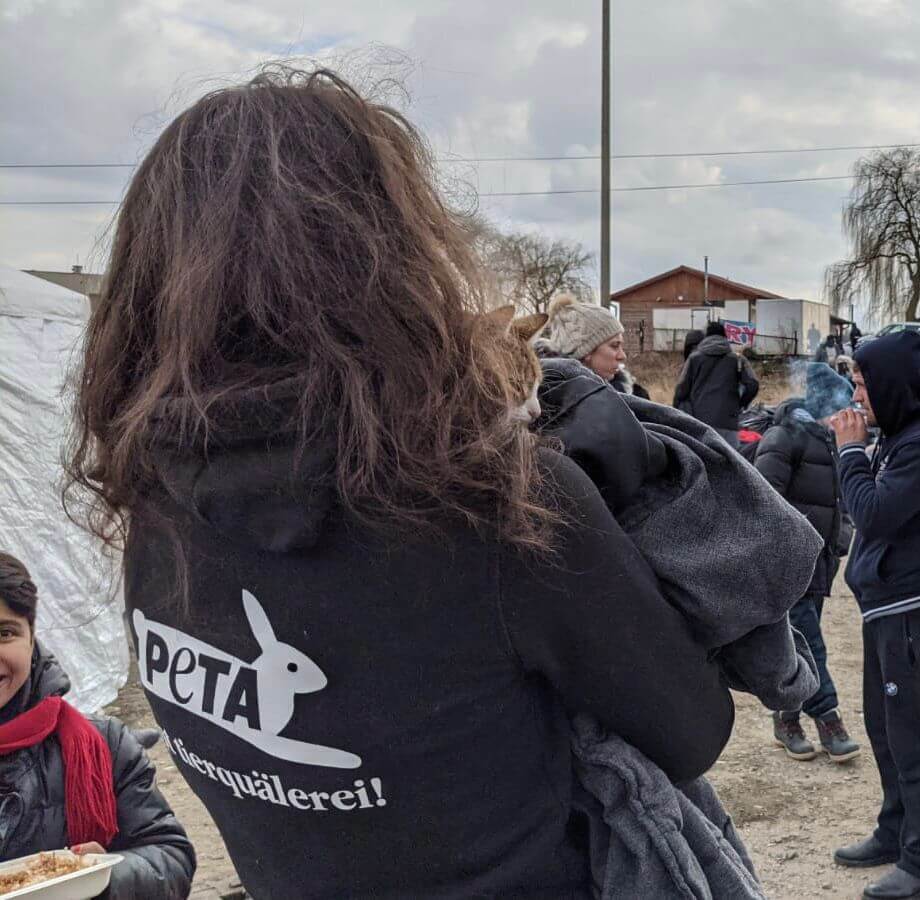 Bringing Animals Out of Ukraine to Safety
In collaboration with Polish animal protection group White Paw, a smaller convoy was sent ahead to the shelter, and they are right now transferring animals into their vehicles in the hope of getting them to safety in Poland. The roads are extremely congested and are proving to be another challenge on top of many others.
If all goes well, our brave rescuers will be back in Poland tonight with the first group of rescued animals in tow.
Food for Animals in Need
Shops in Ukraine are closed, and supplies are running out, so it's vital that the transporter with the 20 tonnes of food is able to get back on the road soon. We hope it will be the first of many, and there's already another lorry full of food and other emergency supplies on its way to Poland.
White Paw
PETA Germany
Arriving at the Ukrainian Border on Friday, 25 February
Immediately after arriving at the Polish border, PETA Germany's team helped Crimsee, the cat photographed above, who was carried by his caring guardian more than 37 miles from the war zone. The woman was so exhausted she could barely stand.
They are both now safe.
Photo © Ратынский Вячеслав / UNIAN
PETA Germany's team also responded to a call for help where several dogs were crossing the border with their human guardians and needed urgent care. All involved were debilitated and frightened.
PETA Entities Call For Safe Passage for People and Animals Into the EU
Many EU countries have now relaxed the entry requirements for animals, who must normally be vaccinated and microchipped and have had a recent rabies antibody test, but not the UK. Any refugees hoping to come here to stay with family would have to abandon their beloved animal companions, which, of course, many would never do, leaving these families with nowhere to go. Last night, PETA UK's vice president heard from a woman desperate for her mother join her in the UK, but she is refusing to leave without their family's dog. There's enough inhumanity in this dreadful war without the UK adding to it.
While EU nations and many other countries have eased border restrictions for animal companions, the UK has not. PETA UK is urging the Department for Environment, Food & Rural Affairs (DEFRA) to act now to ease entry restrictions so that Ukrainian refugees may enter the UK with their animal companions, too.
We will update this page with news as we receive it.
What You Can Do
Donate:
Help support PETA Germany's work on the border. Donate to PETA's Global Compassion Fund:
*****
We have received reports of people wanting to help going to Ukrainian border countries.
We strongly advise against it. More and more border stations are reportedly closing to private individuals. Only shipments of aid that have been verified by customs are being allowed into Ukraine. Major aid organisations are on duty at the borders and coordinating help for refugees – with and without animals – so the best thing individuals can do is to support these organisations.