12 Delicious Vegan Christmas Roasts
The centrepiece of most Christmas dinners is a hearty roast, and as so many delicious meat-free options are available in the UK, it's easy to enjoy a festive meal that didn't involve the exploitation and suffering of turkeys or other animals.
Tofurky
Whether you're after a traditional nut roast or scrumptious vegan meat, there's something for everyone.

Clive's
Nut Roast

Packed with nuts, seeds, and seasonal vegetables, this flavoursome nut roast is available at Waitrose or Ocado.

Linda McCartney Vegetarian Chicken Roast

Linda McCartney offers this juicy vegan chicken-style roast, seasoned with rosemary and garlic. Order it on Ocado.

No Gammon Joint with Orange Marmalade Glaze

Your guests will love the succulent texture and sweet orange glaze of this sophisticated festive centrepiece. Grab it from Aldi.

Plant Chef Seasonal Seeded Roasts with Port Gravy

For those of you searching for a classic nut roast, this blend of kale, chestnuts, lentils, and mushrooms with pumpkin and sunflower seeds – served with a rich port gravy – is an absolute winner. Available at Tesco.

Plant Revolution
No Turkey
Roast Crown

Topped with sage-infused vegan butter and parsley, this golden roast crown is sure to melt hearts and satisfy stomachs, leaving your guests delighted. Available at Morrisons.

PlantLiving Chestnut and Thyme Plant Based Turkey Roast and Gravy

Want to try the "carving at the table" experience without cutting into flesh? Go for this roast that is designed to be carved, with a sauvignon gravy to go alongside. Find it at Waitrose.

Sgaia
Vegan Sage & Onion
Stuffed Roast

The texture and indulgent flavours of this roast are guaranteed to be a hit with your family and friends, whether they are vegan or not-yet-vegans. Order on Sgaia's website.

Taste the Difference No Turkey Crown with Sage & Onion Melts

Roast some veg, make a vegan gravy, and enjoy this rich crown made of mushroom and pea protein. Available at Sainsbury's.

THIS ISN'T
ROAST CHICKEN
& STUFFING

This plant-based chicken roast packed with soya and pea protein will be the crown jewel of your festive table. Available in major supermarkets.

VBites Plant-Based Meat-Free Turkey Roast Joint

Anyone looking for a hearty roast will enjoy this turkey-style option from VBites. Order it on the company's website.

Vegusto Vegan Roast with No Muh

This mouthwatering roast is filled with Vegusto's own dairy-free cheese. It can be ordered on the brand's website.

Wicked Kitchen No Turkey Roast

Enjoy the flavours of a traditional turkey roast with a clear conscience, knowing that no birds were harmed in making this festive delight. Available at Tesco.
Fancy Making a Vegan Christmas Centrepiece Yourself?
Try this recipe from French chef Alexis Gauthier – chef patron of Gauthier Soho in London – for an elegant vegan Wellington.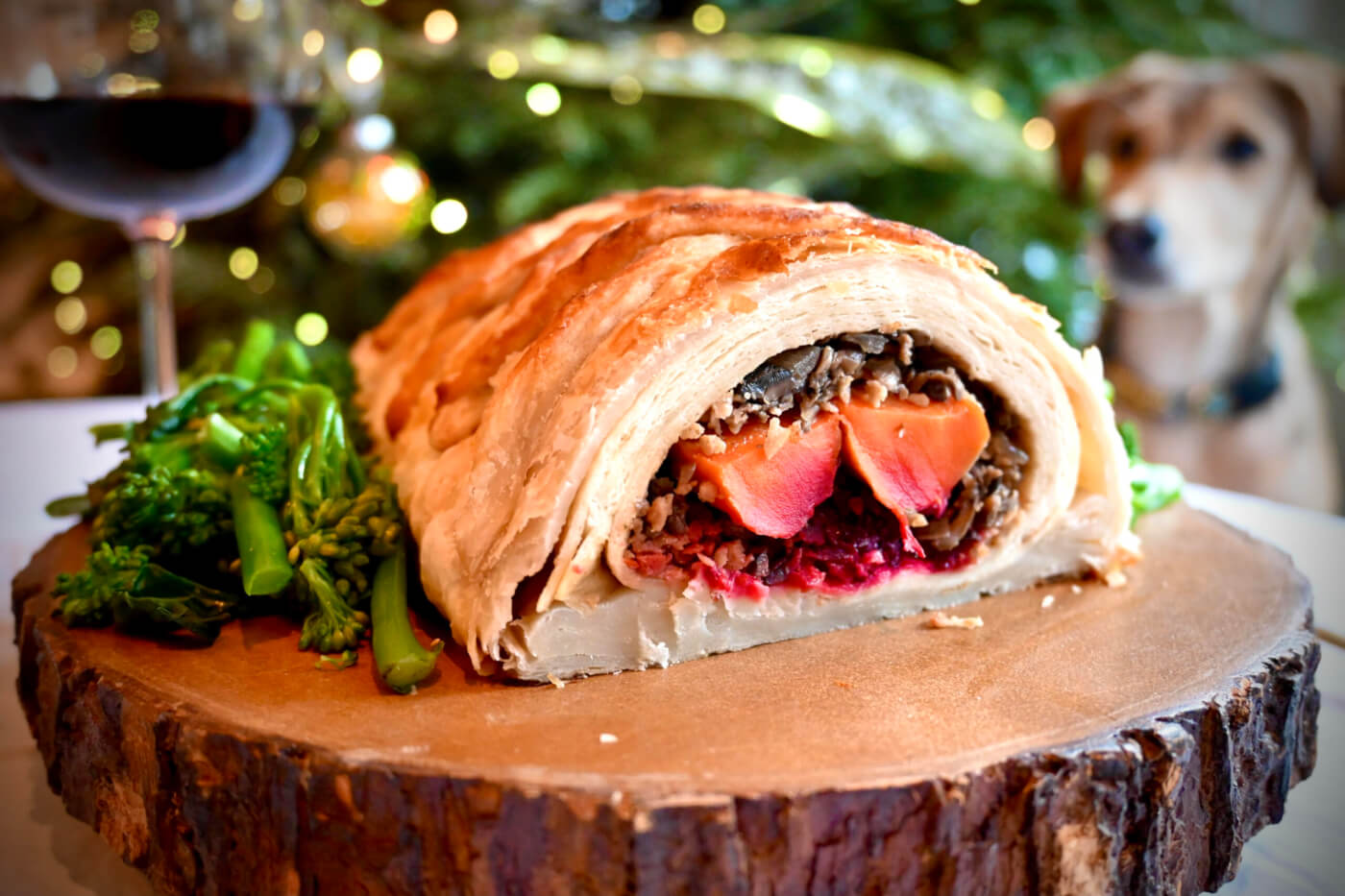 Vanessa Johansson
Have a Very Vegan Christmas
With all these fantastic options, you can enjoy a cruelty-free Christmas without compromising on flavour. Here are some of our favourite festive recipes:
Spread kindness this Christmas. Learn why we should leave turkeys off the table this festive season and how to shop for Christmas gifts without harming animals: