Vegan Wellington by Alexis Gauthier
This recipe for an elegant vegan Wellington is adapted from that of French chef Alexis Gauthier, chef patron of the Gauthier Soho restaurant in Soho, London. It's the perfect showstopper for your roast dinner or festive feast.
Vegan
Vegan Wellington by Alexis Gauthier
Alexis Gauthier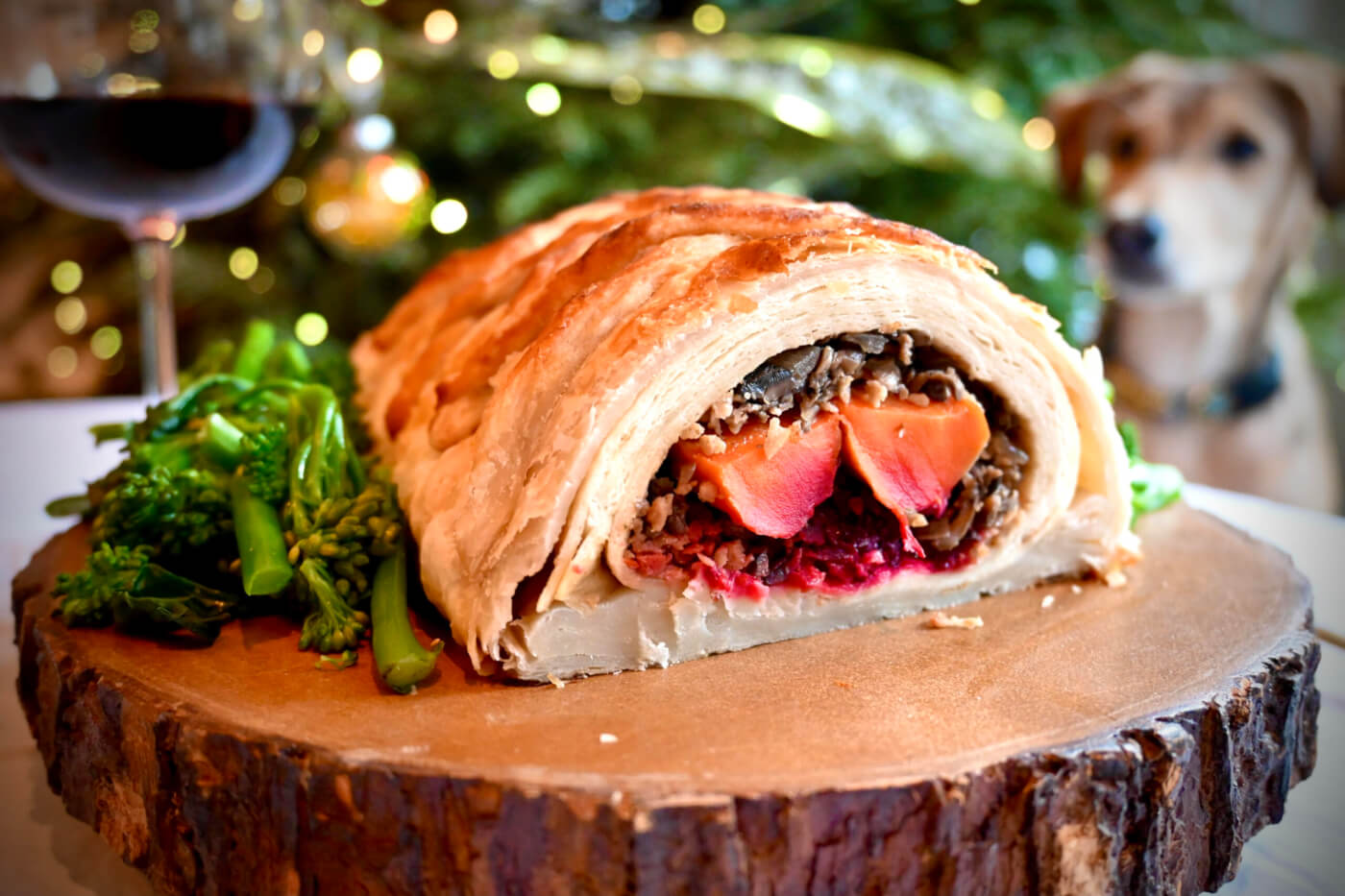 Prep Time

2h 20m

Cook Time

2h

Servings

8
Ingredients
500 g

mushrooms, finely diced

100 g

shallots, finely diced

Olive oil

10 g

mixed herbs

Salt and pepper, to taste

50 ml

cognac

3

parsnips, peeled (not chopped)

3

golden beetroots, peeled (not chopped)

3

purple carrots, peeled (not chopped)

300 g

soya protein

5

large wheat tortillas

2

puff pastry sheets

100 ml

soy sauce

30 ml

maple syrup
Method
For the Fillings:
Make a mushroom duxelles by sweating the mushrooms and shallots down together in a pan over medium-high heat with a tablespoonful of olive oil. Add the mixed herbs and salt and pepper. Deglaze with the cognac.
Roast the root vegetables whole at 160°C for 1.5 hours, until soft. In a large pan, lightly fry the soya protein in oil until brown.
For the Wellington:
Line a terrine mould (or a deep rectangular container) with cling film and then line with the two tortillas. Add a layer of duxelles, a layer of soya protein, and some of the whole roasted veg. Repeat this process until the Wellington is full. Fold the tortillas over like a burrito and then wrap tightly with cling film. Place in the freezer for 2 hours (or refrigerate overnight).
Place 1 of the puff pastry sheets on a worktop and take your Wellington out of the freezer – it should be nice and firm. Remove the cling film and place the Wellington on top of the first pastry sheet. Place the second sheet over the top, carefully covering it, and seal all the edges using a little water.
Mix the soy sauce and maple syrup together and brush over the Wellington.
Place on a baking tray and cook in a pre-heated oven for 1 hour 10 minutes.
Allow to cool before serving. Slice carefully and serve with a rich vegetable jus and leafy green veg.