UK and Ireland's Hottest Vegan – Past Winners
This collection of gorgeous champions from previous years sets the standard pretty high. These hotties are certainly easy on the eye, and they all embrace a lifestyle that's easy on the conscience. After all, ditching animal products saves many animals each year!
ENTER NOW | CONTEST DETAILS | VEGAN STARTER KIT
Past Sexiest Vegan Winners Hall of Fame
2016
Stefanie
Stefanie describes herself as "bubbly and outgoing". She went vegan in 2013 out of a desire to live a healthy, cruelty-free life. "I went vegan to be able to live the healthiest and fittest life whilst also reducing cruelty to animals," she says. "I have watched numerous documentaries … and read lots of articles … and I wanted to do my part to reduce the suffering of animals and the damage to the planet." Stefanie runs the blog NaturallyStefanie.com and also has a popular YouTube channel, where she coaches people who want to make the compassionate switch to a plant-based lifestyle.
Anthony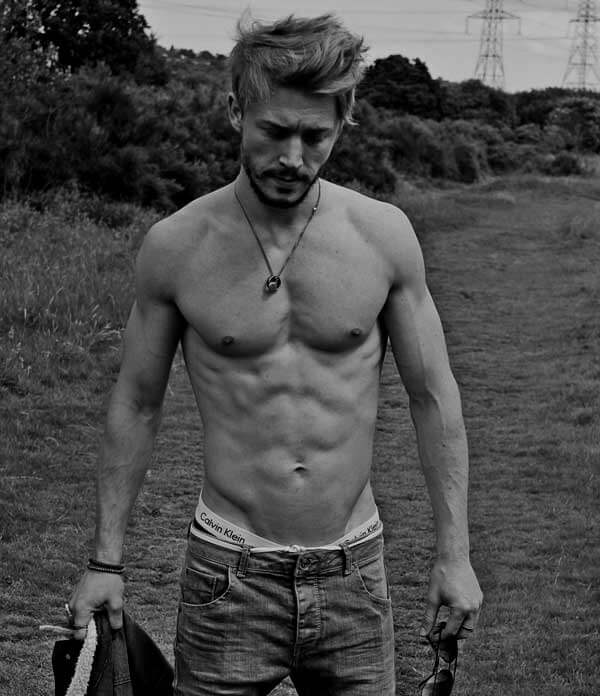 Anthony is a firefighter, technician, and model. He went vegan in 2011 after some research online made him aware of the cruelty involved in eating and wearing animals. "I had a sudden awakening to how bizarre it was that humans … showed affection to household pets but consumed other animals," he says. "I realised I could not put my money into such a business that exploits, tortures, and kills innocent, beautiful beings." Anthony plays drums and loves to travel. In addition to promoting vegan living on social media, he also wears apparel with a vegan message to the gym to show that fit and healthy people can thrive on a plant-based diet.
2015
Cynfelyn
UK and Ireland's Sexiest Vegan of 2015, Cynfelyn went vegan four years ago after serendipitously making the connection between the consumption of meat and the slaughter of animals.
"I no longer wanted to participate in this, so changed to a vegan diet in one day", said the Llangynidr chemistry student. "The health and environmental benefits of this lifestyle were later realised!"
When he's not busy volunteering for his uni's Animal Protection & Education Society, he can be found swimming, cycling or playing the guitar or piano.
Anna
Anna describes herself as a "crazy animal lover, dancer, runner, laugher and food inhaler" who is "addicted to Sriracha". This Essex beauty took our breath away in the UK and Ireland's Sexiest Vegan of 2015 competition.
Anna is originally from Bangladesh and loves tempting her friends with Bengali dishes such as yummy vegan curries. She works as a make-up artist and meet lots of different clients every day. "This is always the perfect opportunity to talk and spread awareness about animal testing and animal ingredients in products they may be using, as not everyone realises how much animal abuse there is in the beauty industry alone", she says.
2014
Jenna
Jenna won us over with her big heart and vibrant good looks. She stopped eating meat at the tender age of 5 after watching the film Babe. "My mum found it easy changing all of our diets, as she grew up next to a slaughterhouse so didn't feel comfortable eating meat anyway", Jenna explains. Some eye-opening videos convinced her to ditch all animal products nine months ago, and she describes her health as "incredible" ever since!
Now a proud animal rights advocate, Jenna encourages those close to her to adopt a healthy and compassionate diet and loves to tempt them with delicious vegan food. "I'm happy with a bowl of mango, strawberries and figs, but if I want comfort food, I go with salt and chilli tofu and broccoli stir-fried with garlic", she says.
When she's not busy advocating a vegan lifestyle, Jenna might be found playing with her feline companion or travelling. "I have an acrobatic cat called Harvey", she says. "My exercise bike is basically a climbing frame/chew toy for him now. I love going for big walks exploring the beautiful hills and lochs of Scotland."
Gareth
Wildlife artist Gareth adopted a completely plant-based diet after he started to feel that it was hypocritical to continue raising awareness of issues concerning lions and elephants through his work while ignoring the suffering of animals raised for their flesh, milk or eggs. "The sheer number of animals suffering for our stomachs is far greater than any other cause I've supported, and as such, I feel it deserves the most urgent attention", he says.
He inspires others to adopt a vegan diet by posting about animal rights issues on social media, where he has a large following. He's also a great cook, who finds that whipping up tasty, plant-based meals for friends is an excellent way to start a discussion about veganism. He's even learned how to make his own cheese out of nuts, seeds and vegetables.
As a veteran who served in Iraq and Afghanistan, Gareth explains, "Seeing the violence humans inflict upon each other is yet another reason I've chosen to live as peacefully as I can by being vegan". What could be sexier than a man who puts compassion first?
2013
Laura
This bubbly blonde knew from an early age that she wanted nothing to do with cruelty to animals. She stopped eating meat when she was just 9 years old and decided to ditch all animal products from her diet when she was 18 because, as she says, "all animals feel pain just like we do and can feel fear and contentment. I do not want to be the reason for an animal suffering". She'd much rather whip up a healthy fruit salad than support an industry that subjects billions of animals to mutilations, injuries and a terrifying death.
Lovely Laura's commitment to helping animals doesn't end with her vegan lifestyle. From volunteering at animal shelters when she was younger and saving the lives of kittens and puppies to protesting against the cruel live export of cattle outside the Department of Agriculture, Food and the Marine in Dublin, she's proud to put her compassionate principles into action whenever she can.
Laura's also a fun-loving girl whose hobbies include nightclubbing, watching films, shopping and travelling – activities that she enjoys all the more because she knows that she has no blood on her hands. Follow in this Irish beauty's footsteps by cutting cruelty out of your diet – order our free vegan starter kit today.
Toby
Personal trainer Toby's rippling muscles certainly impressed the voters and judges – especially as they're powered by plants.
As a fitness professional, Toby began to question the misleading messages that promote meat consumption and to think about where his food was coming from and how animals suffer on factory farms. He soon realised that a cruelty-free lifestyle was the right choice for his conscience and his body and describes going vegan as one of the "most rewarding" things that you can do.
Since swapping meat, dairy products and eggs for energy-packed meals such as his favourite breakfast of oats, almonds, pumpkin seeds, berries, bananas, oat milk and cinnamon, the hunky feller has gone from strength to strength and isn't afraid to shout about it. He uses his personal-training business to spread the vegan message on a daily basis, letting all his clients know about the health benefits of a plant-based diet.
This caring family man also puts his six-pack to good use – in 2012, he raised money for the charity Whizz-Kidz by doing 1,000 pull-ups, and he has plans to fundraise for the RSPCA later this year.
Want to get ripped like Toby while saving the lives of many animals? Order our free vegan starter kit today to find out how!
2012
Sophie
Sophie has been vegetarian since age 7 after being approached by an animal rights group in her local town and informed of the cruel and unimaginable ways that animals raised for food are treated. She enjoys telling people why she's a vegetarian, and it's influenced her friends and family to cut their meat intake. When she's not eating chick-pea curry, she's a part-time model and homemaker who loves Marks & Spencer, the Co-Operative and Superdrug for their policies against animal testing.
Hristo
Hristo is an amateur skateboarder sponsored by Virus Skateboards. A vegetarian since 2002, he says that his change of heart was all because of hardcore punk's powerful lyrics, and as a keen musician himself, Hristo uses hip-hop to spread the animal rights message under the moniker of El Freegano. He has also created Bulgarian subtitles for the documentary Earthlings and organises screenings.
2011
Fiona
Fiona grew up on a farm, surrounded by meat, but she has fond memories of stumbling around with a bucket collecting kittens to play with. As a young girl, she rejected "cute" animal meat that ended up on her dinner plate, but as time went by, she realised that it's wrong to eat any animals. Fiona's turning point in going vegetarian was seeing a documentary on foie gras. Since then, she has rediscovered her taste buds and seen her cholesterol improve a lot. She is a student and part-time model who just loves films, books, museums and her adopted cat, Faust.
Ludvig
Ludvig has flexed his muscles during a number of PETA protests, including the "vegetarians make better lovers" demonstration and the "Running of the Nudes." In his spare time, he works out most days and is interested in philosophy and politics. He is an IT consultant and the president of Charity International, and he takes care of a vegan cat named Deniz. Ludvig claims that Deniz is a lot cuter than he is. The way to Ludvig's heart is through inner beauty rather than outer beauty.