How to Speak Out Against Wild-Animal Circuses in England, Ireland, Scotland, and Wales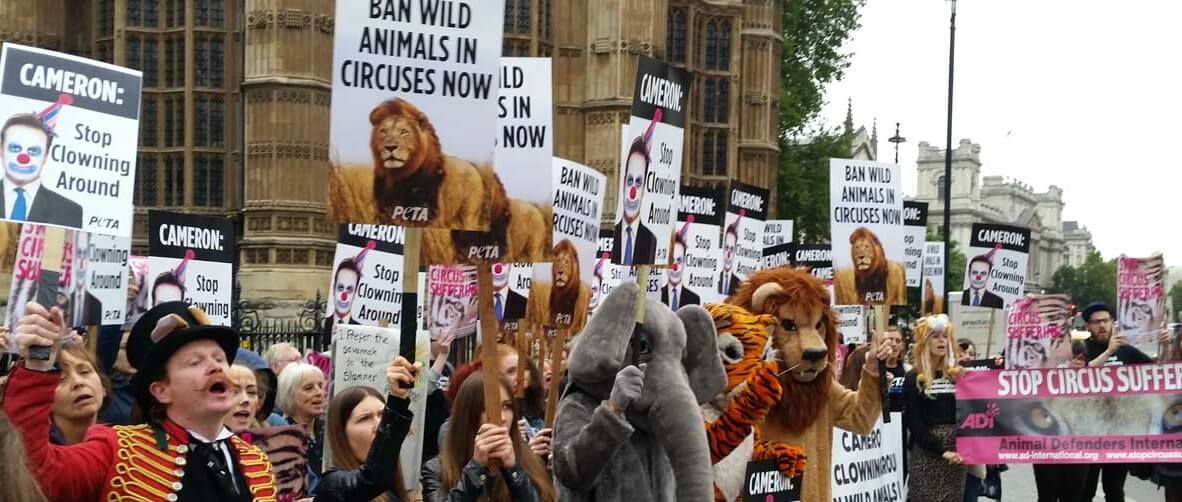 Seventeen countries around the world have outlawed wild-animal circuses – but shamefully, these cruel, archaic performances are still allowed to take place across the UK and in the Republic of Ireland.
Here's an overview of the situation in these countries and the most effective way to take action where you live.
I live in England
The government has been stalling for years on its promise to ban wild-animal circuses, even though a public consultation showed that 94 per cent of people support such a measure.
As a result – disgracefully – there are two circuses that regularly tour England with wild animals, including lions, tigers, camels, and zebras.
Ask Prime Minister Theresa May to end these cruel shows.

I live in Northern Ireland
The Northern Ireland Assembly has suggested that it will follow the lead of the Republic of Ireland with regard to circus legislation.
Find your local Assembly Members here and write to urge them to act against wild-animal circuses now.

I live in Scotland
Scotland held its own public consultation on wild-animal circuses in 2015, and a resounding 98 per cent of respondents came out in favour of a ban!
After hearing from thousands of PETA supporters, the Scottish government promised to introduce legislation in spring 2017 to prohibit the use of wild animals in circuses. This is great news, and we'll be keeping a close eye on the situation to make sure they follow through.
If you want to show your support, contact your MSPs to let them know how important this issue is to you and to urge them to vote in favour of a ban when they get the chance. Find your MSPs' details here.

I live in Wales
The Welsh Assembly recently held a consultation on wild-animal circuses and mobile zoos. It heard from hundreds of experts and concluded that wild animals' welfare needs could never be adequately met in these archaic institutions.
This is an important first step, but now the government must act on this evidence and introduce legislation to make such circuses illegal. Take action by contacting Wales' Cabinet Secretary for Environment and Rural Affairs.

I live in the Republic of Ireland
Progress is happening in Ireland, where local councils in areas such as Dublin have banned wild-animal circuses from performing on public land. Last year, a huge outcry forced two circuses from Europe that used elephants, giraffes, and camels to finish their tours early.
However, the government has so far shown no signs that it is considering introducing a country-wide ban on these unethical shows. Please contact your TDs and demand action via our alert here.

I want to contact my local council about banning wild-animal circuses on public land
More than 200 local authorities in the UK and Ireland have already prohibited circuses from using wild animals on public land, often as a result of hearing from concerned residents.
Get in touch with your councillors (find their details here or here) and urge them to do the same. We have a template letter you can use.

I live in another country
Visit the websites of PETA's international affiliates to find out how to speak out against circuses in other parts of the world:
---
Check out our blog for the latest news from our campaign to end wild-animal circuses.