Today in Denmark: 'Bloody' Protest Calling For Fur Farming Ban
Spotted in Denmark: supporters of PETA and Dyrenes Alliance doused themselves in fake blood, calling for an end to fur farming:
The action took place ahead of a government vote on whether to resume the practice after the industry's pandemic-related shutdown.
Will the Next Pandemic Come From a Fur Farm?
It could! Did you know that roughly 75% of diseases recently to strike humankind originated in other species? Animals on fur farms endure neglect and injury and are crammed into barren cages, where they often fall prey to disease. Such conditions are fertile ground for the spread of pathogens.
During the pandemic, more than 17 million minks were gassed to death after mutated strains of the novel coronavirus were found on Danish fur farms.
©Jo-Anne McArthur / #MakeFurHistory
Minks on Fur Farms Are Born to Be Killed
Investigations into 26 mink farms in Denmark have revealed sick, injured, and dead animals in every instance. Some minks suffered from massive, untreated bite wounds.
Jo-Anne McArthur / #MakeFurHistory
Others were missing legs or ears from fights, which inevitably break out when these naturally solitary animals are forced to live together inside cramped cages.
At the end of their short lives, minks are killed in gruesome ways. Workers poison, gas, or drown them or even skin them alive.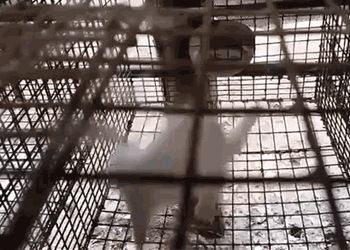 Take Action for Minks and Humans
PETA is urging the Danish government to spare minks and protect humans from the spread of infectious diseases, including COVID-19, by banning fur farming. Please join us! Sign our action alert now: