PETA Supporters Call For an End to Cruel Donkey Rides
A herd of PETA "donkeys" descended on the Greek Embassy in London to call for an end to Santorini's notoriously inhumane donkey rides.

The demonstration took place in light of a new eyewitness investigation revealing continuing animal abuse on Santorini.
Even though laws were passed to "protect" donkeys following a PETA Germany exposé of cruelty to donkeys on the island back in 2018, this recent footage reveals that the abuse is still going on. Donkey and mules, many of whom have painful wounds, are still being used as "taxis" for tourists.
What's Happening on Santorini?
After PETA and our international affiliates initiated campaigns to ban donkey and mule rides on Santorini in September 2018, the Greek Ministry of Rural Development and Food passed a law stating that tourists weighing more than 100 kilograms were no longer allowed to ride the animals.
However, this new investigation shows that this law is neither observed nor enforced, as tourists of all weights are still being permitted to take rides. The island's government has apparently also failed to act against other types of animal abuse.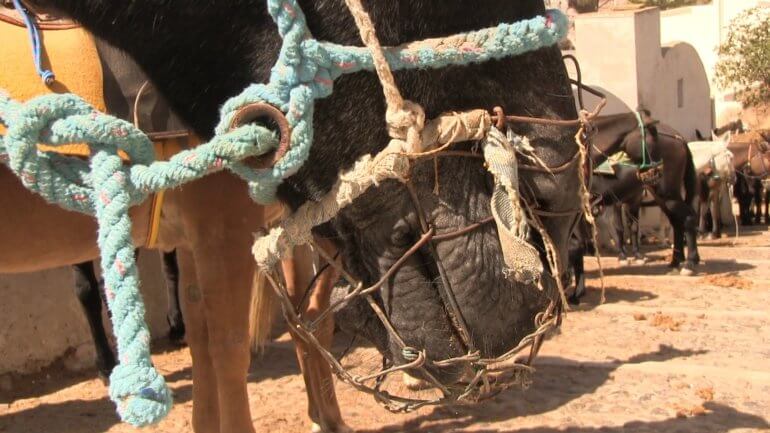 Around 100 exhausted donkeys and mules are still forced to carry tourists up and down more than 500 steep, slippery steps to Firá's old town all day long.
Many donkeys and mules have painful wounds – both fresh injuries and old, untreated ones that have scarred over – on their abdomens caused by ill-fitting saddle girths and other inadequate equipment. For them, every step means pain.
How You Can Help Donkeys
Ask the Greek minister for agricultural development and food to ban cruel donkey and mule rides on Santorini immediately:

At many tourist attractions, animals are abused and mistreated in order to make money. Avoid all animal-exploiting activities, including rides, shows, and photo ops.
If you're asked or encouraged to participate in such an activity while on holiday, please tell the organisers that you refuse to take part because of animal welfare concerns and ask them to stop offering these activities.