Silverstone Banner Drop: PETA Calls On Formula 1 to Stop Supporting Deadly Iditarod
PETA entities are campaigning to persuade Formula 1's (F1) owner, Liberty Media, to stop sponsoring the controversial Iditarod dog-sled race through the company's Alaska-based subsidiary, GCI. Here are our latest actions:
British Grand Prix: 9 July 2023
Over the pedestrian bridge, outside the Silverstone racetrack, volunteers unfurled an unmissable banner that read, "F1 Bosses: Cut Ties With the Iditarod Dog Death Race".
Monaco Grand Prix: 27 May 2023
On your marks, get set … the Iditarod! This is the message sent by PETA supporters at the F1 Monaco Grand Prix 2023. Wearing dog masks, activists stood among the crowds of fans during the qualifying race and unfurled a large banner that read "F1 Owner Sponsors Iditarod Dog Death Race". Check it out:
Update (March 2023):
PETA US has become a shareholder in F1 and is gearing up for its next annual meeting, at which the group will make it clear that cruelty to dogs is a stain on the brand's reputation. PETA US also owns stock in Liberty Broadband, part of the Liberty family of companies.
Italian Grand Prix: 11 September 2022
Ahead of the Formula 1 race at the Autodromo Nazionale Monza, supporters of PETA placed "gravestones" and "a pile of bloody collars" outside the circuit's entrance.
Dutch Grand Prix: 4 September 2022
The ads on wheels are back. Now at Circuit Zandvoort.
© Fotostudio Zandvoort
Belgian Grand Prix: 28 August 2022
Two eye-catching advertising bikes circled in the area not far from the Circuit de Spa–Francorchamps racetrack in Belgium with the message "Liberty Media (Formula 1 Owner) Sponsor of Iditarod Dog Abuse".
© Christopher Roxs
© Christopher Roxs
Spanish Grand Prix: 22 May 2022
As engines fired up at the Spanish Grand Prix, supporters of PETA UK and Spanish animal protection party PACMA staged a "dog funeral" for the victims of the Iditarod.
Miami Grand Prix: 9 May 2022
PETA US crashed the F1 race with a banner blasting the company's ties to dog abuse.
Do we have your attention @f1?

Activists are taking over #MiamiGP urging Formula 1 to cut ties with the cruel Iditarod dog sled race! pic.twitter.com/XFcBQeIO6D

— PETA (@peta) May 9, 2022
F1 Linked to Dog Abuse
The cruel dog-sled race, the Iditarod, has lost nearly all its major sponsors, but F1's owner, Liberty Media, still has ties to the deadly event: one of its companies, GCI, continues to sponsor the race to the tune of more than $250,000 every year.
Why would F1 want to be associated with cruelty to dogs? We bet most drivers – particularly animal advocates like Sir Lewis Hamilton – would agree that it's time to cut ties with this event now!
Iditarod, the Deadly Dog-Sled Race
Dogs used in the Iditarod are forced to run the approximately 1,000-mile race while pulling heavy sleds through biting winds, blinding snowstorms, and extreme temperatures in some of the most gruelling conditions on Earth.
More than 150 dogs have already died during the race, most commonly from aspiration pneumonia (caused by inhaling their own vomit). This death toll is not counting those who perish during the off-season while left chained up outdoors in below-freezing temperatures or those who were killed because they didn't make the grade.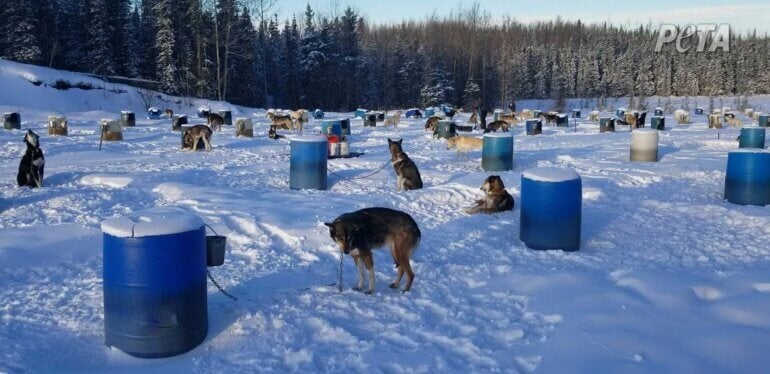 Dogs Need You to Take Action
Forcing dogs, humans' oldest animal companions, to run against their will for our entertainment is a form of speciesism, a human-supremacist worldview.
Remind F1's CEO that racing should involve only willing human participants – urge him to hightail it away from the cruel Iditarod: