Gemma Collins would rather go naked than wear fur
Wearing nothing more than mascara and faux-pearl baubles, The Only Way Is Essex's Gemma Collins proves that you don't need fur to feel glamorous.
True star factor comes from having a big heart, which is why she's bared all for PETA to expose the cruelty of killing animals for their skins in an ad shot by celebrity photographer Karl Grant.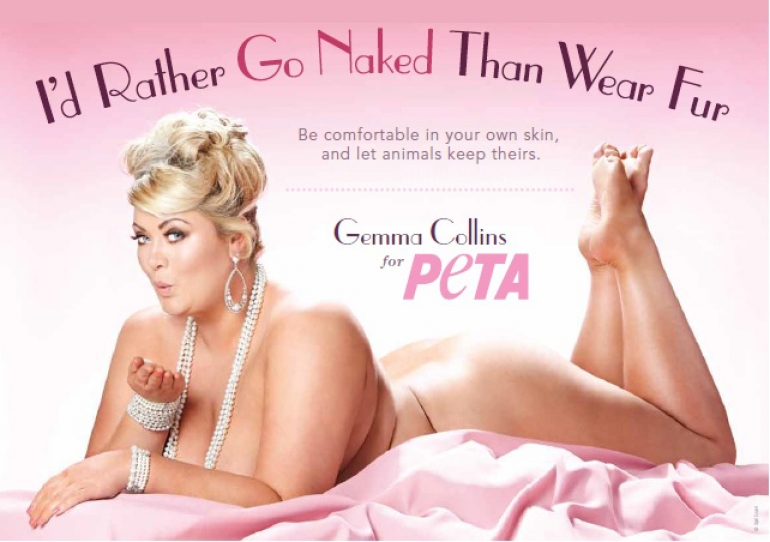 Explaining why she'd rather go naked, the TOWIE star says,
I believe that beauty comes in all shapes and sizes. You don't have to be a size 8 to feel beautiful, but you do have to be comfortable in your own skin. And that means letting animals keep theirs – not killing them for their fur.
Most fur sold in the UK comes from fur farms, where many animals lose their minds from the extreme misery and suffering that result from being constantly locked in a tiny cage. Animals who are trapped in the wild don't have it any better: they can be held for days as the trap cuts down to their bones. They sometimes chew off their own limbs in a desperate attempt to escape. And in China, the world's biggest fur exporter, dogs and cats are often skinned alive for their fur, which is then mislabelled before unsuspecting shoppers purchase it.
Fortunately, you won't find any trace of fur in Gemma's own award-winning plus-size clothing collection – because, along with major retailers such as H&M, Zara, Topshop, New Look and All Saints, she knows that the only way is fur-free.
Whether you're ready to go naked or not, remember that true beauty comes from within. So show your compassionate side by pledging never to wear the skin of an animal who was murdered for the fur trade.