Don't Be Fooled by House of Fraser's 'No Fur' Claims
PETA is urging Trading Standards to investigate possible consumer fraud at House of Fraser after the store displayed misleading signs promoting fur products.
The signs were placed directly above racks of animal-fur garments and read, "No Fur Product Is Stocked in House of Fraser". In much smaller print, the sign continued, "(Unless It Is Responsibly Sourced)".
House of Fraser began selling fur again in late 2019 after almost a decade as a fur-free department store chain. Customers who see the signs may be misled into purchasing a fur item, believing the fur to be synthetic or "humane". Among other places, the notice was displayed above coats from French brand Pyrenex which are trimmed with raccoon-dog fur.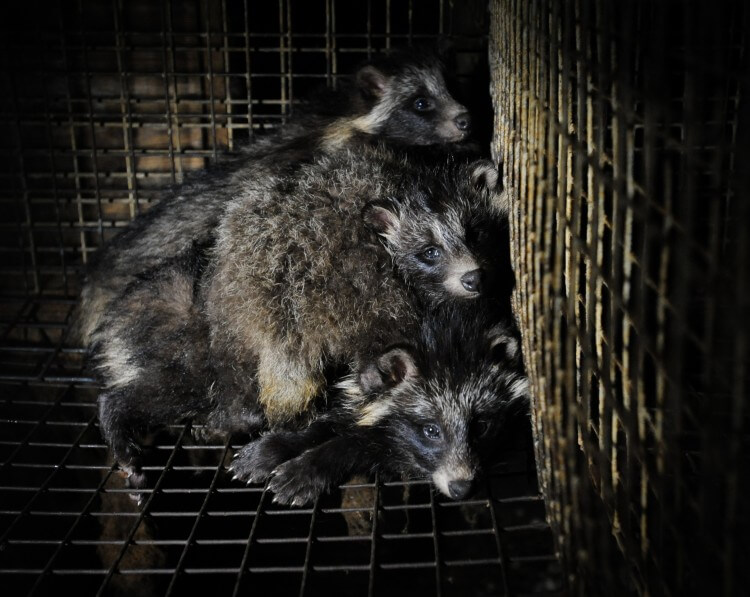 © Jo-Anne McArthur / The Ghosts In Our Machine
House of Fraser does not tout any accreditation supporting its claim that the fur it sells is "responsibly sourced" – and even when such accreditations are used, they are simply marketing schemes by the fur industry, as there is no "responsible" way to steal an animal's skin.
Fur Production Is Always Cruel
Minks, foxes, and others exploited on fur farms are forced to live in crowded, filthy conditions before being slaughtered for their skin.
Living in cramped cages – far from their native homes and with no opportunity to play, jump, run, or do anything else that comes naturally to them – often drives these inquisitive, intelligent animals insane during their short lives. Fighting, self-mutilation, and cannibalism are common on fur farms.
Environmental Hazard
The fur industry doesn't just put animals through a living hell before tearing off their skin – it's also destroying the planet. A study of mink farms in Europe determined the impact of fur production with regard to 18 different environmental issues – such as the climate crisis, ozone pollution, and water and land use. For 17 of the 18 issues, fur was found to be far more harmful than any other material.
Jo-Anne McArthur / #MakeFurHistory
Producing 1 kilogram of fur has a carbon dioxide equivalent (CO2e) factorof about 130 to 140 kilograms, compared to around 6 to 7 kilograms of CO2e for 1 kilogram of typical faux fur.
Breeding Grounds for Disease
Filthy fur farms packed with sick, stressed, and injured minks are a breeding ground for disease, and facilities in Denmark, the Netherlands, North America, and Spain have experienced outbreaks of COVID-19. The situation became so dire that the Dutch, French, and Polish governments have taken steps to end fur farming in their countries.
SARS and the novel coronavirus are thought to have first infected humans who came into close contact with captive wildlife at live-animal markets – which represent a similar public health risk to that posed by fur farms.
Jo-Anne McArthur / #MakeFurHistory
Call On House of Fraser to Drop Fur
Send Mike Ashley, CEO of Frasers Group, a message urging him to reinstate the department store's no-fur policy immediately and adopt a company-wide fur ban. British consumers have made their views clear – selling fur is cruel and outdated and must end.