These LGBTQ+ Celebrities Are Loud for Animals
In honour of Pride Month, PETA UK is celebrating the courageous LGBTQ+ celebrities who are inspiring people around the world and campaigning for the rights of all, including animals.
These stars have taken on a number of industries that exploit animals and are an important part of what makes animal rights the fastest-growing social justice movement of our time.
Here are just a few of the celebrities who are proud to stand with PETA entities for animals:
Alan Cumming
Outside his successful Hollywood career, Tony Award–winning and Emmy-nominated actor Alan Cumming is a passionate animal advocate and an outspoken vegan. He previously starred in the PETA US "Not a Dairy Queen" pride poster campaign advocating for plant-based treats and joined PETA UK in handing out free vegan ice cream at the Edinburgh Festival Fringe, among many other compassionate actions.
Gillian Anderson
Actor and long-time supporter Gillian Anderson is well known her for compassion. She's joined PETA entities to speak out for rabbits, animals in zoos, bulls, elephants, and more. One of our favourite campaigns includes her anti-fur ad, which saw her speaking up for animals exploited by the fur industry.
Scaredy Kat
Scaredy Kat is outspoken about animal rights. She's taken part in climate change demonstrations to urge people to go vegan and participated in the Animal Rights March in London, and she uses her large social media platform to speak up for animals. She even teamed up with PETA UK to share the message that the only thing that belongs in the closet are vegan clothes – a queen who knows how to give animals the royal treatment!
Paul O'Grady
When PETA was campaigning for Thomas Cook to stop selling tickets to SeaWorld, Paul O'Grady added his voice to the call. He sent a letter on our behalf calling on the travel provider to remove the animal abusement park from its promotions, writing, "Selling tickets to SeaWorld condemns orcas to a life sentence in a barren prison cell. … I hope you'll agree that we can no longer in good conscience continue to exploit them for human entertainment."
The campaign has since been won, and O'Grady's public support helped get us there.
Tove Lo
Singer-songwriter Tove Lo starred alongside her rescued dog, Elliotte, in a PETA campaign that proclaims, "Adopt, Don't Shop". The superstar spoke up for dogs and cats everywhere by calling on her fans and PETA supporters "always to adopt" and "support local shelters".
Loiza Lamers and Benjamin Melzer
For a fearless PETA Netherlands campaign, Holland's Next Top Model winner Loiza Lamers and Men's Health Germany cover star Benjamin Melzer bared all in order to open people's eyes to the suffering of animals in the fur industry, proclaiming, "Transform Your Wardrobe: Don't Wear Fur!" Just feast your eyes on their stunning campaign below: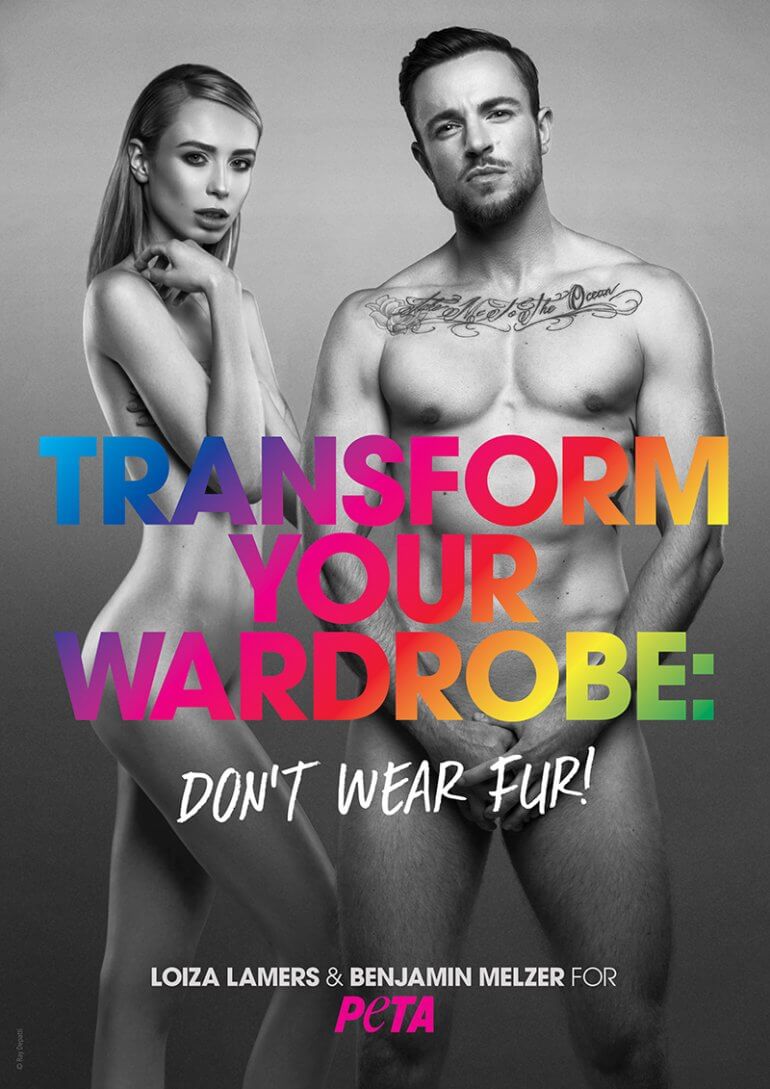 Photo: ©Ray Depatti
Alan Carr
Comedian and TV personality Alan Carr brought his cheeky sense of humour to bear on the issue of spaying and neutering in an ad for PETA. Of his campaign, the talk-show host said, "There's no 'magic wand' that will find homes for all of Britain's homeless dogs and cats, but simple surgeries – spaying and neutering – will make a huge difference in the long run."
Rylan Clark-Neal
Singer, model, and presenter Rylan Clark-Neal may have made his name on reality TV shows, but he teamed up with PETA to speak out about another reality: the inherent abuse of animals in the fur industry. The outspoken star got his kit off for a PETA campaign to make the point that there is absolutely no excuse for wearing another animal's skin.
This Pride Month, we thank and honour some of the loudest voices for animals.
The compassionate actions of PETA's celebrity supporters show that together, we can break down barriers and make the world a better place for everyone. Join them in building a more compassionate future by taking the following steps: