Rosita Celentano and PETA to Milan Fashion Week: Get Fur off the Catwalk
"Here's the rest of your fur coat." That was the message from actor and presenter Rosita Celentano as she joined PETA to brandish a skinned "fox" prop in Piazza del Duomo on the first day of Milan Fashion Week.
We're calling on Milan Fashion Week to ban fur from the catwalk – as many other high-profile fashion events have already done. By embracing sustainable, innovative textiles, the event organisers can protect animals and help prevent pandemics in one go.
David Camilli
The protest came just months before the expiration of Italy's temporary halt to mink farming, a measure taken in response to COVID-19 outbreaks on the country's fur farms.
"Cruelty doesn't belong on the catwalks – fur is the product of so much pain, and this is no longer socially or ethically acceptable. Fur harms both humans, other animals, and the planet. I'm proud to join PETA in calling for Milan Fashion Week to get with the times and implement a much-needed policy against fur."

– Rosita Celentano
David Camilli
Rosita Celentano has previously collaborated with PETA as one of many Italian stars appearing in a video calling for an end to fur farming in the country.
No One Needs Fur Except the Majestic Animals Born With It
More than 85% of the fur sold today comes from facilities where foxes, minks, and other animals are locked up before being gassed, electrocuted, or poisoned.
Jo-Anne McArthur | We Animals
Living in these conditions often drives these inquisitive, intelligent wild animals insane during their short lives: fighting, self-mutilation, and cannibalism are common on fur farms.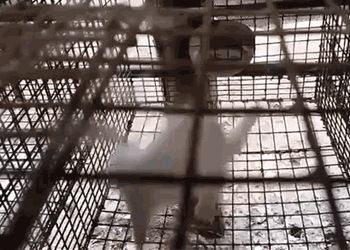 These farms also pose a health risk, as infectious diseases spread easily through the exchange of urine, excrement, pus, and blood.
The Future Is Fur-Free
Gucci, Michael Kors, Versace, Balenciaga, Chanel, Prada, and other designers have gone fur-free, and the fashion weeks of Amsterdam, Helsinki, Melbourne, and Oslo all refuse to show fur on the catwalk.
London Fashion Week and Stockholm Fashion Week 2020 have also received worldwide praise for their fur-free runways.
Sustainable vegan fur is available, including ECOPEL's bio-based material KOBA, which has been worn by Italian icon Sophia Loren.
What You Can Do
Around 7,000 minks a year are still imprisoned on Italy's six remaining fur farms. It's time to shut these facilities down.