Will Tofu Lights Appear at Blackpool's Christmas Illuminations?
As many of us are adjusting to the prospect of socially distanced Christmas celebrations, we should remember how we got here. That's why PETA sent a letter to Blackpool Council with a seasonal suggestion: include an eye-catching tofu-themed Christmas light display in the 2020 Blackpool Illuminations.
The suggested display features a jolly block of tofu wearing a Santa hat and holding a candy cane next to the words "Tofu Never Caused a Pandemic" – because it never has!
The festive lights are currently switched off because of lockdown restrictions, but if the council agrees, we'll donate the bright display to the Illuminations Fund in time for the post-lockdown relaunch.
Our Christmassy tofu is a light-hearted reminder that while the meat industry breeds killer pathogens like the novel coronavirus, tofu production is safe and healthy. And tofu is also a great choice for Christmas dinner.
How Meat Consumption Causes Pandemics
Experts say that the novel coronavirus originated in a wet market in Wuhan, China, where humans had direct contact with live animals and dead animal flesh.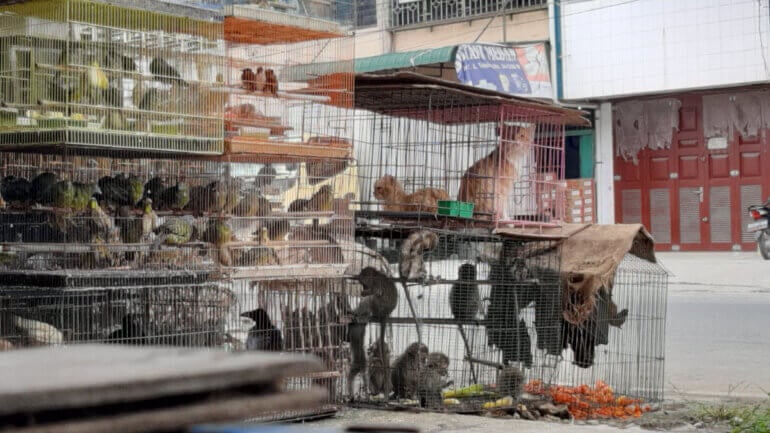 PETA Asia
The exploitation and slaughter of other sentient beings has caused millions of us to become infected with a life-threatening disease.
It's not the first time the terrible way we treat animals has come back to haunt us. According to Public Health England, "Many (60 to 80% [of]) emerging infections are derived from an animal source."
Filthy factory farms, abattoirs, and meat markets threaten the health of every human being on the planet by providing a breeding ground for deadly pathogens like COVID-19, SARS, bird flu, and more.
The Future Is Vegan
We can't undo what has already been done, but we can prevent future disease outbreaks by rejecting industries that exploit animals. The simplest way to do that is to go vegan – so give tofu a chance this Christmas: