Transgender Icons Proclaim They'd Rather Go Naked Than Wear Fur
In a fearless new PETA Netherlands campaign, Holland's Next Top Model winner Loiza Lamers and Men's Health Germany cover star Benjamin Melzer bare all in order to open people's eyes to the suffering of animals in the fur industry, proclaiming, "Transform Your Wardrobe: Don't Wear Fur!"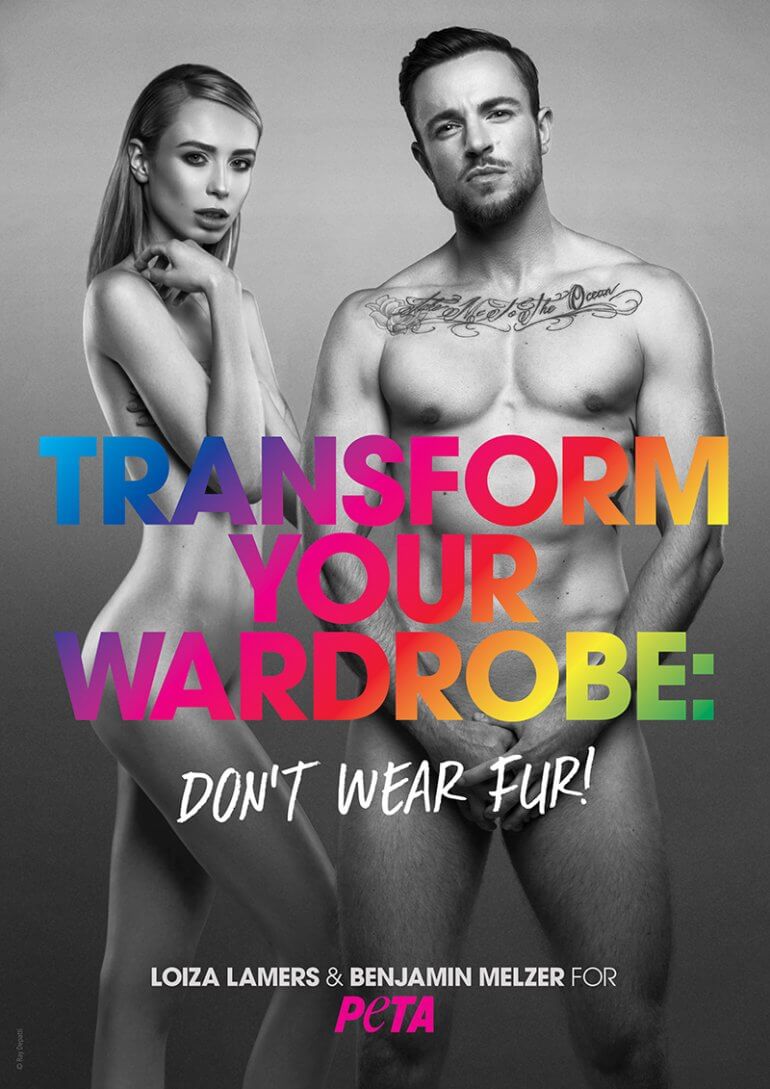 Photo: ©Ray Depatti
Animals on fur farms are confined to cramped and filthy wire cages without access to food or clean water. While the Netherlands' ban on fur farming will be implemented by 2024 and Amsterdam FashionWeek is fur-free, PETA and the two models want to remind shoppers that in China – the world's leading exporter of fur – millions of dogs and cats are beaten, hanged, and even skinned alive for their fur, which is often mislabelled to conceal its origins and sold around the world. Wild animals caught in traps for their fur have been known to chew through their own limbs in an attempt to escape, and if they're not killed by blood loss, infection, or gangrene, they're strangled, battered, or stamped to death when the trapper returns.
"Wearing the pelt of a tormented animal who was electrocuted, beaten, drowned, or skinned alive is creepy and cruel," says Loiza. "There are so many fur-free clothing options available now that it's easy to have a killer look without killing animals."
Benjamin adds, "Fur has no place in anyone's wardrobe, and we encourage all compassionate people to leave it where it belongs: on animals."
The ad featuring the stripped-down models is the latest edition of PETA's iconic "I'd Rather Go Naked Than Wear Fur" campaign and was photographed by fashion photographer Ray Depatti.
It's time that the fur industry accepted that there's no future in tormenting animals for their skin and found a humane way to make money.
Use your voice to help stop this unethical industry. If you ever see fur on sale, please speak out.