Vegan Recipes for 12 of the Nation's Favourite British Dishes
These classic British dishes have been gracing English dinner tables for centuries, but it's time they had a 21st century update. With the huge increase in demand for delicious animal-friendly vegan meals, there's no traditional fare that can't be turned into a plant-based feast. We've collected the very best vegan recipes for British dinners and desserts so that you can indulge in your childhood favourites without dairy ingredients or meat.
Yorkshire Stew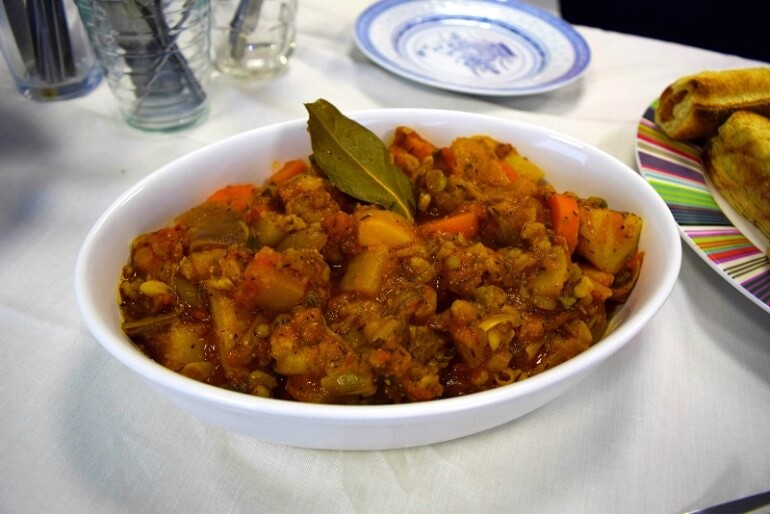 1 litre vegetable stock
1 swede, chopped
2 carrots, chopped
1 leek, chopped
1 onion, chopped
2 potatoes, chopped
1 12-oz can diced tomatoes
1 Tbsp tomato paste
2 cloves garlic, chopped
A few sprigs of thyme
2 bay leaves
1 tsp cayenne pepper
Dash olive oil
Salt and pepper, to taste
150 g pearl barley, cooked
Add the vegetable stock and all the chopped veggies (except the tomatoes) to a large pot and bring to a boil.
Add the diced tomatoes, tomato paste, garlic, herbs and oil.
Reduce the heat, cover and let simmer for 30 minutes, stirring occasionally to make sure the vegetables do not overcook or stick to the bottom of the pan. If desired, add salt and pepper, to taste.
Add the pearl barley and serve.
Strawberries with Coconut Cream
2 12-oz cans full-fat coconut milk, chilled in the fridge overnight
1/2 cup icing sugar
2 1/2 cups fresh strawberries, stemmed and cut in halves
2 12-oz drinking glasses
Without shaking them, open the cans of coconut milk and scoop the thickened part into a bowl. (Set aside the remaining coconut water and use for something else.)
Add the icing sugar and with a handheld electric mixer, whip for a couple of minutes until fluffy.
In each glass, add a layer of coconut cream, then add some strawberries. Repeat until you have several layers.
Top each with a few strawberries.
Apple and Blackberry Crumble

240 g plain flour
120 g caster sugar
120 g + 60 g vegan margarine (we like Pure Dairy-Free Soya Spread)
60 g demerara sugar
600 g Braeburn apples, cut into 2 cm cubes
230 g blackberries
Preheat the oven to 190°C/170°C fan/gas 5.
Combine the flour and caster sugar in a large bowl. Using your fingers, work in 120 g of the vegan margarine until the mixture looks like breadcrumbs. (Do not overwork or the crumble will become heavy.) Sprinkle evenly on a baking sheet and bake for 15 minutes or until lightly browned.
Combine the remaining vegan margarine and demerara sugar in a medium saucepan and cook over medium heat, stirring until the mixture turns a light caramel colour, about 3 minutes. Stir in the apples and cook for another 3 minutes. Add the blackberries and cook for 3 more minutes. Remove from the heat, cover and let stand for 2 to 3 minutes.
Spoon the warm fruit into an oven-proof gratin dish, top with the crumble mixture and heat in the oven for 5 to 10 minutes.
Rosemary Shortbread
340 g vegan margarine
125 g + 2 tsp sugar
350 g plain flour
1/4 tsp salt
2 Tbsp chopped fresh rosemary
In a medium bowl, cream together the vegan margarine and 125 g of the sugar until light and fluffy. Add the flour, salt and rosemary and stir until well blended. The dough should be somewhat soft. Cover and refrigerate for 1 hour.
Preheat the oven to 190°C/Gas 5 and line two baking trays with parchment paper.
On a lightly floured surface, roll the dough out to 6 mm thickness. Cut into 3-cm-by-5-cm rectangles and place 2.5 cm apart on the baking trays. Sprinkle the remaining sugar over the top.
Bake for 8 minutes, or until the edges are golden brown. Cool on wire racks and store in an airtight container at room temperature.
Want more recipes and tips on how to eat vegan? Get yourself a free vegan starter kit here: