Vegan
Vegan Shepherd's Pie
Vegan Lass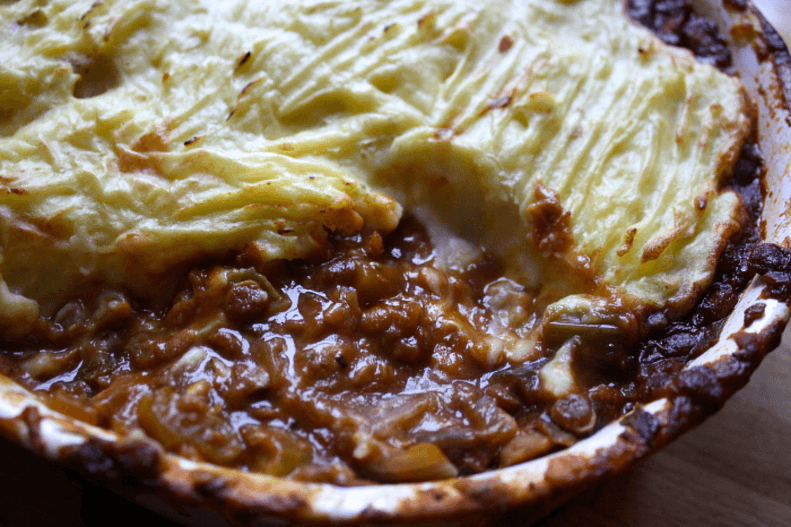 Prep Time

1h

Cook Time

30m

Servings

6
Ingredients
5 Tbsp vegan butter

5 cloves garlic, minced

2 large onions, finely diced

2 carrots, finely diced

2 stalks celery, finely diced

2 bay leaves

Salt, to taste

400 g mushrooms, finely diced

200 ml dry red wine

600 ml good-quality vegetable stock

175 ml tomato purée

2 tsp English mustard

15 g brown miso paste

1 small handful fresh thyme

1 small handful fresh sage

1 small handful fresh rosemary

2 Tbsp dark soy sauce

1/2 tsp dried, ground kelp, nori, or other seaweed

1 pinch sugar

1/2 tsp liquid smoke

2 Tbsp vegan Worcestershire sauce

2 tins (800 g) green or black lentils, drained

2 Tbsp nutritional yeast

Pepper, to taste

1.5 kg white potatoes

200 ml unsweetened soya milk
Method
Melt 2 tablespoonsful of vegan butter in a large pan. Add the garlic, onion, carrots, celery, bay leaves, and a pinch of salt. Fry over medium-high heat for 5 to 10 minutes, stirring occasionally. Add the mushrooms and fry for 5 minutes more.
Add the wine, stock, tomato purée, mustard, miso, herbs, soy sauce, kelp, sugar, liquid smoke, vegan Worcestershire sauce, and lentils. Stir well. Cook over medium-high heat for about 15 minutes.
Turn the heat to low and cover the pan. Simmer for 30 minutes, until slightly thickened. Remove from the heat, season to taste, and stir in the nutritional yeast.
Preheat the oven to 220°C.
Peel the potatoes and chop into largechunks. Boil in salted water until soft.
Drain and mash. Add the soya milk, the remaining vegan butter, and a pinch of salt and whip until creamy.
Remove the bay leaves from the lentil mixture, pour into a pie dish, and top with the mash. Bake for 30 minutes, until golden-brown and bubbling.