Good News! Irish Stores Arnotts and Brown Thomas Ban Exotic Skins
After years of pressure from PETA and local activists – including eye-catching protests – Selfridges Group has confirmed that its Irish department stores, Arnotts and Brown Thomas, have banned exotic skins and will be rid of all items using them by the end of this year.

The news follows a ban by Selfridges Group's Canadian department stores, Holt Renfrew, on the sale of fur and exotic skins, meaning the entire company – which includes De Bijenkorf in the Netherlands and Selfridges in the UK – will be fur and exotic skins–free by 2022.
Snakes and Alligators Aren't Handbags
PETA has released several exposés of the exotic-skins industry revealing rampant cruelty.
Alligators are kept in fetid water inside dank, dark sheds until slaughter, when their necks are hacked open and a metal rod is shoved up into their brains, often while they're fully conscious.
Snakes are commonly nailed to a tree before being slit open from one end to the other and then skinned alive. And year-old ostriches are transported by lorry to abattoirs, where workers flip them upside down, stun them, and slit their throats.
Fur Is Dead
Most animals used for fur spend their entire lives inside cramped cages, where they frantically pace back and forth, gnaw on the cage bars, and mutilate themselves before they're electrocuted, gassed, or poisoned.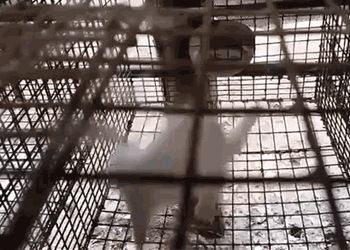 Those who are trapped in nature may suffer for days before trappers arrive to shoot, strangle, or stamp them to death.
Additionally, COVID-19 has been found on fur farms in more than 10 countries, including Denmark, Norway, and the Netherlands, prompting the latter to bring forward its planned fur ban.
What You Can Do
No kind shopper today would dream of wearing a snake's skin or a fox's fur. Selfridges Group's decision is right on trend – and it's helping PETA push the fashion world towards a day when no animal is caged or killed for a clutch or a coat. Will you join us? Urge these luxury brands to ban exotic skins and fur: