Lose the Fur: Elisabetta Canalis' Message to New Editor of 'Vogue Italia'
Since Emanuele Farneti's recent appointment as the new editor of Vogue Italia, Elisabetta Canalis – who starred in an "I'd Rather Go Naked Than Wear Fur" campaign for PETA US – has written to him to suggest that now is the perfect time for the iconic style bible to start a new chapter and embrace the future of fashion by banning fur from its pages.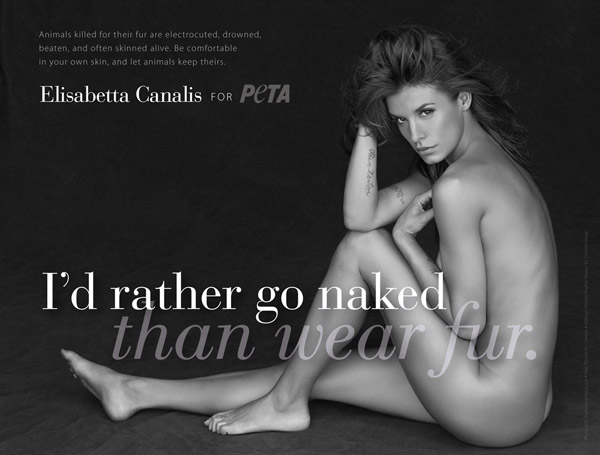 While leading magazines such as British Vogue and ELLE have shown their compassion with long-standing no-fur policies – and most cutting-edge designers, including 86 per cent of those showing at the most recent autumn/winter London Fashion Week, don't use fur – Vogue Italia has yet to follow suit. In her letter, Elisabetta writes:
Each fur jacket and piece of fur trim is taken from a terrified living being who was trapped in the wild … or who had a miserable life locked inside a barren wire cage before being drowned, electrocuted, poisoned, or skinned alive. … I, along with many of your readers, would love to see Vogue Italia take a step into the compassionate future of fashion by pledging not to feature fur on its pages.
Together, We Can Create a Fur-Free World
Fur farming has long been illegal in the UK, but shamefully, it still goes on in other European countries, including Ireland. Please write to Ireland's Minister for Agriculture today and ask him to make cruel fur farms a thing of the past in Ireland.