PizzaExpress Launches New Vegan Pizza!
Restaurant chain PizzaExpress has just added its first-ever vegan pizza to the menu. The new Pianta pizza is loaded with spinach, chestnut mushrooms, pine kernels and artichokes on a spicy Arrabbiata base – and sounds delicious!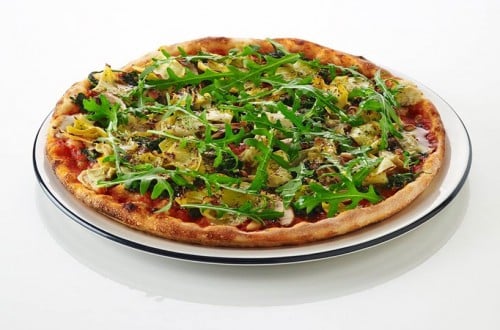 With 400 PizzaExpress branches across the UK, this good news will make eating out even easier for compassionate diners all over the country. Since the restaurant's pizza bases are dairy-free, you can also request any other pizza on the menu to be made without cheese. And if you prefer a cheesier pizza, according to the company's website, "You are also permitted to bring in your own vegan cheese to top a pizza". Fantastico!
Other vegan options on the menu include a health-boosting Superfood Salad (just ask for it without mozzarella) and refreshing raspberry sorbet for dessert.
PizzaExpress certainly looks set to become a go-to destination for hungry vegans. But many other high-street chains also offer cruelty-free options, from Pret A Manger to Wetherspoons – check out our handy list for details.
It's clear that eating without harming animals is now mainstream – and you can help the movement grow even more. Ask your local pizza joint to follow PizzaExpress' example by starting to offer vegan options, and encourage your friends and colleagues to get on board by signing the 30-Day Vegan Pledge.