Vegan
BBQ Mushroom Buns
The Little Blog of Vegan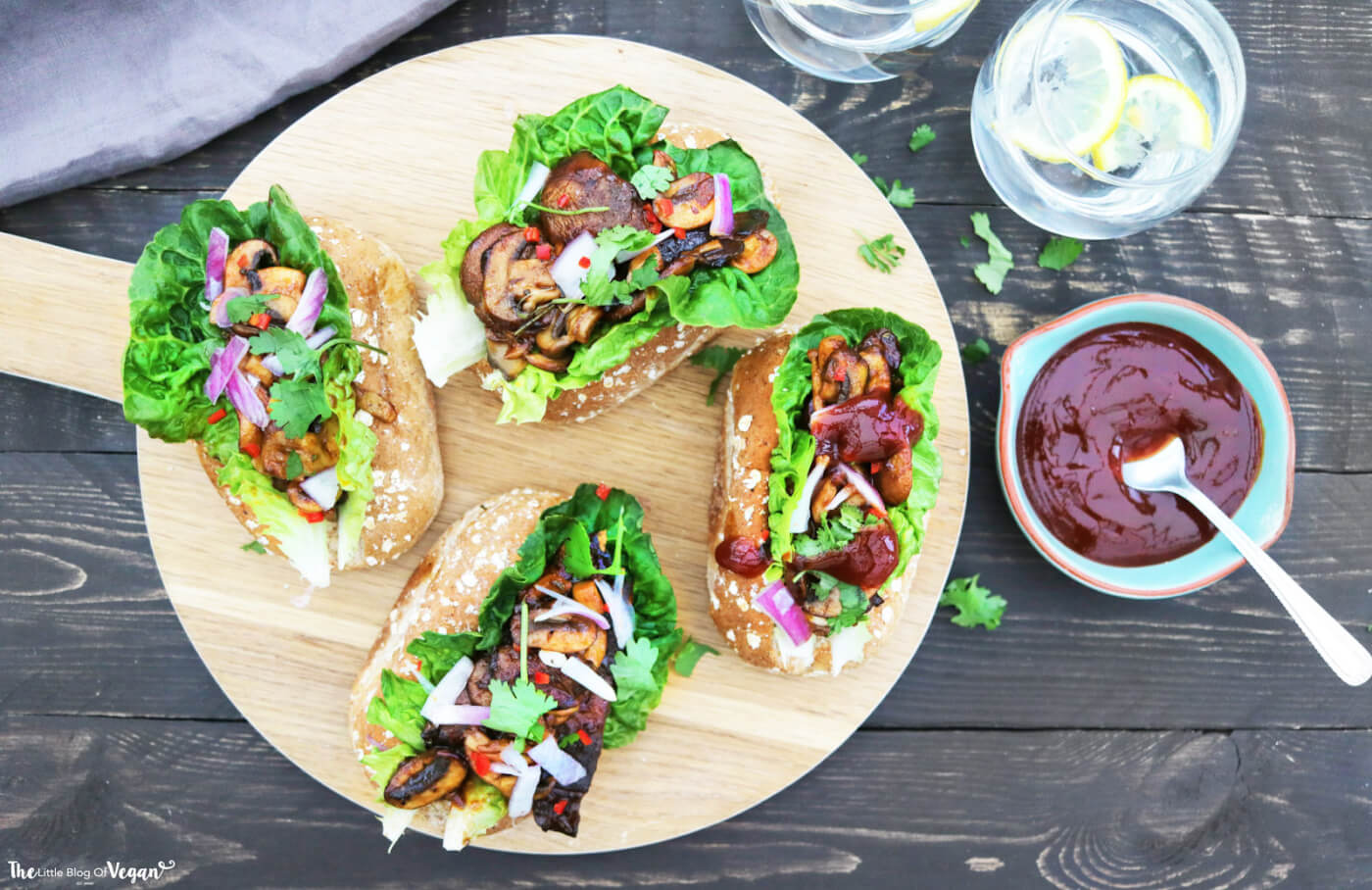 Prep Time

10m

Cook Time

20m

Servings

4
Ingredients
250 g chestnut mushrooms

125 g shiitake mushrooms

150 g portobello mushrooms

1 1/2 Tbsp vegetable oil

1/4 cup BBQ sauce

1 tsp ground cumin

1 tsp smoked paprika

1 tsp chopped fresh rosemary

Salt, to taste

Pepper, to taste

4 seeded rolls, scored down the middle

4 leaves lettuce, shredded

1/2 red onion, finely chopped

1 red chilli, seeded and sliced

1 small handful coriander
Method
Preheat the oven to 190°C and line a baking tray with greaseproof paper.
Set aside 6 chestnut mushrooms and thinly slice the remaining ones and all the shiitakes.
Warm 1/2 tablespoonful of oil in a frying pan over medium heat. Add the whole chestnut and the portobello mushrooms. Cover with greaseproof paper and put a saucepan half-filled with water on top. Cook for 5 minutes on each side, until juicy.
Thickly slice the portobellos and transfer all the cooked mushrooms to a bowl. Toss in 2 tablespoonsful of BBQ sauce.
Warm another 1/2 tablespoonful of oil and add the sliced shiitake and chestnut mushrooms. Sauté for 1 to 2 minutes then stir and continue to cook for 2 to 3 more minutes on each side, until crispy.
Add to the bowl with the other mushrooms and toss.
Tip onto the baking sheet and bake for 8 to 10 minutes. Remove from the oven and set aside.
Heat the remaining oil and stir-fry the cumin, paprika, and rosemary for 30 seconds. Add the mushrooms, tossing to coat. Season with salt and pepper.
Warm the rolls in the oven for a few minutes then fill with the lettuce and mushrooms.
Finish with a sprinkling of onion, chilli and coriander. Serve with the remaining BBQ sauce.