Vegan
Breakfast Hash Bowl
hot for food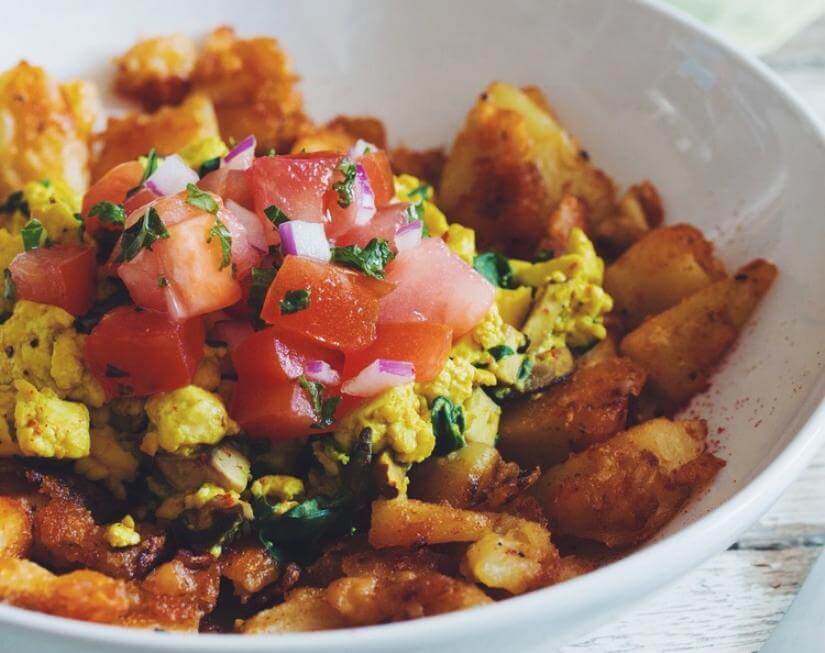 Prep Time

15m

Cook Time

30m

Servings

2
Ingredients
2 cups peeled and cubed potatoes

1–2 Tbsp oil

1/4 tsp paprika

Salt, to taste

Pepper, to taste

1/2 pkg medium-firm tofu

1/2 cup chopped mushrooms

1/2 tsp turmeric

1 Tbsp nutritional yeast

1 Tbsp non-dairy milk

1/2 cup spinach, finely chopped

2 Tbsp salsa
Method
Boil the potatoes for 10 minutes then drain.
Put 1 tablespoonful of oil and the potatoes in a large pan over medium heat. Mash to a chunky texture and spread evenly in the pan. Sprinkle with the paprika and seasoning and cook for approximately 7 to 8 minutes, or until the underside is golden and crispy. Flip and cook over medium-low heat for another 7 to 8 minutes, until crispy, adding another tablespoonful of oil, if necessary. Transfer to a serving bowl and cover with foil.
Re-heat the pan over medium heat, crumble in the tofu, and add the mushrooms. Cook for 2 minutes.
Add the turmeric, nutritional yeast, non-dairy milk, and additional seasoning to taste. Stir well and cook for 3 to 4 minutes, or until the mushrooms are nearly soft. Add the spinach and cook for 1 minute, or until wilted and soft.
Spread the tofu scramble on the potato hash and top with the salsa. Serve immediately.