Vegan
Chickpea Tacos
May I Have That Recipe?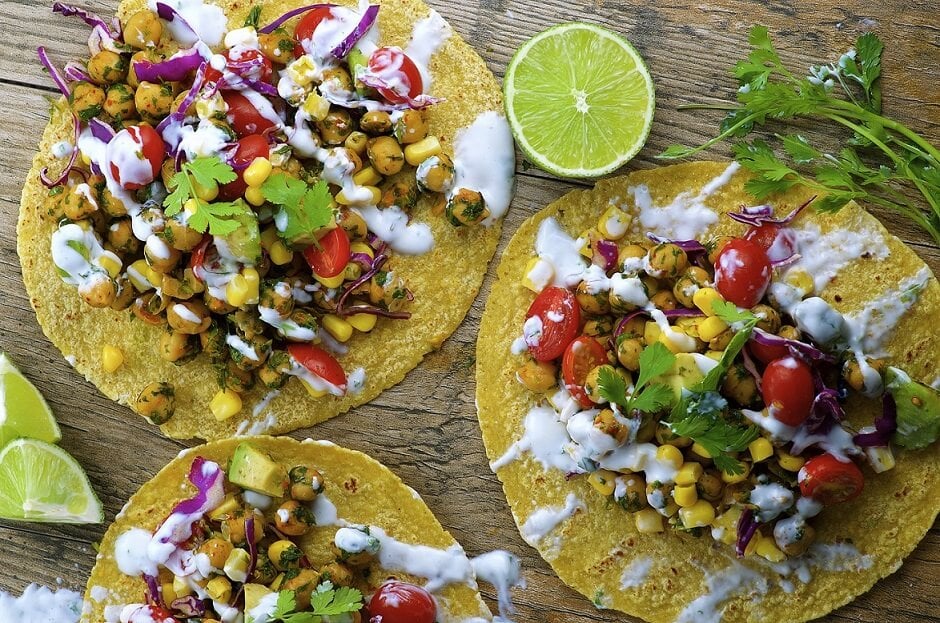 Prep Time

15m

Cook Time

5m

Servings

6
Ingredients
2 tsp extra-virgin olive oil

2 cans chickpeas, rinsed and drained

1/2 tsp smoked paprika

1/2 tsp sweet paprika

1/2 tsp cumin

3/4 tsp salt, or to taste

1 cup + 2 tsp chopped fresh coriander

1/2 cup coconut milk

1 clove garlic, minced

2 tsp freshly squeezed lime juice

24 cherry tomatoes, halved

1 cup shredded purple cabbage

2 avocados, diced

1 cup sweet corn

6 corn tortillas or taco shells
Method
Heat the olive oil in a large non-stick pan. Add the chickpeas, smoked and sweet paprika, cumin, and ½ teaspoonful salt. Cook over medium heat for 2 minutes, stirring often, until the chickpeas are well coated with the spices. Add 1 cup coriander, toss well, and continue cooking for another 3 minutes. Set aside.
Whisk together the remaining salt, remaining coriander, coconut milk, garlic, and lime juice until well combined. Refrigerate.
To assemble the tacos, fill each tortilla with the chickpeas, tomatoes, cabbage, avocados, and corn. Drizzle with the coconut milk sauce and serve.