Vegan
Colourful Paella
Sneaky Veg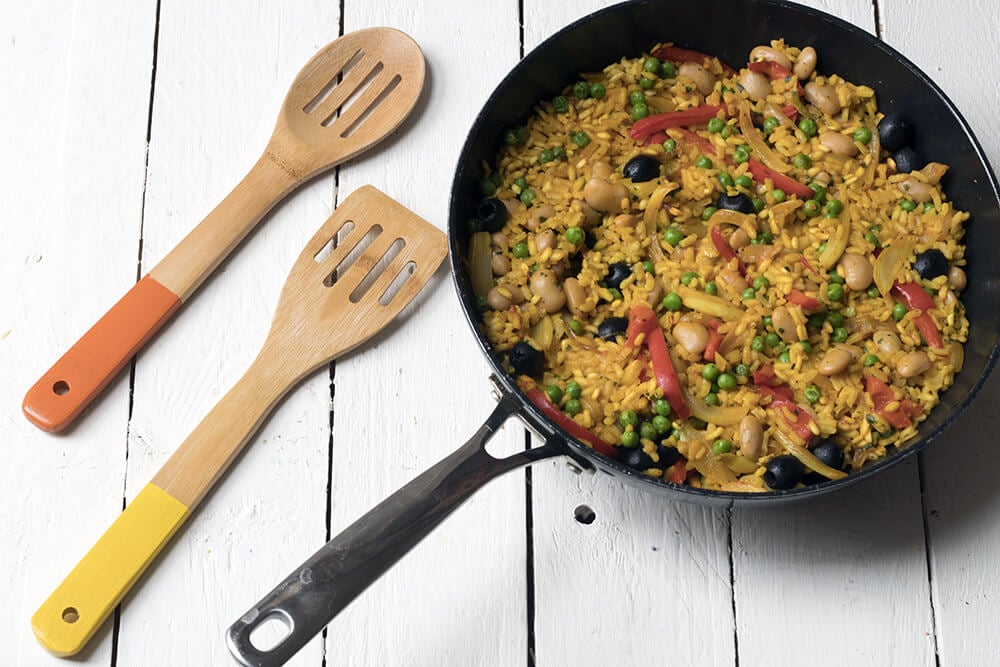 Prep Time

5m

Cook Time

1h

Servings

4
Ingredients
1 Tbsp olive oil

1 small onion, thinly sliced

2 red, yellow, or orange peppers, thinly sliced

1 small bulb fennel, cut into thin strips

2 cloves garlic, crushed

1 tsp smoked paprika

1/2 tsp turmeric

1/2 tsp saffron, optional

1/2 tsp chilli powder, optional

300 g paella or risotto rice

900 ml vegetable stock

1 tin (400 g) butter beans

100 g peas

1 jar black olives

1 small handful parsley, finely chopped

1 pinch salt

1 pinch pepper

Lemon wedges
Method
Heat the olive oil in a large frying pan or wok. Add the onion and cook over medium heat for 10 minutes, stirring often, until soft and golden.
Add the peppers and fennel and continue to cook, stirring occasionally, for 10 minutes, or until soft.
Add the garlic and spices. Stir and cook for 1 to 2 minutes.
Add the rice and stir to coat.
Pour in the vegetable stock, bring to the boil, and then simmer for 20 minutes.
Stir in the butter beans, peas, and olives and continue simmering until the rice is cooked.
Add the parsley and season with salt and pepper.
Serve with lemon wedges.