Courgette Fritters With Thai Peanut Sauce
Vegan
Courgette Fritters With Thai Peanut Sauce
Wrapped in Newspaper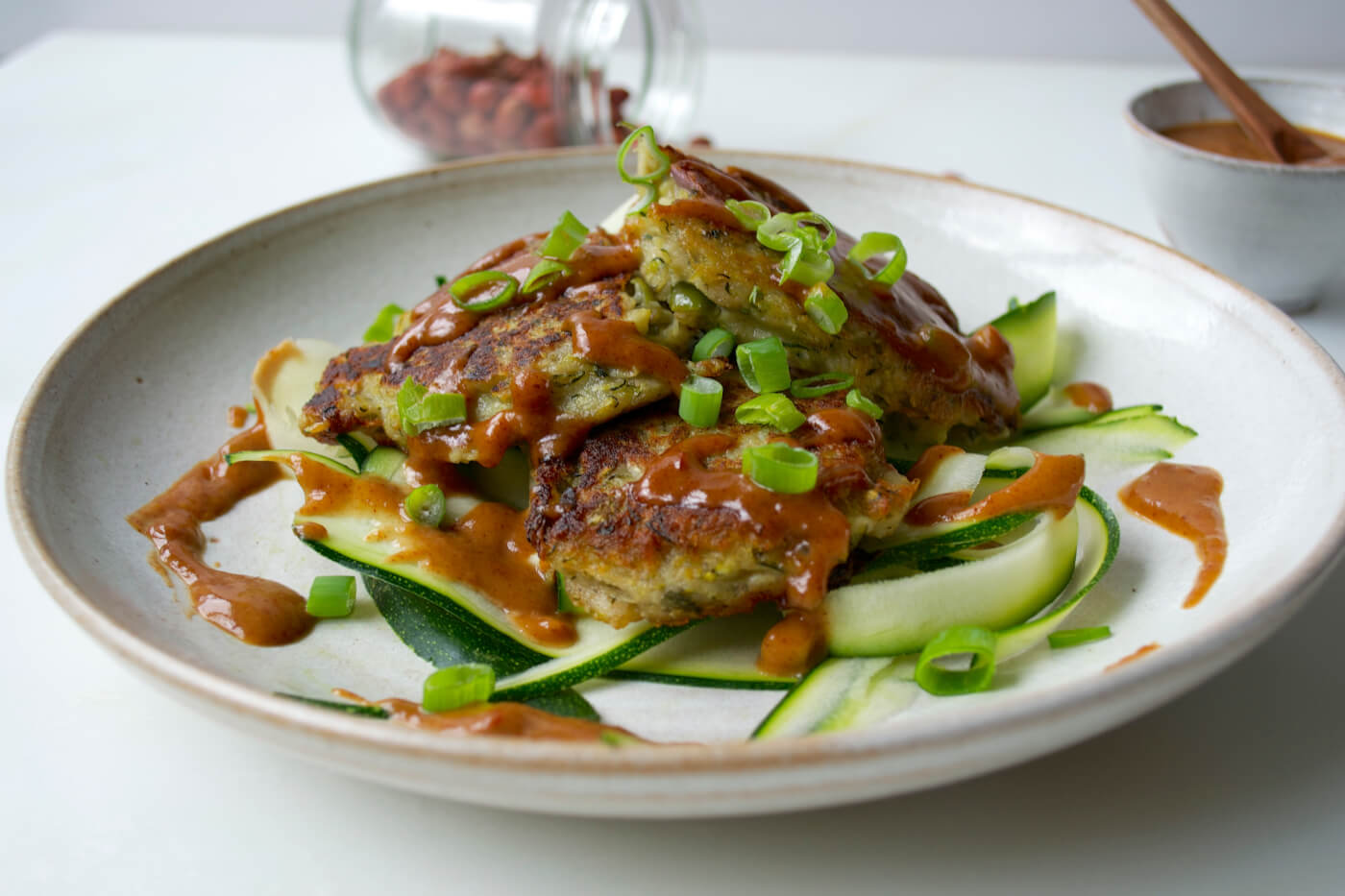 Prep Time

30m

Cook Time

25m

Servings

2
Ingredients
750 g courgettes

1 red onion

2 Tbsp coconut oil

2 garlic cloves, crushed

100 g rice flour (or other flour)

1 tsp ground coriander

1 tsp cumin

1 chilli, finely chopped

180 ml oat milk

1 Tbsp ground flax seeds

1 handful fresh coriander, chopped

Juice of 1 1/2 limes

Salt, to taste

Pepper, to taste

2 Tbsp peanut butter

2 Tbsp tamari soy sauce

1 Tbsp sesame oil

1 Tbsp maple syrup

1 tsp dried chilli flakes

1 spring onion

40 ml water
Method
Grate the courgettes and red onion. Let drain for 10 minutes in a sieve then squeeze out any remaining liquid.
In a pan, melt 1 tablespoonful of coconut oil and sauté the courgette, onion, and garlic for 5 to 10 minutes. Remove from heat and allow to cool.
Place the flour in a large mixing bowl, add the coriander and cumin, and stir well.
Add the courgette mixture to the flour mixture, along with the chilli, oat milk, flax seeds, coriander, and juice of 1 lime. Season with salt and pepper.
Melt the remaining coconut oil in a pan. Form the mixture into patties, place in the pan, and cook over medium-high heat for 5 to 7 minutes. Turn and cook the other side, until brown and crispy.
Place the peanut butter in a bowl and add the soy sauce, sesame oil, and maple sauce. Stir until creamy and smooth.
Add the dried chilli flakes, remaining lime juice, and spring onion and stir. Add the water for a thinner consistency.
Drizzle the peanut sauce over the fritters and serve.