Creamy Leek and Potato Soup with Polenta and Walnut Croutons
Vegan
Creamy Leek and Potato Soup with Polenta and Walnut Croutons
Wrapped in Newspaper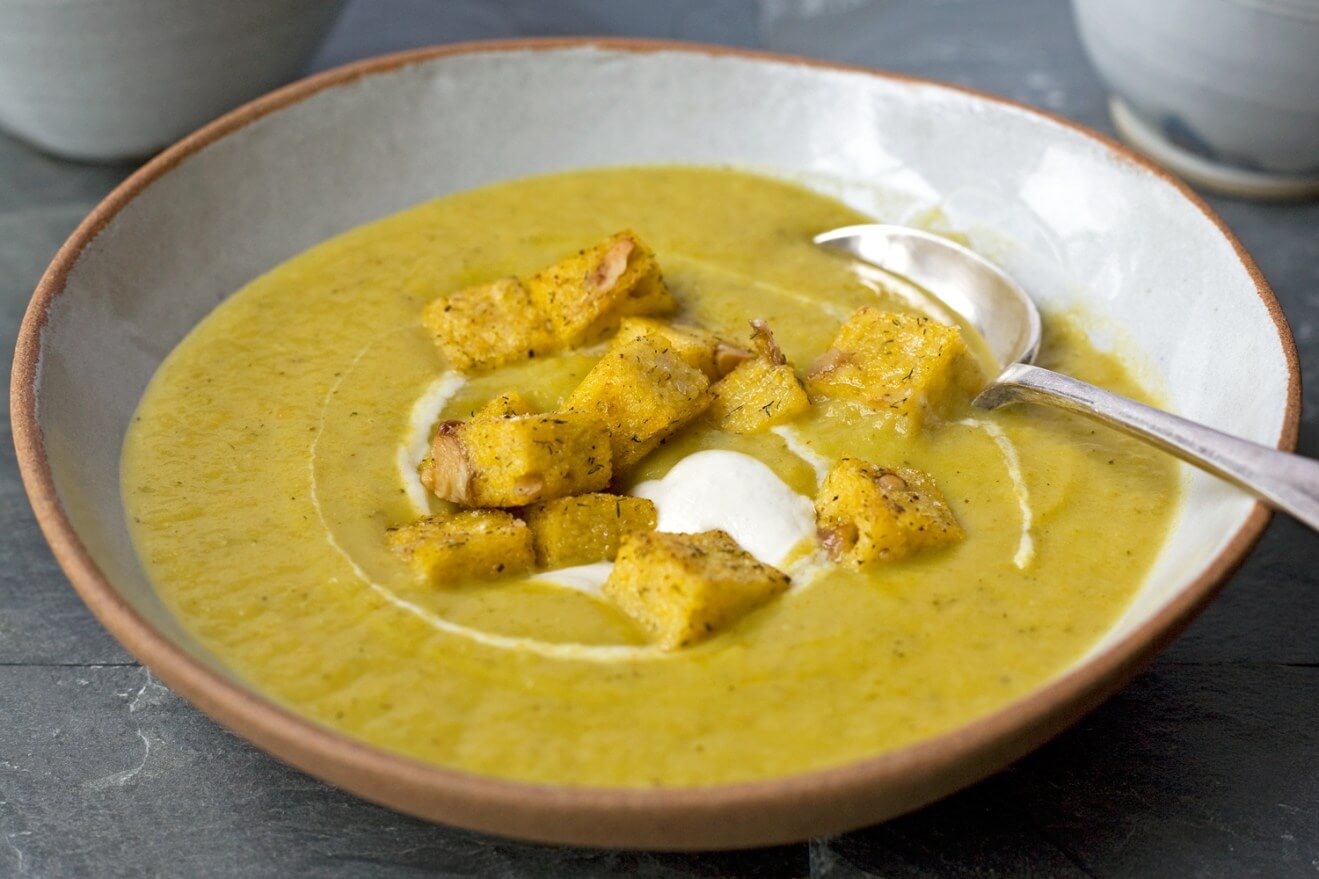 Prep Time

15m

Cook Time

1h 45m

Servings

4
Ingredients
60 g dried polenta

2 Tbsp walnuts, chopped

1 1/2 tsp dill

1 Tbsp olive oil

1 onion, chopped

2 cloves garlic, chopped

3 leeks, chopped

2 carrots, chopped

2–3 potatoes (approx. 250 g), chopped

1/2 tsp cumin

1 litre + 100 ml water

1 1/2 Tbsp bouillon powder

75 g cashews, soaked for 4 hours or overnight

1 Tbsp lemon juice
Method
Cook the polenta according to the packet instructions. When almost ready, stir in the walnuts and 1 teaspoonful of dill.
Spread the mixture onto a parchment-lined baking tray in an even layer about 1/2 centimetre thick and set aside to cool.
Heat the olive oil in a large saucepan and add the onion. Cook over medium heat until soft.
Add the garlic, leeks, carrots, and potatoes to the pan and simmer, half-covered, for 5 to 10 minutes.
Meanwhile, bring 1 litre of water to a boil.
Add the cumin and remaining dill to the vegetables. Stir for a few minutes, then add the boiling water and the bouillon powder. Simmer until the potatoes are soft, about 30 minutes.
To prepare the cashew cream, drain and rinse the cashews. Blend with 100 millilitres of water and the lemon juice until completely smooth. Set aside.
Chop the polenta into crouton-sized chunks. Cook under the grill over high heat for 10 to 15 minutes, turning occasionally, until uniformly crisp.
Add half the cashew cream to the potato soup and blend until smooth.
Serve in warm bowls, topped with the remaining cashew cream and polenta croutons.